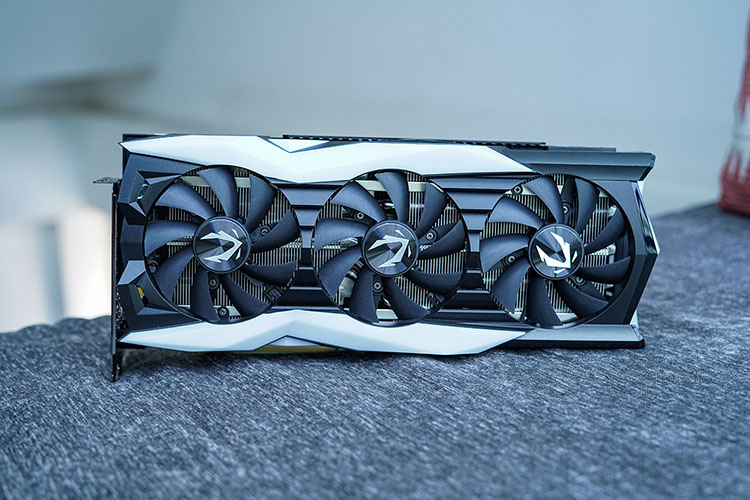 Nvidia's Turing architecture packing GPUs are nothing new; the RTX series arrived last year. However, the company has since launched improved, slightly more affordable versions of its RTX graphics cards with the 'Super' moniker. We received the RTX 2080 Super to review a while back, and I've played a bunch of games and ran a couple of tests on it. So, if you're wondering whether it's worth upgrading to the RTX 2080 Super (Rs. 68,400), well, here's our review of the brand new, top-of-the-line 'Super' GPU from Nvidia.
Nvidia RTX2080 Super Specifications
| | |
| --- | --- |
| CUDA Cores | 3072 |
| ROPs | 64 |
| Core Clock | 1650 MHz |
| Boost Clock | 1815 MHz |
| Memory Clock | 15.5 Gbps GDDR6 |
| Memory Bus Width | 256-bit |
| VRAM | 8GB |
| Single Precision Perf. | 11.2 TFLOPS |
| TDP | 250W |
| GPU | TU104 |
| Transistor Count | 13.6B |
| Architecture | Turing |
| Manufacturing Process | TSMC 12nm "FFN" |
Design and Build
While Nvidia usually sends over the Founder's Edition GPUs for review purposes, we got the Zotac manufactured Nvidia RTX 2080 Super, and with its sharp edges, RGB, and the three fans for thermals, the card looks really cool, albeit not as clean as the Founder's Edition of the card looks.
Still, focusing on the design or the build of a GPU doesn't seem all that worthwhile, since this is something that'll differ based on the manufacturer you go with. The only reason I carried this segment in the review is to give you an idea of what I think about the Zotac Gaming RTX 2080 Super as far as the looks are concerned.
More important though, are the ports available on the GPU. The Zotac RTX2080 Super offers four ports for I/O — there are three Display Ports and a lone HDMI out which is what I used to connect my display to the GPU.
Performance
The RTX "Super" series of GPUs are also built on Nvidia's Turing architecture, and Nvidia claims that this allows its GPUs to get up to 6x better performance as compared to Nvidia's 10-series of GPUs which were based on the Pascal architecture. Moreover, as the RTX suggests, these cards are also capable of enabling real-time ray tracing in games and applications, and unlike when the original RTX series was launched, the Super series has an advantage because games have started building in RTX support now, so players will be able to actually see the visual overhaul ray-tracing brings to graphics.
Anyway, I tested out a bunch of games with the RTX 2080 Super, and the performance, as you'd expect was amazing. Take a look at the graphs below to see the frame-rates the 2080 Super was able to push in different games.
In Assassin's Creed: Odyssey at 1080p with Ultra settings, the RTX 2080 Super got over 75FPS at best, and averaged around 50FPS, which is pretty good. Reducing the graphics to medium got a sudden boost in performance, with the frame rates going as high as 111FPS and averaging around 75FPS. I personally played at Medium, because of the added sweetness of those consistently 70+ frame rates in the game.
In Far Cry 5, at 1080p with Ultra settings, the RTX 2080 Super got around 130FPS at best and averaged somewhere around 100FPS for the most part, which is pretty insane. Switching graphics to Normal in Far Cry 5 pushed the maximum FPS values to around 145FPS, with the average hovering at 105FPS. Still, with a performance like that, playing the game on Ultra at 1080p was immensely satisfying and a whole lot of fun.
I also played Metro Exodus on our test-bench, and there too, the RTX 2080 Super performed pretty well, getting a maximum of 95FPS at High settings, and averaging around 45FPS. Switching graphics to Normal got well over 125FPS while averaging around 60FPS.
Lastly, I played Shadow of the Tomb Raider. At 1080p with Ultra settings, the RTX 2080 Super was able to churn out a max of 130FPS, while averaging around 86FPS. Switching graphics from Ultra to Medium didn't bring in a lot of extra frames though; I got a maximum of 134FPS and an average of 90FPS.
As you can see, the performance that the Nvidia RTX 2080 Super pushes out is pretty impressive, as you'd expect from this graphics card. It's also slightly better than what the RTX 2080 performs on these titles. Now, to be fair, I haven't tested these games with the RTX 2080, since we didn't have that GPU handy while I was testing the 2080 Super, but other reviews have mentioned that the RTX 2080 Super brings a slight performance bump over the RTX 2080, and that's good.
I played all these games on 1080p, however, the performance that this card is capable of clearly shows that it will perform very well with 1440p and 4K gaming as well, so if that's the level of gaming you want from your rig, the 2080 Super is probably your best bet anyway.
Pros and Cons
Pros:
Amazing performance
Lower price than the RTX 2080
Ray-tracing looks incredible in games
Cons:
Doesn't bring enough to make 1080Ti users upgrade
Nvidia RTX 2080 Super: Should You Buy It?
So let's move on to the big question — how much is this GPU anyway, and does it justify that price tag? Well, Nvidia launched the RTX 2080 Super in India at a price of Rs. 61,400, and while that does sound pretty expensive, keep in mind that the RTX 2080 last year was launched at Rs. 68,500, so this is actually a better price this time around. Kudos to Nvidia for that.
There are also other cards in the Super series of GPUs from Nvidia. The RTX 2060 Super is priced at Rs. 34,890, and the RTX 2070 Super is priced at Rs. 43,600, and depending on your budget, you can opt for these cards as well.
But, should you actually go for an RTX card? Well, the answer is both yes and no. If you already took the plunge for an RTX 2080 last year, or even recently, the performance upgrade that the RTX 2080 Super brings is by no means enough to make you want to switch over to this card. It'll only bring a minor 5-6% performance improvement over your existing RTX 2080 GPU.
Even if you're using something like the Nvidia GTX 1080Ti, the main improvement you'll get will be in the form of ray-tracing capabilities. Honestly, the 1080Ti is a very capable card, even today, so unless you absolutely want that ray-tracing goodness in your games, spending over Rs. 60,000 isn't something I'd recommend.
For people running older GPUs, however, who were reluctant to jump onto the RTX series when it first launched, this RTX Super series of GPUs are pretty solid since they'll bring huge performance gains, ray tracing capabilities, and because they lower the threshold of gaining entry into the RTX world. So yeah, if you're still running an old Maxwell GPU, the RTX 2080 Super might be the perfect bet for you to upgrade your system and bring it into the new realm of graphical performance.
Buy the RTX 2080 Super from Amazon (Rs. 68,400)
---