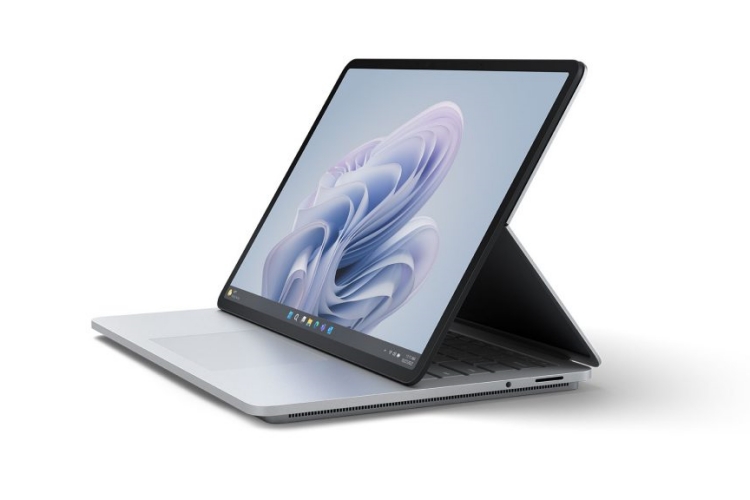 Microsoft has unveiled Surface Laptop Studio 2 at its Surface 2023 event today. The Surface Laptop Studio 2 is quite interesting and gives tough competition to the best laptops of today such as the Apple MacBook Pro M2. Let's check out the details on Microsoft's latest flagship laptop, including its ports, battery, design & display, processor, and graphics card. Read till the end to also learn the price & availability of the all-new Surface Laptop Studio 2.
Surface Laptop Studio 2: Design and Display
Microsoft's Surface Laptop Studio 2 succeeds the previous-gen Studio laptop. The innovative design, with the body featuring a Dynamic Woven Hinge Design, is carried forward in this second-generation Studio. Surface Laptop Studio 2 can be used in various orientations, essentially being different modes that the user can transform the laptop into based on their preference.
First, there's the traditional laptop mode in which users can use the Surface Laptop Studio 2's Windows Precision touchpad with haptic support and a full-size keyboard. Pulling the laptop screen lets the users put it into stage mode, where the screen can be positioned right above the touchpad offering a highly immersive experience with optimized viewing angles. The keyboard is not available in this mode, but the touchpad still is.
The final mode offered in the Surface Laptop Studio 2 is the tablet mode, in which the laptop can be rotated fully making the keyboard & trackpad now rest at the back. Laptop Studio 2 has a 14.4-inch Pixelsense touch display, enabling a comfortable tablet experience that runs on Windows 11. The display resolution is 2400 x 1600, and the refresh rate is 120Hz so it will look quite smooth in daily usage.
This display is also brighter now, supporting VESA DisplayHDR 400 with a peak brightness of 650 nits and a typical brightness of 500 nits. This means it should offer better outdoor visibility. The touch display also supports the Surface Slim Pen 2, which can magnetically attach to the device. With this, Surface Laptop Studio 2 can be used for many creative use cases and also for students who love to do their note-taking on apps like OneNote.
Surface Laptop Studio 2: Intel 13th-Gen Core i7 Processors with NPU & Upto 64GB RAM
Microsoft's Surface Laptop Studio 2 features Intel 13th-Gen Raptor Lake mobile processors, which are a little old now considering the 14th-Gen CPUs are coming out soon. Still, Surface devices are on a slightly different timeline with unique hardware features, so this is normal to see on Surface laptops.
Talking about the RAM, Surface Laptop Studio 2 will be available in different variants with three capacities – 16GB, 32GB, and for the first time, 64GB as well. With the highest-end 64GB LPDDR5 RAM configuration, the Surface Laptop Studio 2 becomes quite a capable machine that wouldn't slow down any of the user's workloads even during heavy multitasking.
Talking about the CPU configuration, Surface Laptop Studio 2 is available with Intel Core i7-13800H Raptor Lake processor (boost clock up to 5.2GHz). The higher-end Core i7 CPU will give users slightly better multi-core performance, but both of them are similar otherwise. Talking about the boost clock & core count of these i7 13th-Gen laptop CPUs, both of them have a configuration of 14 cores & 20 threads with 6 P-cores and 8 E-cores.
If you're wondering what these P-Cores & E-Cores mean, the full forms of these are Performance (P) Cores and Efficiency (E) Cores. As the name suggests, these cores are part of Intel's hybrid performance architecture that's in Intel 13th-Gen processors. Accordingly, the P-Cores handle heavier workloads like content creation, games, etc., while the E-Cores handle background tasks & assist in distributing workloads effectively.
There's also an NPU chip on the Surface Laptop Studio 2. This is the Intel Gen3 Movidius 3700VC VPU AI Accelerator. You can read more about Intel's latest NPU chip here, which accelerates AI workloads and allows for on-device, offline usage of certain AI models. NPU is part of 14th Gen Meteor Lake, but Microsoft has added a separate Intel NPU chip alongside the 13th Gen Raptor Lake processors.
Surface Laptop Studio 2: Up to Nvidia RTX 4060 or 4050 Graphics
The Surface Laptop Studio 2 comes in four GPU configurations: Intel Xe Graphics (on the i5 variant), Nvidia RTX 4060 or RTX 4050 mobile GPUs, and also an option with RTX 2000 Ada Generation GPU. All the Nvidia GPUs here function at 80W.
The RTX 40 series by Nvidia encompasses their latest technologies as well as architectural improvements. So, the latest Surface Laptop Studio 2 gets all the features that are in RTX 40 series graphics cards. These include 4th-gen Tensor Cores, 3rd-gen RT Cores, AV1 codec, superior power efficiency, and more.
The RTX 4060 sports 8GB GDDR6 memory with 3072 CUDA cores, while the lower-end RTX 4050 has 6GB GDDR6 memory with 2560 CUDA cores. These GPUs support the latest DLSS 3.5 for realistic-looking ray-traced graphics. Obviously, the intention of including this graphics card in the Surface flagship laptop hasn't been done for gamers. Instead, the dedicated GPU is meant to accelerate graphics performance in professional workloads such as content creation in applications like Blender, Adobe Premiere, and others.
But yes, you can game quite well with both the RTX 4050 & 4060 GPUs on the Surface Laptop Studio 2. This is not a gaming laptop, but rather a high-performance Windows machine with a highly capable CPU+GPU configuration to power all sorts of workflows, ranging from content creation to app development, machine learning tasks, and more.
In case you're interested in the Surface Laptop Studio 2 but don't need the higher GPU performance, the Intel Xe graphics variant will suit you best.
Surface Laptop Studio 2: Ports, Storage, Battery and Speakers
Speaking of the ports, the Surface Laptop Studio 2 has a USB-A port, a microSD card slot, and two Thunderbolt 4 USB-C ports on the left side. The battery size here is 58Wh, and Microsoft says its flagship Surface Laptop Studio 2 can last up to 19 hours for the i5 model. The weight of the machine is 2.0kg, and it also supports Wi-Fi 6E as well as Bluetooth v5.2 for optimum connectivity.
This flagship laptop by Microsoft packs in one of the best speakers, being a quad omnisonic speaker that supports Dolby Atmos. The storage capacities available here start from 512GB. There are also variants with 1TB/ 2TB SSD capacities. The storage here is a PCIe Gen 4 SSD, offering fast storage performance and quick boot times.
Surface Laptop Studio 2: Price & Availability
The new Microsoft Surface Laptop Studio 2 is available in many variants ranging in price. In the US, it starts at $1,999 for the base variant with i5 13th Gen processor and Intel Xe graphics. Prices go significantly higher for higher-end variants with Core i7, 64GB RAM, and RTX 4060 GPU, and we will update this article when we know the prices of different variants. It will start shipping in October 2023, but the availability of different variants will vary depending on the region.
You can pre-order the Surface Laptop Studio 2 starting today in the US. We will update this section soon when the pre-order links go live. For availability in India, we will update you when the laptop officially launches.
---