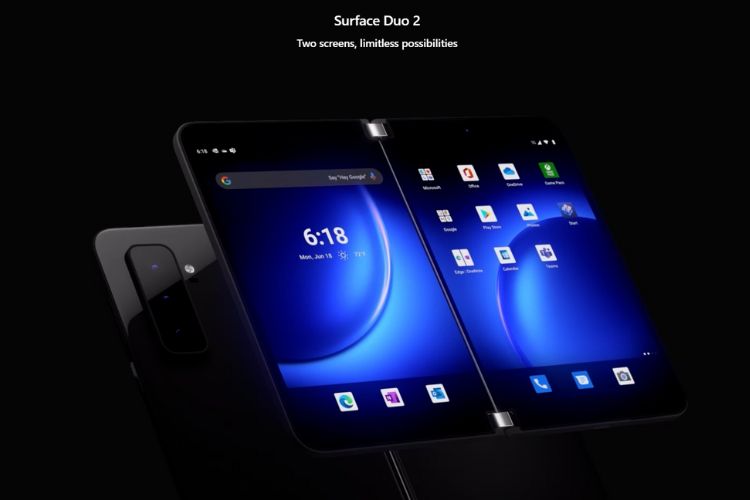 Back in 2019, when Microsoft unveiled its first ever Android smartphone, that too a foldable one, it got the world excited. The Surface Duo was an exciting device that marked the brand's re-entry into the smartphone market but failed due to obvious reasons. And the same story continued with the Surface Duo 2. Now, according to recent reports, Microsoft is planning the Surface Duo's return but with a twist. This time, the company's goal is to create a "truly foldable smartphone."
Is This the Next Surface Duo Phone from Microsoft?
As per the patent filed with the World Intellectual Property Organization, Microsoft is working on a device that will employ a 360-degree hinge to bend a flexible OLED display both inwards and outwards. The Silicon Valley giant is describing this tech as the "display frame translation mechanism."
This is a significant feat for two reasons. First, most foldable smartphones have an inward folding flexible display like the Galaxy Z Fold 5 and the Google Pixel Fold. There is even the recently announced Honor V Purse that has an outward folding display. However, until this date, no single device can do both.
Secondly, unlike the previous iterations of the Surface Duo where the two halves included individual AMOLED panels, Microsoft is set to use a continuous flexible OLED display this time around. Using a complex 360-degree cam-based hinge mechanism, the device will substantially "eliminate the tensile stress" exerted. For context, this is the resisting force that will not allow you to bend a regular foldable smartphone outwards without breaking it. But with this implementation, you can use it in both tablet and non-tablet mode using a single expansive flexible screen.
If Microsoft is able to turn this "truly foldable" dream into a reality, this will reinvent the way foldable smartphones operate. If done right, this could be the redemption of the Surface Duo smartphone lineup. Since foldable displays today are made out of plastic with a thin layer of glass above, it will be interesting to see how this device manages to bend the display both ways without damaging it. Would it be similar to rollable display phone concepts? Only time will tell.
That being said, this is a patent that may or may not turn into a real product. However, given Microsoft's commitment to the smartphone space, the future looks promising. So, what do you think of this new patent from Microsoft? Will you buy a foldable smartphone with a 360-degree hinge? Share your thoughts in the comments below.
Featured image: Microsoft Surface Duo 2 (2021)
---