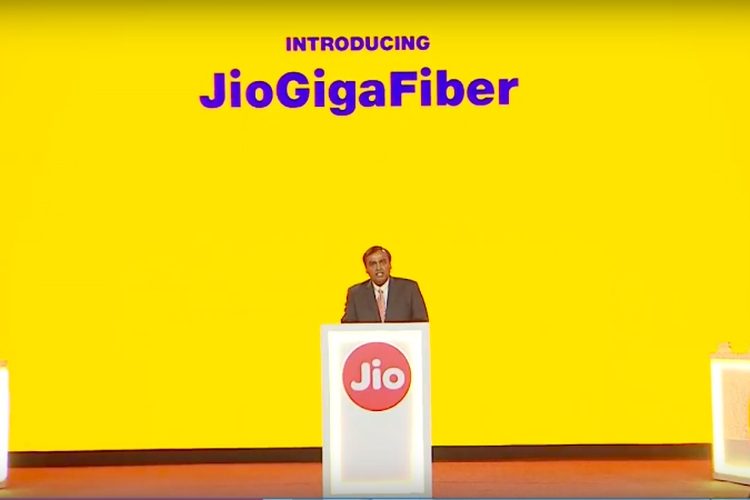 Early last month at its 41st Annual General Meeting, Reliance Jio announced its FTTH (fiber-to-the-home) broadband service – JioGigaFiber. The company claimed that its fiber broadband service will be rolled out simultaneously across 1,100 cities in the country, with registrations starting from August 15. Well, as you might have already guessed it, registrations for the JioGigaFiber service are now open on the company's website and on the MyJio app, however, there's a catch.
Registering for the service right now won't guarantee that you'll get a JioGigaFiber connection as soon as it's released. The company's registration formality is a feasibility survey of sorts which will help it decide which areas to target first. Areas which receive the most registrations will get JioGigaFiber services first, with other areas following at a later time.
As of now, the company hasn't disclosed any pricing information or revealed a timeline about the rollout, although it is expected that the company will target a price bracket which undercuts most major internet service providers in the country.
On top of that, since JioGigaFiber promises to deliver gigabit speeds for the home user, there's a significant chance that the service will shake up the broadband landscape in the country. We have already seen Airtel respond by removing FUP limits from some broadband plans.
Apart from delivering high speed internet direct to home, JioGigaFiber service will also enable smart home solutions enabling users to make use of smart security cameras, home appliances, lights, etc.
Jio's plan to roll out its fiber broadband services to 1,100 cities simultaneously seems a bit over the top and it would be great to see how the company tackles the hurdles that it'll face. Right now, if you're interested in getting JioGigaFiber service in your area, you can head on to the company's website or use the MyJio app to complete the registration. Priority will be given to areas which attract the most number of registrations.
---