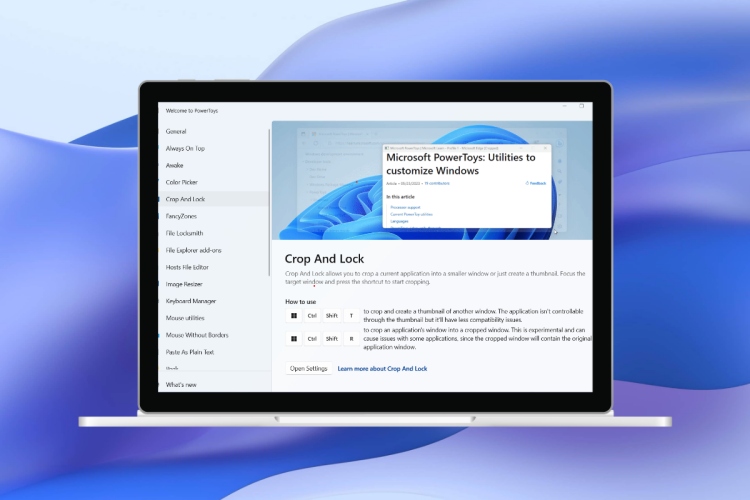 Microsoft PowerToys is a set of tools offered by Microsoft, meant to be used by power users. It offers a myriad of features that elevate your productivity while using Windows 11. Now, PowerToys just got an update in which Microsoft added a new feature known as Crop and Lock. Here we will discuss what is the Crop and Lock feature, and how you can use it yourself.
Microsoft PowerToys Crop and Lock Feature: What Is It?
With PowerToys Crop and Lock, you can crop an application window of your choice. Once activated, you can use that cropped section of the app, albeit within the user-selected cropped boundaries. This is useful because the cropped window stays on top of other apps and lets you become a powerful Windows 11 user.
There are many ways you can use Crop and Lock: to monitor a game's download, get market updates, and more. You can basically make a smaller version of any app of your choice. This feature was added in PowerToys version 0.73.0, and we have shown the steps to get started with Crop and Lock below.
How to Use Microsoft PowerToys Crop And Lock Feature
Next, open PowerToys. After it opens, navigate to the Crop and Lock feature, as shown below. Click on "Open Settings."
Ensure the Crop and Lock toggle is enabled. Now, you can edit the shortcuts with which the Crop and Lock feature is activated. Do so if needed, and then try to use the feature.
4. Press the "Win + Ctrl + Shift + T" keyboard shortcut to activate the Crop and Lock feature.
5. Select an area of an application window that you would like to crop and use in a smaller window. As an example, I'm monitoring my game download progress on the Windows Store, thanks to Crop and Lock, while continuing to browse the web.
So, do you like the new Crop and Lock feature in Microsoft PowerToys? Hopefully, it makes using Windows 11 more productive for you. Let us know your thoughts in the comments below. By the way, here's all we know about the upcoming Windows 12.
---