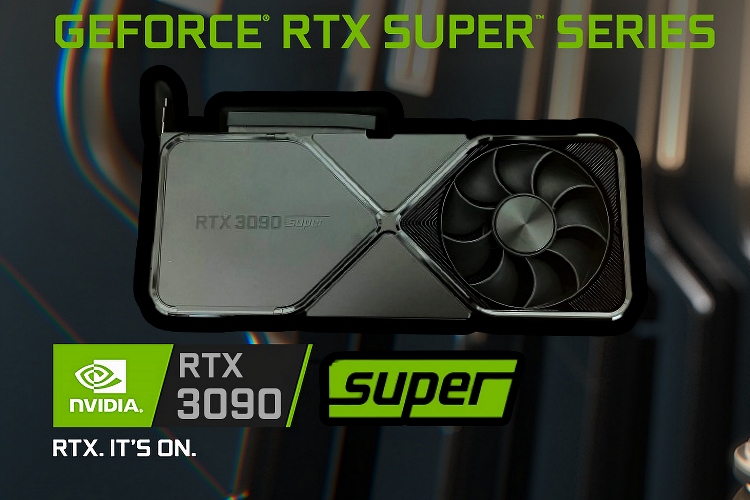 Nvidia's GeForce RTX 3090 was the top-end enthusiast class offering in the RTX 30 series graphics cards, based on Ampere architecture. Do you remember the RTX 20 Super edition GPUs? Nvidia released these Super cards as slightly faster variants of the existing RTX cards back in 2019. Nvidia came out with RTX 2070 Super, 2060 Super, and more graphics cards back then, shifting to Ti variants later on.
But, as per recent leaks, it seems like Nvidia was all set to release a potential GeForce RTX 3090 Super card. But the Super never came out!
Canceled RTX 3090 Super Graphics Card Revealed
It looks like Nvidia abandoned its plans to continue with the 'Super' branding in the RTX 30 series. If you are wondering what this "RTX 3090 Super" GPU is, in simple words, this is what the RTX 3090 Ti was called before the 'Ti' suffix was finalized.
There were rumors back in the day about this graphics card, and we dismissed these rumors when the 'Ti' variant officially came out. But guess what? These rumors were somewhat true because there was in fact an RTX 3090 Super that some people may have seen, and then leaked. Now, we get to see it too! Take a look at the now-canceled "Super" variant of Nvidia's top-end RTX 30 series graphics card, which never made it to the market:
As you can see in the pictures, this is Nvidia's 3090 Super Founders Edition. The most striking feature here is the all-black design. Even the X frame of this canceled FE GPU sports an all-black paint job. This RTX 3090 Super features the same Dual Axial Flow fans as all other FE graphics cards from Nvidia. There were probably very few prototypes of this now-canceled graphics card that landed in people's hands. Thankfully, we got a look at it!
You can read how the RTX 4090 is different in comparison to the RTX 3090 Ti in this dedicated guide. In the actual graphics card that was released, the color scheme was not all-black. The pictures of the canceled 'RTX 3090 Super' show a different aesthetic that never made it to the market.
What are your thoughts on the canceled Super variant of Nvidia's RTX 3090 GPU? Do you like the all-black aesthetic? Do let us know in the comments.
---