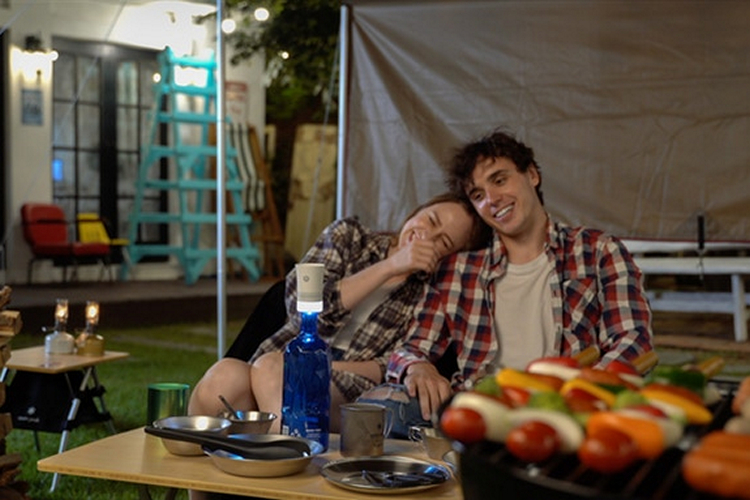 Have you ever wanted a highly portable speaker that could just magically blend in with things you already have? Well, check out Cork 2, a Bluetooth speaker that completely steps up the audio quality when it is placed on top of a bottle.
There are two versions of Cork 2 namely Cork Light and Cork Mini. The main difference between these two is the size indeed. Also, as the name hints, Cork Light comes with an LED light that is missing in the Mini version. The brightness of the LED light can be adjusted so that it does not overpower or ruin your mood.
One of the salient features of Cork is that the sound output differs based on the kind of bottle you place it on. This will help you choose the type of bottle you like that manages to provide the sound output that you prefer.
As you might have guessed, the bottle acts as a resonance chamber to boost the sound quality. The company claims the sound output with Cork on top of a bottle can match the dedicated speakers out there with large resonance chambers.
When it comes to portability, Cork 2 Mini takes the upper hand. This is because the size of Cork 2 Mini is as small as a bottle cap. It is also light and will easily fit in your jeans. The company also provides you with a handy leather case that can be tagged to your backpack.
Both Cork 2 Light and Mini come with Bluetooth 4.1 connectivity and has a range of up to 10 meters. Cork Light packs a 500 mAh battery that lasts up to 6 hours on continuous usage while Cork Mini has a smaller 200 mAh battery that supports playback up to 2 hours without needing another charge.
Speaking of charging the speaker, it, unfortunately, comes with a micro-USB port. So, USB C enthusiasts are quite out of luck here. Nonetheless, you won't mind carrying an extra cable for such a portable speaker, will you?
In case your smartphone supports Dual Audio, you can pair two Cork speakers to play the same music together for an amplified effect.
You can get yourself a Cork Mini at a price of $24 under the Super Early Bird plan on Kickstarter. If that goes out of stock by the time you check, you may still get the Cork Mini at an Early Bird price of $27. There is also a Kickstarter special variant of the Cork Mini for $30.
On the other hand, the Super Early Bird price of the Cork Light starts at $40 and goes up to $43 for the Early Bird plan and $46 for the Kickstarter special plan. The product ships anywhere in the world and the estimated delivery is set to November 2019 if you order right now.
So, what are your thoughts on Cork 2? Let us know in the comments.
Check-out Cork 2 on Kickstarter
---