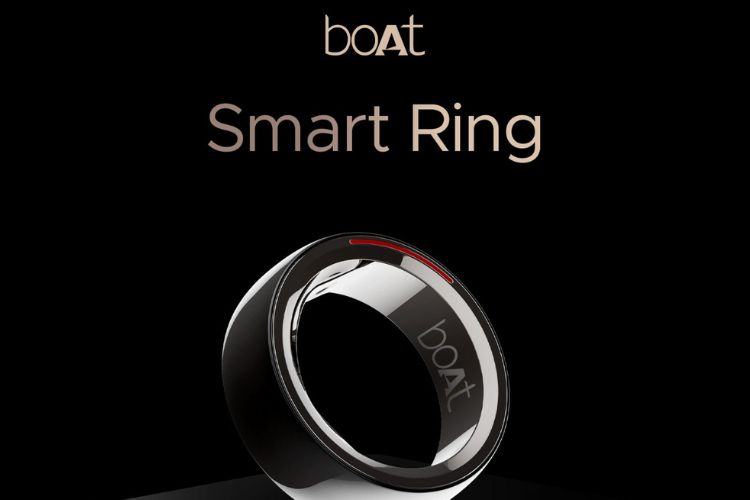 Homegrown wearable brand boAt has announced its first-ever Smart Ring in India. This will mark the brand's step forward in wearable technology, especially when it will focus on an affordable offering. This comes after the news of Samsung developing a smart ring. Here's a look at what we can expect from boAt's upcoming innovation.
boAt Smart Ring Coming Soon
boAt has revealed that the Smart Ring will come with a sleek design and will have a ceramic and metal build for a premium look. It will include the company's logo on the inside. It is said to be lightweight and durable while being a stylish accessory.
The wearable will include a number of health features, which are normally seen on smartwatches. There will be a heart rate sensor, a SpO2 sensor, a sleep tracker (which will be much easier to use as compared to a smartwatch), and a period tracker too.
The Smart Ring will also come with a body temperature sensor, which can help record the body temperature and help know about potential health issues. Plus, there will be the ability to track the steps taken, the distance covered, and the calories burnt to keep an eye on your daily fitness.
The device will also help track the body's recovery levels with the help of the heart rate variability analysis and activity records. Additionally, the boAt Smart Ring will have smart controls, which can also help users control compatible devices.
boAt's Smart Ring will be available to buy via Amazon, Flipkart, and the company's website but we don't know when. Plus, there's no word on its price. Although, we can expect something on a budget. This new product surely looks like an interesting one and I can't wait to know how this performs in the real world and whether or not a smart ring will end up becoming more popular than a smartwatch in India. Stay tuned for further updates, and do share your thoughts on the boAt Smart Ring in the comments below.
---