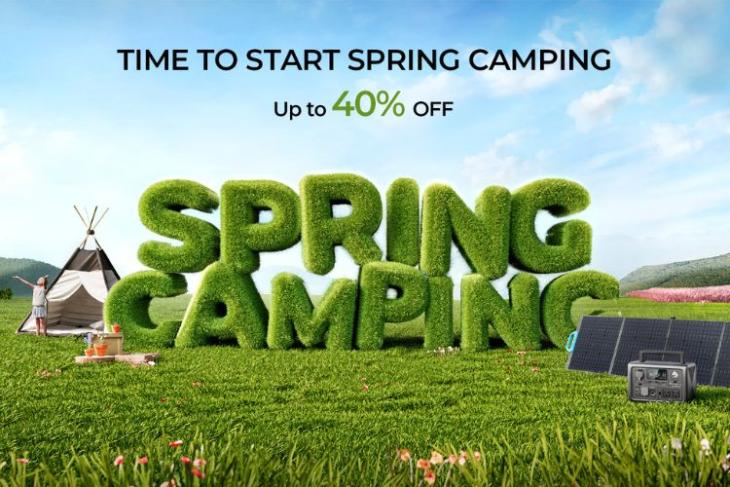 BLUETTI, one of the most well-known and trusted brands in the power station and solar generator space, welcomes the Spring wave with its first-ever sale. BLUETTI is offering massive discounts on its wide range of power solutions as part of its "Time to Start Spring Camping" Campaign. Starting from 7th March onwards, BLUETTI's Spring sale will see save up to 40% on a variety of products such as solar panels, power generators, and power stations. Continue reading below to learn about the various deals on BLUETTI products.
BLUETTI Spring Sale 2023 Announced
The most popular products of BLUETTI are on huge discounts during this sale. Products like the EB70S, AC500, AC200MAX, and many more are available at massive price cuts. So, in order for you to make your 2023 Spring outings comfortable, you should stock up on the must-haves.
BLUETTI Portable Power Stations
BLUETTI EB70S
The BLUETTI EB70S is designed specifically for long outdoor sessions such as camping, hiking, picnics, and so on. This portable power station features state-of-the-art technology and innovation, featuring an 800W power inverter and a 716Wh LiFePO4 battery pack. This is also an ideal product for your home during power outages.
The EB70S is equipped with 12 output ports and a 15W wireless charging pad at the top. This portable power station can provide up to 2,500+ life cycles and can be fully recharged in 3 to 4 hours using solar panels. Apart from that, it supports three other charging modes, including wall outlets, cars, and generators. The EB70S is versatile, and portable, and arrives with a two-year warranty. You can purchase this power station for as low as $520 during the BLUETTI Spring sale.
Buy BLUETTI EB70S (original price: $599, discounted price $519)
BLUETTI EB3A
The BLUETTI EB3A is a much more sustainable option that will not only reduce the carbon footprint but will help generate energy more efficiently. The EB3A is small and compact, however, it is well suited to handle power-hungry needs, thanks to its 600W Pure Sine Wave Inverter (1,200W surge) and a modest 268Wh capacity.
Moreover, this portable power station can recharge itself to 80% in 30 minutes with its 430W Fast Charging capability. Thanks to its advanced Battery Management System, the EB3A is protected against overloads, over-temperature, short circuits, and over-currents, while maintaining low temperatures. The nine-outlet design of the EB3A can cater to all of your needs. You can charge the EB3A in six different ways, and you can also combine two different charging methods simultaneously. The EB3A power station also supports 2 years warranty.
Additionally, you can avail a huge discount of $140 if you purchase both the EB3A power station and PV200 solar panels (original price: $798, discounted price: $658).
Buy BLUETTI EB3A (original price: $299, discounted price $239)
BLUETTI AC200P
The BLUETTI AC200P is your reliable off-grid power source that can come in handy during long-duration power outages, as well as long-duration outings. With multiple port options (USB-A, USB-C, 12V/3A DC port, 12V/25A RV port, Cigarette lighter port, and 15W wireless charging), the AC200P is one versatile portable power station.
Its 2,000Wh LiFePO4 battery offers 3500+ cycles and can last up to 10+ years. Moreover, the AC200P's Advanced Battery Management System (BMS) monitors everything happening to the device, protecting it from operational risks. It also comes with a smart temperature-activated fan. You also get 4 years of warranty with the AC200P.
Additionally, you can avail of a massive discount of $600 if you purchase both AC200P and B300 (original price: $3998, discounted price $3398) during the BLUETTI Spring sale.
Buy BLUETTI AC200P (original price: $1699, discounted price $1599)
BLUETTI Home Battery Backup Systems
AC500 + B300S
The AC500 power station combined with the B300S expandable battery can prepare you for sudden power outages and can also help you save money on your electricity bills.
With a 5,000W capacity, the AC500 can take up to 10KW surge and can deliver a maximum of 8,000W output (AC + PV). The LiFePO4 battery supports up to 3,500+ life cycles, with 10+ years of assurance. Further, the AC500 also supports fast charging and can charge up to 80% in 50 minutes. It also supports 3,000W solar charging.
The AC500 arrives with 16 outlets to cater to your every need, enabling you to charge laptops and use a CPAP machine, microwave, and an air conditioner, among other things. Without its built-in battery, the AC500 is also very portable. You can always add extra B300 or B300S batteries, as per your needs. Every AC500 supports 6 expansion batteries to generate a total output capacity of 18,432Wh. The AC500 also comes with a 4-year warranty.
Buy BLUETTI AC500 & 2 B300S (original price: $7598, discounted price $7098)
AC300 + B300
The BLUETTI AC300 is a 3,000W Pure Sine Wave 100% modular inverter that features a 16-output design, and you can connect four 3,072Wh B300 expansion batteries for a whopping 12,288Wh capacity. The AC300 boasts a 3,072Wh LiFePO4 battery that supports 3,500+ life cycles with up to 80% efficiency. It can act as a 24/7 UPS Home Backup.
This power backup device is made keeping in mind long-duration power cuts that can lead to spoiled food and smelly laundry. This can be taken care of with the AC300, coupled with B300, which can run a 700 W refrigerator for 3.7 hours and a 500W washing machine for 5.2 hours. You can charge this beast in seven different ways, with 2400W maximum solar input and 5400W maximum fast dual charging. The AC300 comes with 4 years of warranty, and you can get this power backup station at an $800 discount during BLUETTI's Spring sale.
Buy BLUETTI AC300 and B300 (original price: $6197, discounted price $5397)
BLUETTI AC200MAX Expandable Power Station
This is BLUETTI's first expandable power station and is the perfect fit for any long outing or for your home as well. The AC200MAX is a Pure Sine Wave Inverter with 4,800W Surge and a 2,048Wh battery capacity (expandable up to 8,192Wh using B300 batteries). It can deliver 2,200W output to multiple devices, thanks to its 14-outlet multi-port design with two top-mounted wireless charging pads. Further, the AC200MAX also arrives with smart controls and monitoring via the BLUETTI app.
You can charge your AC200MAX through up to 900W of solar input, and 500W via the adapter, and can even charge it up with solar panels and outlets simultaneously. This can push a staggering 1,400W total fast charging rate to fully charge the BLUETTI AC200Max in less than two hours! This makes the BLUETTI AC200MAX both versatile and budget-friendly.
Further, as part of its Spring Sale, you can get the BLUETTI AC200MAX and 3x PV200 solar panels combo for $2,368, discounted by $130 over the original price of $2498.
Buy BLUETTI AC200MAX (original price: $1,999, discounted price $1,899)
BLUETTI Portable Solar Panels
BLUETTI is also well-known for its wide range of solar panels that focus on sustainability, efficiency, and longevity. The PV200 solar panel is no different. With monocrystalline solar cells, the PV200 is up to 23.4% more efficient than other products on the market.
With ETFE Coating and an IP65-rated junction box, PV200 will last you for a long time and can withstand any harsh weather conditions. The biggest USP of PV200 is that it is foldable, hence, portable. With 200W power, the PV200 can keep your solar generators juiced up as long as there is sunlight available. Plus, the PV200 is compatible with most solar generators, thanks to its MC4 connector.
The PV200 is highly diverse in its usability and can be easily set up using the provided kickstand. During its Spring sale, BLUETTI is also offering price cuts on PV420 (original price: $1099, discounted price $899), PV200 (original price: $499, discounted price $469), PV120 (original price: $319, discounted price $284), and PV68 (original price: $149, discounted price $129).
Buy BLUETTI Solar Panels
Grab these Amazing BLUETTI Deals Now!
So yeah, the BLUETTI "Time to Start Spring Camping" Campaign is currently live and offering up to $800 discounts on some of the best power stations and solar generators in the market. BLUETTI has not announced any official end date for the sale. However, if I was you, I wouldn't wait long to get my hands on these products. These deals are too good to be true and the BLUETTI assurance is unmatched. You can directly visit the links above to grab these fantastic offers. It is with no doubt that a beautiful, reliable, and powerful power station can make your spring outings much more enjoyable and comfortable. So, which BLUETTI product impressed you the most? Which BLUETTI product are you looking to buy? Let us know in the comments below.