As soon as the announcement was made public about re-elections to take place in Delhi a lot of hullaballoo has been generating on social media.
While there are many supporters of AAP on Twitter making Kejriwal look like the lethal force to deal with; there are others who are completely mocking him for his everyday nuisance on the social networking site with new trends each day.
The latest person to jump this bandwagon is none other than our country's very own Babuji; Shri Alok Nath. His Twitter spree has made him country's favourite once again but this time he has not just giving 'aashirwad' to give to AAP's Arvind Kejriwal.
This Is What Babuji Had To Say About Arvind Kejriwal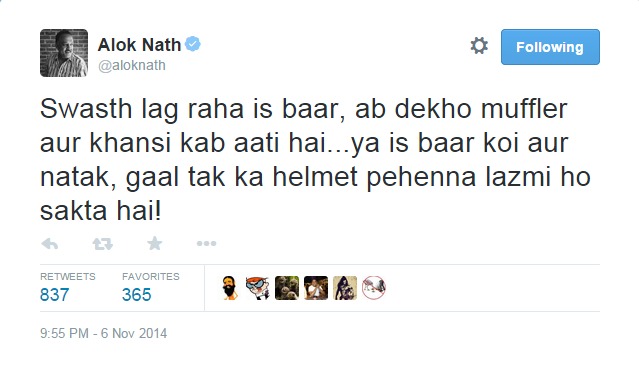 Then, People Starting Reacting To His Tweets….
1. When He Was Compared To AAP's Manish Sisodia


Babuji Reacts With This Awesome Reply

2. Then, He Was Warned Of The Repercussions Of His Tweet

Our Humble Babuji…

3. Even Charachters From Dabbangg Made Their Presence Felt…

Bringing Out The Dramatic Side Of Babuji

4. When Some Serious Accusations Were Made On Babuji…

He Had His Wit  Do All The Talking Hinting At Kejriwal

5. Kejriwal Being Told To Listen To Babuji

Well, Babuji Didn't Even Care Even If He Wasn't…

Recommended: #FirstTweet by Famous Bollywood Celebrities