Asus recently launched the ZenFone 5Z in India aiming to upend the OnePlus 6's dominance in the market. The ZenFone 5Z comes in at a starting price of Rs. 29,999 and brings a 3,300 mAh battery with QuickCharge 3.0 support. So, if you're wondering how long the battery on the ZenFone 5Z lasts, we've done the testing for you.
Charging Test
Since Asus is marketing this as a flagship smartphone that competes with the OnePlus 6 (and the specs are right up there with flagship phones of 2018), it makes sense that the company enabled QuickCharge 3.0 on the ZenFone 5Z. So I first put it through a charging test.
I tried charging the ZenFone 5Z from 10% all the way up to 100% and noticed a couple of things. First, the ZenFone 5Z gets up to 50% in around 30 minutes. That's really nice, and even though it's not as fast as Dash Charge (which goes to around 70% in half an hour), it's pretty damn good. To reach a full 100%, the ZenFone 5Z takes around 90 minutes, which, again is a pretty good time.
Honestly, I have no complaints with the charging speed on the ZenFone 5Z, Asus has done a pretty good job.
Battery Life
Moving on to the battery life you can expect from the ZenFone 5Z, the phone lasts about as long as you'd expect a modern day flagship coupled with an IPS LCD panel to last on that battery capacity.
Battery Life with Light Usage
Starting off with a full 100% charge in the morning, in normal, every day usage of the phone which includes some web browsing, light casual gaming, calls, social media and playing around with ZeniMojis (which are terrible, by the way), I observed that I ended the day with around 38% battery left on the ZenFone 5Z. That's pretty much what I expected, considering the screen on time was 3 hours and 30 minutes. Basically, if your usage is pretty light, the phone will last you through a day without any issues at all.
Battery Life with Heavy Usage
With heavy usage, which means extensive use of the phone with a lot of heavy games (including PUBG Mobile and Asphalt 8), taking a lot of pictures and videos, and heavy Instagram usage along with the regular WhatsApp messages and phone calls, the phone didn't fare all that well. Starting off with 100% at around noon, I got a screen on time of 4 hours and 8 minutes — the battery had reached a panic-inducing 5% by then. Needless to say, if you're a heavy user, the ZenFone 5Z might need charging between your regular day to keep going till the end of the day.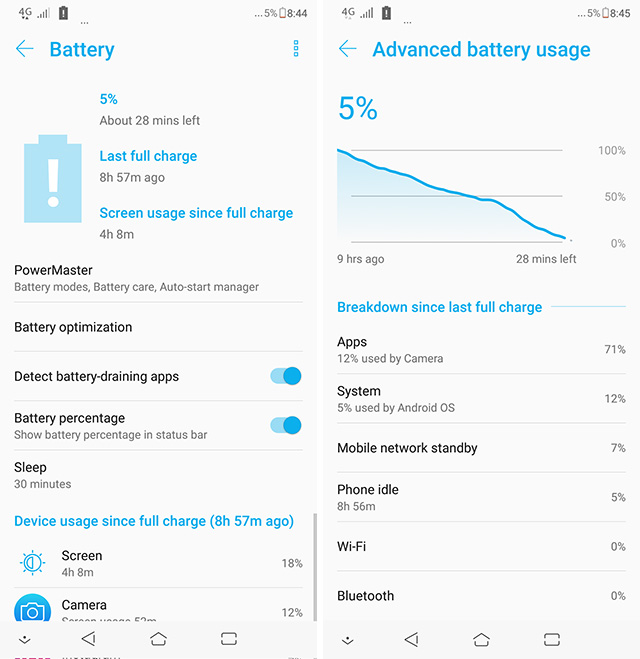 SEE ALSO: Asus ZenFone 5Z Camera Review: Flagship-grade or Ordinary?
ZenFone 5Z Battery Test: Decently Good but Nothing Special
To conclude, the Asus ZenFone 5Z's battery life is decently good enough. There's nothing special about it. The OnePlus 6 also has a similar battery life though, so it's not like the ZenFone 5Z is lacking when it comes to the battery department in any way. In fact, with an LCD display, I'd say the battery life is a tad better than I would've expected from the phone. The base variant of the ZenFone 5Z goes for Rs. 29,999 and at that price, the phone does look like it'll compete pretty well against the OnePlus 6.