Apple Fitness+ has finally launched and as you can guess from the name, it's a fitness subscription for Apple users. It brings quite a lot of features and integrations that you would expect from Apple, and there are several ways to access and use it. So, if you're feeling like you have a lack of information about Apple's fitness service and how it works, here's everything you need to know about Apple Fitness+.
Apple Fitness+: Everything You Should Know
We will be taking a deep look into Apple Fitness+ and discussing every aspect of the service. That means we will look at things like device compatibility, pricing, the types of workouts it offers, and a lot more. Since there will be a lot of stuff to talk about, I'm dividing this article into sections. You can use the table of contents below to skip ahead to any section that you need.
Compatibility
First things first, let's see what sort of devices are compatible with the new fitness service from Apple. Here's a list of devices compatible with Apple Fitness+:
iPhone 6s and above (with iOS 14.3 or higher)
iPad (with iPadOS 14.3 or higher)
Apple TV (with tvOS 14.3 or higher)
Apple Watch Series 3 and above (with watchOS 7.2 or higher)
Mac with AirPlay (macOS 12 Monterey or higher)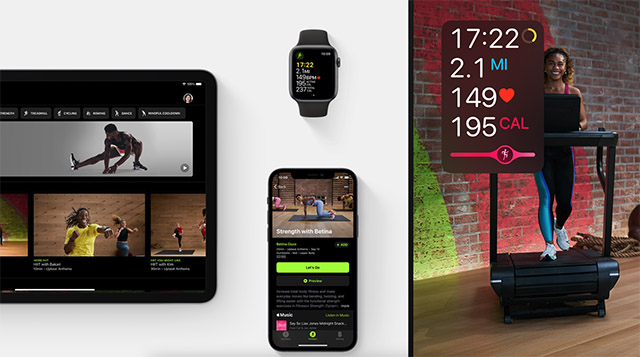 While you don't need to have all of these devices in order to use Apple Fitness+, Apple Watch is not optional. If you are thinking of using the service to get some workouts in, you absolutely need an Apple Watch Series 3 or later.
How It Works
Now that we know which devices you can use, how does it work? It's actually quite simple. Plus, Apple is doing some nice things here to make the experience even better.
Basically, the service connects with your Apple Watch, and another device (could be an iPhone, iPad, or Apple TV). You can then choose a workout you want, or pick something from the recommendations, and you're off to the races.
The service uses the sensors on your Apple Watch to track your metrics including your heart rate. However, the cool thing is you don't ever need to look at your watch because Apple Fitness+ displays these metrics right on the screen of your iPhone, iPad, or Apple TV.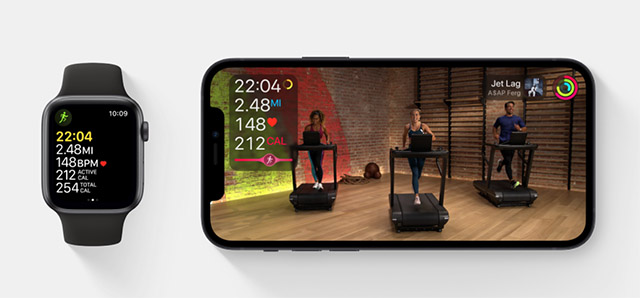 The service also automatically picks out music that goes well with the workout you're doing (although you can select the kind of music you want when searching for a workout if you want). Plus, if you're an Apple Music subscriber, you can even save these playlists to your phone and listen to them anytime.
Plus, it also utilises animations on the screen for milestones such as closing an activity ring like the exercise ring. Based on the images shared by Apple, this animation looks like the one you get on your Apple Watch when you close rings. So the experience should be pretty neat.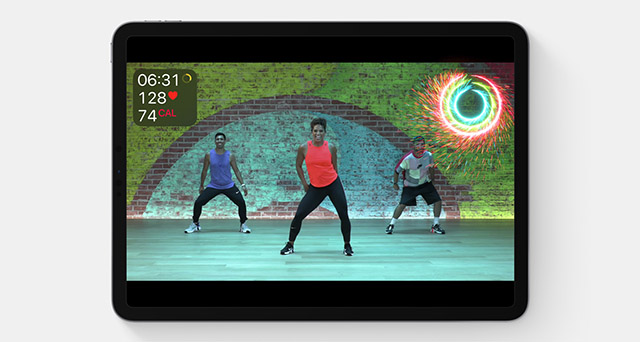 Workout Features in Apple Fitness+
Apart from the core things we talked about in the previous section, Fitness+ also brings a bunch of other features as well.
For one thing, you get a lot of workouts to choose from. Moreover, Apple says it will be adding new workouts every week, which means your choices should grow really fast over time.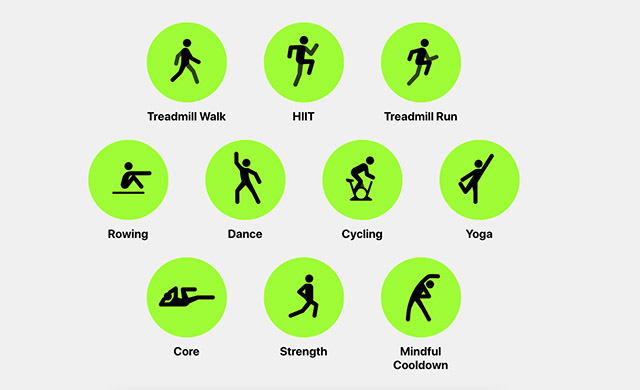 As I mentioned in the previous section, you can search for workouts if you want, and the search feature looks pretty well thought out as well. You can search with filters for the workout you're looking for, your preferred trainer, and workout durations (from 5 minutes to 45 minutes). So, even if you have only a short break, you can still workout.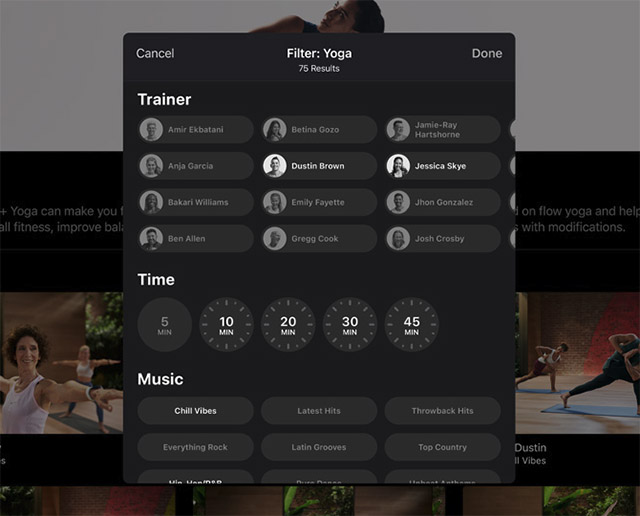 You'll also obviously get recommended workouts. Now, Apple says these are based on things you normally do with your Apple Watch's Fitness app, so they should be the kind of workouts you're already used to doing. However, it also suggests new trainers and workouts in an attempt to round out your workout routine. I think this is great, especially for beginners who may not know the workouts they should be doing for an overall health benefit.
The service also has some semblance of social competitiveness included. Some cardio workouts include a 'Burn Bar'. This basically uses your metrics to show you how you stack up against everyone in the workout. A little competitiveness can be a big boost to making you want to perform better in workouts, so this is actually a neat little idea.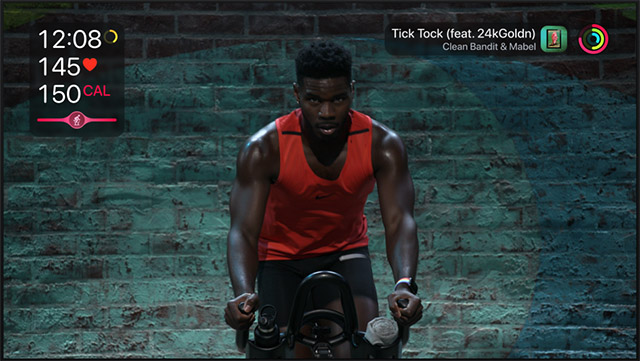 Availability and Pricing
The service launched with iOS 14.3 and watchOS 7.2 and is already available in some countries around the world. Here is a list of countries with Apple Fitness+:
US
Canada
UK
Australia
Ireland
New Zealand
The service is priced at $9.99 per month, or $79.99 per year. However, you can get a free one month trial to test it out. Moreover, if you buy an Apple Watch, you can get three months of complimentary subscription.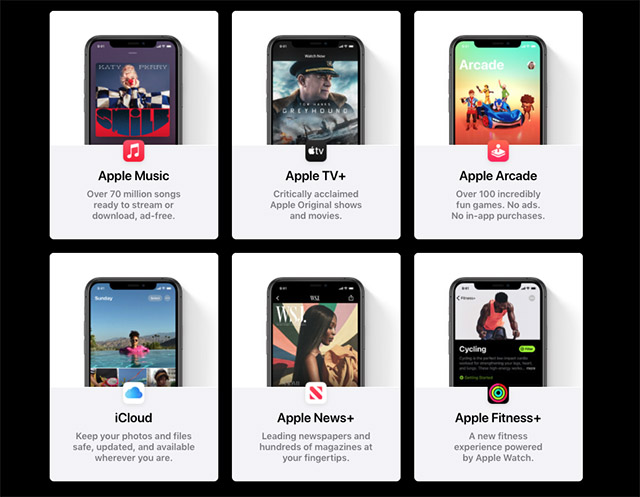 It is also available as part of Apple One Premier bundle which is priced at $29.95 per month and brings Apple Music, Apple TV+, Apple Arcade, 2TB iCloud storage, Apple News+, and Apple Fitness+.
FAQs
Q. When is Apple Fitness+ coming out?
It is already available in the US, Canada, UK, Ireland, Australia, and New Zealand. It will be expanding to other regions as well.
Q. Do I need an Apple Watch?
Apple Fitness+ requires an Apple Watch Series 3 or higher.
Q. Does Apple Fitness+ offer different levels of fitness?
The service is made for everyone from beginners to experts. It also offers an Absolute Beginner program for people who need to learn the basics.
Q. Will Apple Fitness+ come to India?
It will, but Apple has not announced a firm launch date yet.
Q. Do I need gym equipment for Apple Fitness+?
There are workouts that utilise gym equipment, but you don't need equipment to use Apple Fitness+. There are plenty of workouts that don't require any equipment at all.
Q. Is Apple Fitness+ available on Android?
No, the service is only available for Apple devices.
Apple Fitness+ Seems to be a Good New Offering
So yeah, that's everything you need to know about Apple Fitness+. Obviously, since the service has only just launched, Apple might add new features to it as well. We know for sure that new workouts are going to be coming every week, which is great. So, what do you think about Apple Fitness+? Is it something you are willing to use to help along with your workouts? Or are you using another fitness service? Let us know in the comments.