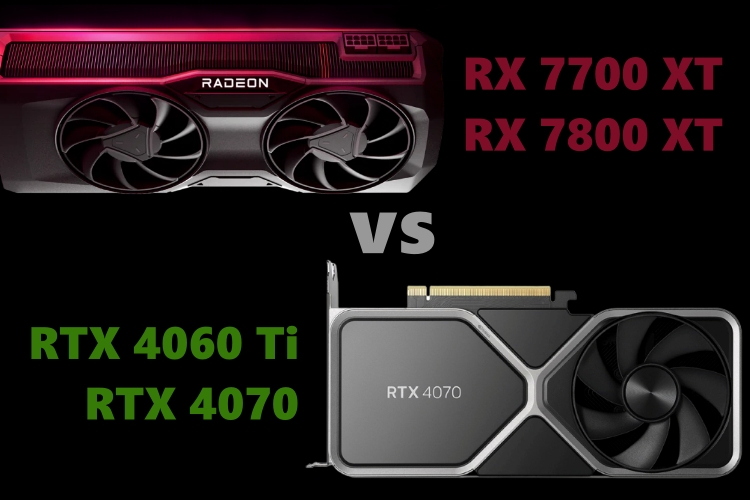 AMD Radeon RX 7700 XT and RX 7800 XT were recently announced at Gamescom 2023, and we did get performance figures. Now, the reviewer's guide for these new RDNA 3 graphics cards has been leaked. We have the leaked benchmarks and performance figures, so let's look at how these new graphics cards from AMD fare against their competitors, the NVIDIA GeForce RTX 4070 and RTX 4060 Ti.
RX 7800 XT & RX 7700 XT GPU Benchmarks Leaked
AMD's official benchmark data sent to various media publications has leaked, and let's start by discussing the gaming benchmarks that were provided to VideoCardz, courtesy of HDtecnologia, who initially shared the data. Sadly, we did not get any comparison data with Nvidia's DLSS 3 or AMD FSR 3 AI-powered frame-generation technologies enabled.
Anyway, let's discuss the gaming benchmarks that show these mid-range graphics cards from AMD and Nvidia compared against each other. We have attached the leaked benchmarks below, and here is what was revealed in these:
In Call Of Duty: Modern Warfare 2, the Radeon RX 7700 XT was 31% more performant than the RTX 4060 Ti. The bigger brother, which is the RX 7800 XT, also got 23% higher FPS than the competing GPU, which is Nvidia's RTX 4070.
In Cyberpunk 2077 (no RT)as well, the RX 7700 XT was 26% faster than the RTX 4060 Ti. Similarly, the RX 7800 XT was 23% faster than the RTX 4070.
In ray-tracing scenarios, Nvidia reigns superior in Cyberpunk 2077 RT Overdrive. Both the RTX 4070 & RTX 4060 Ti are 69% & 64% ahead of the competing AMD RDNA 3 GPUs respectively.
AMD's new GPUs still show competitive RT performance against Nvidia GPUs, even being ahead in Resident Evil 4 set to Maximum RT mode. In Forza Horizon 5, all GPUs showed similar performance.
RX 7800 XT & RX 7700 XT GPUs 3DMark Benchmark Leaked
Those were interesting figures, and now let's look at the leaked 3DMark benchmark data. These are synthetic benchmarks for gamers. The leak has revealed crucial data with which we can draw comparisons against these competing graphics cards from Nvidia & AMD.
Here is a run-down of what was revealed in the leaked benchmarks. The RTX 4060 Ti & RTX 4070 graphics cards were compared against AMD RX 7800 XT & RX 7700 XT GPUs. The benchmark data for other 3DMark tests have also been attached below.
In 3DMark Port Royal, a ray-tracing-focused gamer's benchmark, the RX 7700 XT won against the RTX 4060 Ti scoring about 7.8% more. However, the RTX 4070 was about 6.9% ahead of the RX 7800 XT in the same test.
In 3DMark Time Spy Extreme, which is a 4K-focused gamer's benchmark without ray-tracing, both the AMD RX 7700 & 7800 XT outperformed the competing Nvidia RTX 4070/4060 Ti GPUs, scoring about 7.1% & 20% of their respective competitors.
Overall, the RX 7800 XT & RX 7700 XT are both definitely impressive graphics card offerings from AMD. FSR 3 is expected to come out this month as well, which will definitely be the deciding factor for many gamers. What are your thoughts on these performance figures of Nvidia & AMD's mid-range graphics card lineup? Let us know in the comments.
---