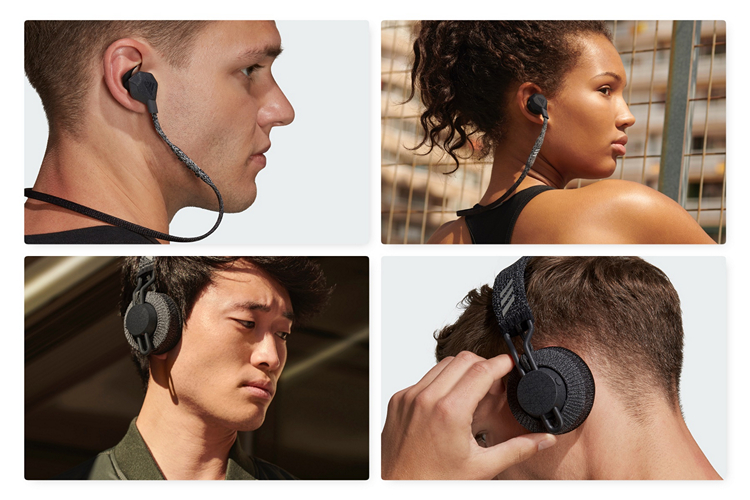 It looks like every other lifestyle brand wants to enter the electronic gadget business. Last month, we saw Playboy unveil a pair of headphones for $149, and now Adidas has entered the wireless audio segment by launching wireless in-ear and on-ear headphones in partnership with Zound Industries.
As you might have guessed, both of these wireless audio solutions are aimed at athletes and sports enthusiasts, the same target audience of the brand's other products."FWD-01 are wireless in-ear headphones, designed for running, and RPT-01 are wireless over-ear headphones, perfect for training sessions in the gym.", reads the press release.
FWD-01 In-Ear Headphones
Named FWD-01, the in-ear headphone follows an around-the-neck design which would be ideal for running and gym sessions. In terms of connectivity, it comes with Bluetooth 5.0. The company guarantees a 16-hours playback time with these earphones. Also, it has auto-pause functionality and "passive transparency" that lets you hear the ambient sound.
Since this is coming from a brand with expertise in lifestyle and fitness related products, it comes with IPX4 certification to withstand all your sweaty workout sessions. Plus, there's a USB-C port for charging which will be convenient for a lot of people since the world is moving towards USB-C ports these days.
To make sure that the earbuds don't keep moving around when not in use, it comes with magnetic properties that will allow the earbuds to snap together in idle conditions.
The FWD-01 is priced at $149 and it is available in dark grey color. You can buy these earphones right now but do note that shipping will begin from the 25th of September.
Buy Adidas FWD-01 In-Ear Headphone
RPT-01 On-Ear Headphones
RPT-01, on the other hand, is a wireless over-ear headphone focused mainly on intense gym training sessions. Just like FWD-01, this headphone also comes with Bluetooth 5.0 connectivity.
Adidas promises up-to 40 hours of playback time with these headphones. Also, the headphone does not miss out on the USB-C port. It is also sweat-proof, with an IPX4 rating.
The best feature, however, is that the ear cushions and inner headband are removable and washable. Yes, you don't have to tolerate any unpleasant odor caused due to your sweat anymore.
The website mentions the existence of an Adidas headphones companion app that will allow you to use more features. However, details regarding the same have not been mentioned anywhere.
You can buy RPT-01 at $169 from the official website and it is offered in a dark grey color just like FWD-01. The shipping will start on September 25.
Buy Adidas RPT-01 Sport On-Ear Headphones
---