Being a Windows operating system user since past 4 years, what irritates me the most is seeing an update for OS or any other free software. I don't know how Linux and Apple users reacts to an update for their computer, but I am sure that windows users won't be happy about update.
Here's a comic that shows the reaction of windows, linux and apple users when an update is available for their computers.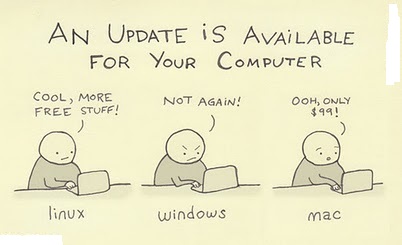 If you find the post hilarious, please like and share among your friends.
SEE ALSO:
The Evolution of Tech Companies Logos (Pics)
People Who Work With Computers Seem To Have A Lot Of Spare Time (Comic)