We recently covered Storytel, which is the first ever audiobook service to provide region-specific content for Indian consumers. Before Storytel launched its operation in India, there was no other audiobook service which catered specifically to Indian consumers. Storytel wants to change that. That's why apart from bringing popular novels written by both foreign and Indian authors, Storytel is also producing its own original audio series with an aim to provide more regional content. In this article we are going to take a look at Storytel's original audio series and see if it brings enough incentive to justify the monthly subscription that you need to pay to enjoy its services:
What is Storytel Original Audio Series?
If you are already subscribed to Netflix or Amazon Prime Video or Hotstar, you already have a concept of original content. If you haven't, let me explain it to you succinctly. Services like Netflix and Storytel offer two types of content to its users. First is the generic popular content which is produced by different studios and the services like Storytel act only as a distributor of the content.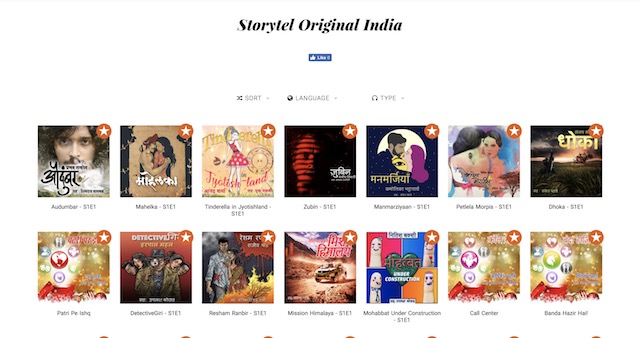 However, that means that multiple services can get the rights to distribute the similar content. That's why to get their edge over other services, services like Netflix and Storytel also produce original content. The benefit of producing original content is that only the service producing it has the rights of distributing that content. For example, if you want to watch Game of Thrones, the only way to do is through HBO. Similarly, in case of original audio content, Storytel is both the producer and distributor of that content. This gives Storytel an edge over other similar services. With its original content catalogue, Storytel can give you access to exclusive and unique content of their own which you won't find anywhere else.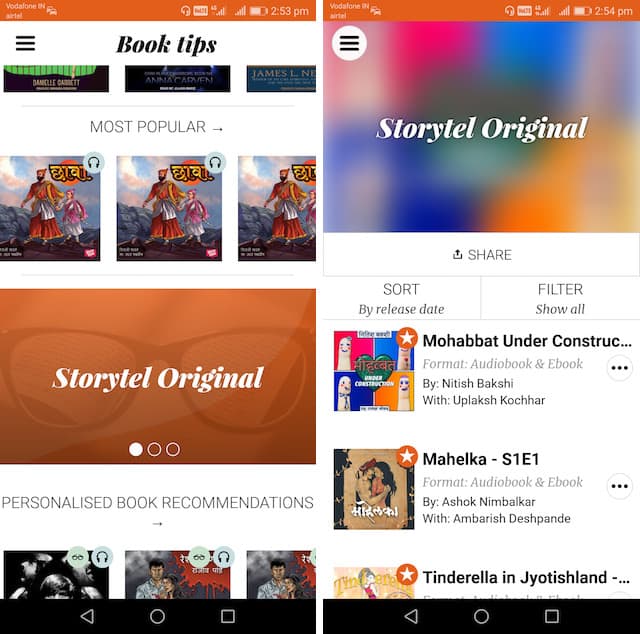 Also, since Storytel acts as both producer and distributor of the content, the service gets to have creative control over the content. This means that Storytel can invest time and money into producing quality content which its users like. Because of the exclusive content, when a user subscribe to Storytel's service, he/she gets a catalogue which not only consists of popular content but also original content which they cannot find anywhere else.
Storytel Original Audio Series: Content Catalogue
Currently, Storytel is offering original audio series in Hindi and Marathi which consists of both audiobooks and ebooks. All the original audio series on Storytel are serialized content which means that they are episodic in nature with new episodes coming out every week. Currently, Storytel is offering close to 30 different original audio series with each of them having multiple episodes out at the time of writing this article.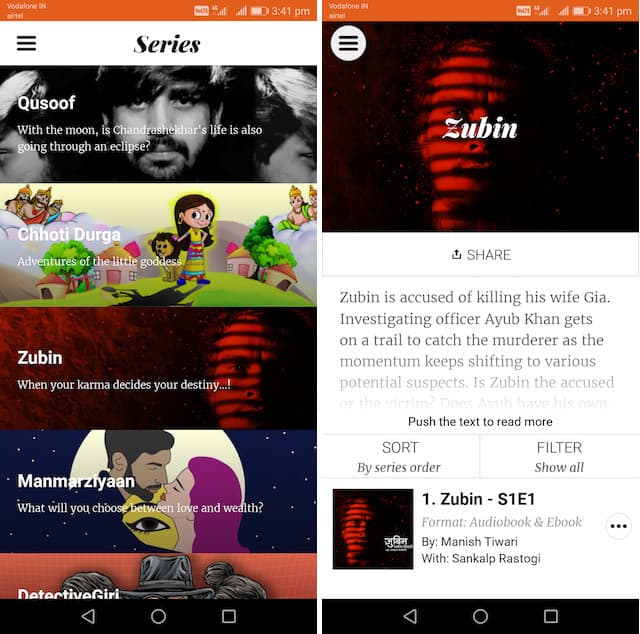 This means that you can spend months listening to Storytel's original content and by the time you are through them, more will be waiting for you. As far as content genre is concerned, the original audio series offers a ton of genres including and not limited to romance, thriller, fiction, drama, classics, and more.
How to Access Storytel's Original Audio Series
If you have already downloaded and are using the Storytel app, you can access the original audio series by first tapping on the hamburger icon and then selecting the Series option from the menu. You can also access it by going to Book tips section and scrolling down to find the Storytel original section.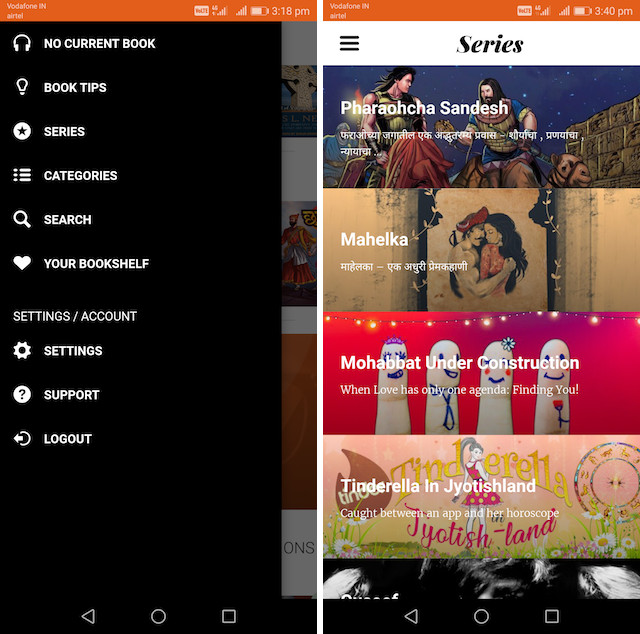 If you have still not downloaded the app I highly recommend that you do that by clicking on the links. In the meanwhile, you can check out the full catalogue of Storytel's original series by visiting Storytel's website.
Storytel Original Audio Series: Is it Worth it?
Considering how people prefer different books depending on their taste, it will be hard to say if Storytel's original series will be for you or not. That said, while I was checking out the service, I listened to many titles and I am happy to report that most of them offer engaging storylines with excellent production quality. If you are not into audiobooks, Storytel also offers ebook versions of all its original content which makes this even better.
Enjoy Original Audio Series With Storytel
Storytel's catalogue of audiobooks and ebooks focused on Indian consumers was already better than any other service out there and the service didn't need to invest in producing any original content. However, the fact that Storytel is investing heavily in original content showcases company's emphasis on providing quality content for Indian consumers. That alone should be enough to make consumers want to give this service a try. Do let us know how you feel about Storytel's original audio series by commenting below.