PDF has become one of the most important document file systems in the world. PDF makes it very easy to share written documents with others as it looks exactly the same everywhere. No matter which device you open it on or what software you are using, a PDF document will look the same everywhere. However, while PDFs are great, they do have some disadvantages. The biggest disadvantage of PDFs is that they are not easy to edit. In fact, the PDF viewing software which come free with smartphones or desktops doesn't have built-in editing functionalities. That's why, you need third-party apps which bring that functionality. In this article, we are going to tell you about one such software which not only helps you edit PDF documents but does much more. The solution we are talking about is called Kdan Mobile Document 365, which includes Kdan's PDF Reader mobile
and desktop apps along with online converting and faxing services. So, let's check it out:
Note: Kdan Mobile PDF Reader is available for Windows, macOS, iOS, and Android. I have tested the app on my MacBook Pro 2016, however, most of the features that I have discussed are available on all platforms.
Key Features
Kdan Mobile PDF reader makes it very easy to read PDF documents. It provides an enjoyable and comfortable reading experience with smooth page scrolling and advanced settings. I also love the fact that that the software opens PDF files in tabbed mode, thereby allowing me to switch between different documents with just a click. The reader also comes with different viewing mode including day, night, and sepia. The night and sepia mode give a relaxing reading experience and are great for reading long PDF files in the dark.
One of the biggest features of Kdan Mobile PDF Reader is the ability to edit and markup PDF documents. As I mentioned before, one of the biggest drawbacks of PDF files is that they are not editable with built-in software. Kdan Mobile PDF Reader solves this problem by making it very easy to edit PDF documents. I also love the markup feature as it allows me to easily markup PDF documents which comes in really handy. I normally use markup while researching as it allows me to easily mark the important points. Overall, both markup and editing is great here.
Compress, Combine, and Hyperlink
With Kdan Mobile PDF Reader you can also compress a PDF file to reduce its file size for easy sharing, combine multiple PDF documents to create a single document, and add necessary links where ever they are needed. Just like editing, Kdan Mobile PDF Reader makes it really easy to perform these functions.
PDF documents are also very secure as the format allows you to password protect individual documents. That makes PDF the right file type for sharing sensitive files. Kdan Mobile PDF Reader makes it very easy to lock documents using strong passwords. You just click on the document locking option and then enter your desired password. Once document locking is enabled, nobody other than the person who has the password will be able to unlock and read the content of the document.
Apart from the above-mentioned features, Kdan Mobile PDF Reader brings a ton of other features including the ability to insert photos inside PDF documents, converting images to PDFs, slideshow mode, and more. On Android, Kdan Mobile PDF Reader also allows for free-hand annotations along with copy and pasting of content. Finally, the windows version comes with full support for Windows Ink Workspace. That means you can use a digital stylus to edit PDFs on supported machines.
User Interface
The Kdan Mobile PDF Reader brings a user-friendly UI which is similar to other documents editors such as Pages and Microsoft Word. That means that users will be familiar with the UI and they will not find it confusing. The toolbar is placed at the top which houses all your tools while the documents are opened in a tabbed view below. As I said before, I am a fan of its tab view as it allows me to easily switch between different documents. That makes it very easy to reference multiple documents while I am researching for an article. Overall, I am quite happy with the user interface.
Ease of Use
The Kdan Mobile PDF Reader is pretty easy to use once you spend a little time with the software. As I mentioned, all the tools are housed in a toolbar at the top. The toolbar is completely customizable, thus, allowing users to keep the tools that they need at the top while the less-important ones are neatly tucked away. This is very important as it allows me to keep my toolbar usable and clutter-free at the same time. Using tools is as easy as arranging them. Just click on the tool you want to use and it will be activated.
For example, I can click on the highlighter tool and then select the lines that I want to be highlighted or select the markup tool and start marking up the document. The only problem that I encountered while using the app was when I was using the table tool to insert a table into the documents. While it worked without any major problems, it was hard to make use of it. Resizing and moving tables was a pain and I hope that the developers will fix this problem. Other than that, I really don't have any complaints here.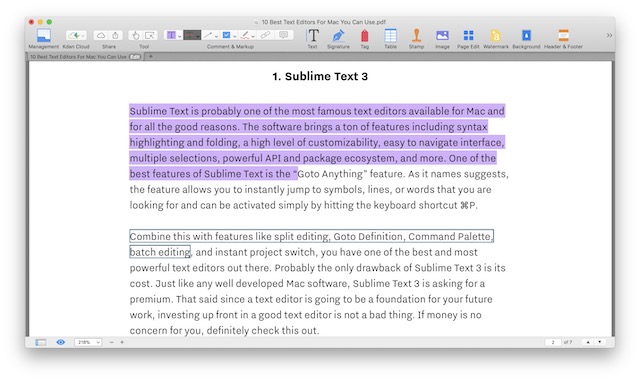 Price and Availability
The Kdan Mobile PDF Reader is available for Windows, macOS, Android, and iOS. The app is free to download and use, however, most of its features are hidden behind a paywall. If you want to use its full power, you will have to subscribe to their Document 365 plan which costs $4.99/month, if you opt for a yearly plan. With the subscription, you will get an all access pass to premium features in PDF Reader mobile and desktop applications across all smart devices, PC and Mac. You will also get 1TB of Kdan Cloud storage which you can use to sync your documents across devices. Do note that the subscription opens premium feature across all your devices.
Pros:
Easy to use
Editing and marking up PDF is easy
Combining and compressing PDF files take seconds
Different reading modes
Plethora of tools
Cons:
The table tool is hard to use
Edit PDFs Like a Pro With Kdan Mobile PDF Reader
Editing PDF files don't have to be hard. With Kdan Mobile PDF Reader, not only you can edit PDF files like a pro but also use numerous other tools which can help you do almost anything that you want with your PDF documents. You can edit PDF, use markup, insert photos and tables, compress and combine PDFs, and more. So, if you want to use all these features, do check Kdan Mobile PDF Reader out.
Check out Kdan Mobile Document 365 here