Working with PDFs can be tough, especially if you have to deal with dozens of documents each day. While the universal file format of PDF makes it is great for sharing and storing the documents, the file format does come with several problems. For starters, there's no easy way to edit PDF documents. The built-in PDF viewer that comes with your Mac only lets you read and highlight PDF documents and nothing else. Also, by default, scanned PDF documents do not support search. I mean, you can search for the document using its name, however, you won't be able to search the text inside the document.
That's why, if you deal with dozens of PDF files every day, you need a specialized tool which not only lets you read PDF files but rather lets you treat it like any other editable document format. The app that I am going to share with you today does exactly that. It's called iSkysoft PDF Editor 6 Professional, and it brings a ton of cool features which will help you easily deal with any kind of PDF documents. So, let's check out what it can do, shall we?
Key Features
Edit and OCR PDF Documents
iSkysoft PDF Editor 6 Professional is one of the best if not the best PDF editors out there. To test the app, I downloaded and imported a 450 page Oxford English Grammar book and the app worked flawlessly. I mean, the app was able to import the book in seconds and I was able to edit the text inside the book as if I was working with a word document. I also used the app to perform OCR of several scanned documents and it worked all the time. Do note, that you will need to install an OCR component which is almost 300 MB in size. However, once installed, doing OCR of PDF documents worked without fail.
Markup, Annotate and Sign PDF Documents
When you are handling PDF documents, the tasks that you have to perform the most include marking up, annotating, and signing the documents. iSkysoft PDF Editor 6 Professional supports all these features allowing you to easily markup and annotate the PDF documents. It's also very easy to sign PDF documents using this software. There are multiple ways in which you can import your signature. You can either use your trackpad to sign, upload a picture of your signature, or take a picture of your signature using your MacBook's camera. Rest assured, you won't face any problem while marking up, annotating, or signing your documents.
Convert and Create PDF Documents
One important feature of iSkysoft PDF Editor 6 is the ability to create and convert PDF documents. The app supports multiple file formats and allows you to easily convert PDF documents into Word, picture, powerpoint, HTML and more. You can also go the other way around and convert any of the above-mentioned file formats into PDF. Taking the example of the earlier book, the app was able to convert the entire 450 pages into Word document in under 30 seconds, so it's pretty snappy too.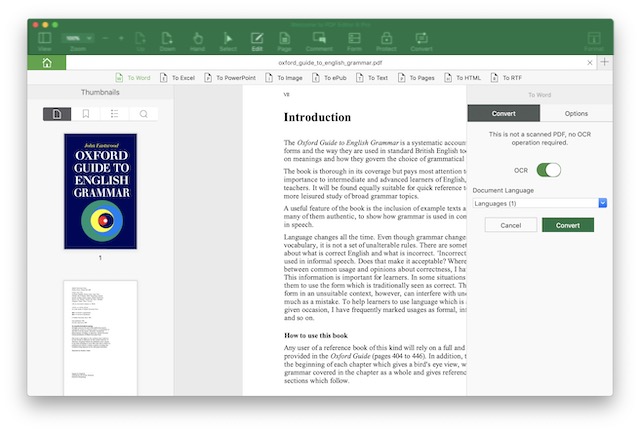 Combine and Split PDF Documents
The app also makes it very easy to combine multiple PDF documents or split a single document into parts. The entire combining or splitting process literally takes a few clicks and seconds.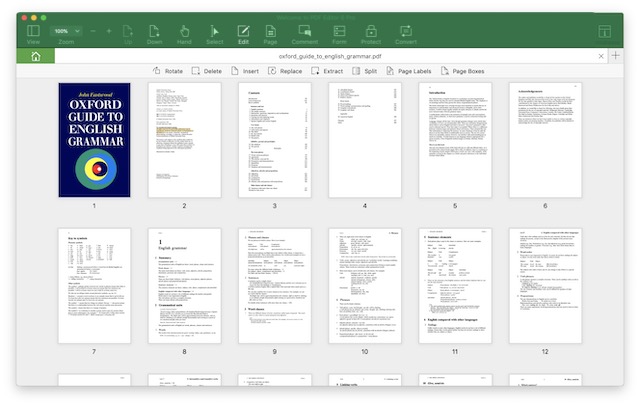 Secure and Organize PDF Documents
One of my favorite features of iSkysoft PDF Editor 6 is its ability to organize PDF documents. Not only you can bookmark PDFs but you can also bookmark pages inside PDFs. Also, you can easily apply Bates numbering to scanned PDF pages (Bates numbering is a method of indexing documents for easy identification and retrieval). Finally, you can batch process PDFs to create a stacks of documents for easy organization.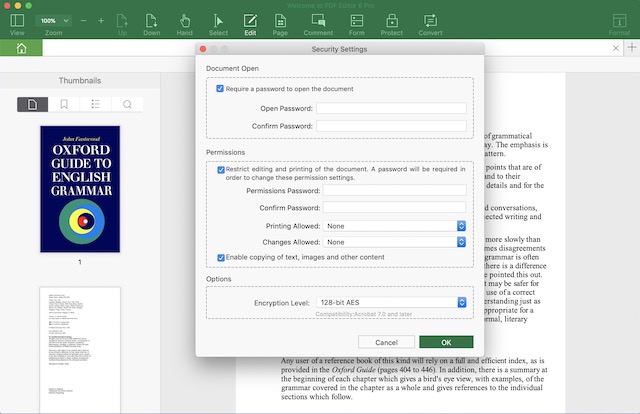 iSkysoft PDF Editor 6 also allows users to easily password protect their PDF documents. The best part is that you don't have to manually do it for individual PDF document as you can use its powerful batch processing method to apply password protection to multiple documents at the same time.
Apart from the above-mentioned awesome features, iSkysoft PDF Editor 6 also brings a ton of other features. The other features include the ability to fill forms, a repository of hundreds of PDF templates allowing you to create your own forms and invoices, redacting PDF documents, batch watermark addition, and more.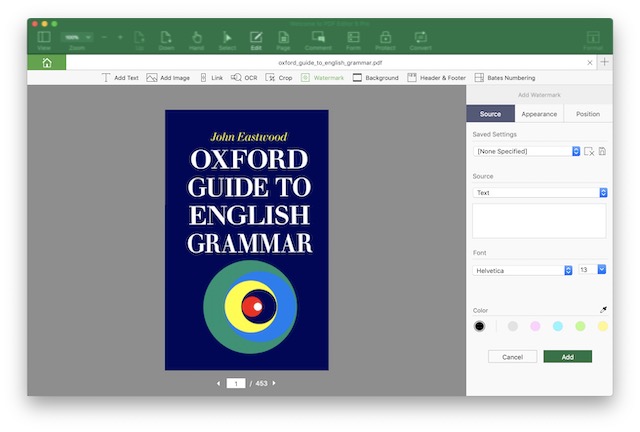 User Interface
The iSkysoft PDF Editor 6 brings a no-nonsense straight-forward interface which is very easy to navigate. The top row of the app holds all the major tools including the editing, splitting, zooming, commenting, and converting tool among others. Clicking on any of the parent tools reveals a number of children tools below and at the right side of the document.
The home page of the app also brings interact-able blocks allowing you to access the most-used features instantly. There's the Edit PDF, Create PDF, Combine PDF, and Convert PDF blocks amongst others. These blocks make it very easy to access your favorite tools allowing you to get down to the business in seconds. The app's design does make it feel more like a Windows app rather than a macOS app. That said, I don't have any problem with how it looks as its design is highly functional.
Ease of Use
If you have paid attention to the article, by now you know that the app is pretty easy to use. All the tools are placed in the right place and even the most hidden ones can be accessed just with a few clicks. I especially love the tool blocks on the homepage of the app as they do make it very easy to use. I will go as far as to say this that I have not used another PDF editor app which is both as  powerful and easy to use as iSkysoft PDF Editor 6 Professional.
Price and Availability
If you want to buy a premium product, you will have to pay a premium on the price. iSkysoft PDF Editor 6 Professional 6 is not cheap by any means, however, considering the prices of other good PDF editors in the market, it is not priced high either. The app costs $59.95 for the Standard version and $99.95 for the Pro version. The Pro version has all the features while the Standard version doesn't bring features which include Bates numbering, the ability to redact PDF, OCR capabilities, and batch processing. There's also a free trial available for people who want to test the waters before taking a dip.
Pros:
Editing, annotating, and markup works flawlessly
The ability to do OCR
Batch processing makes it easier to handle multiple documents
Imports and exports large files in seconds
Password protection for securing files available
Cons:
OCR needs an additional download of >300 MB file
Manage PDF Documents with Ease Using iSkysoft PDF Editor 6 Professional
I have used and tested many PDF editors in the past and I found iSkysoft PDF Editor 6 Professional to be one of the best I have used in a while. If your work involves you managing a ton of PDF documents on a daily basis, you should definitely give this a try as it's going to make your life so much easier.
Download iSkysoft PDF Editor 6 Professional here