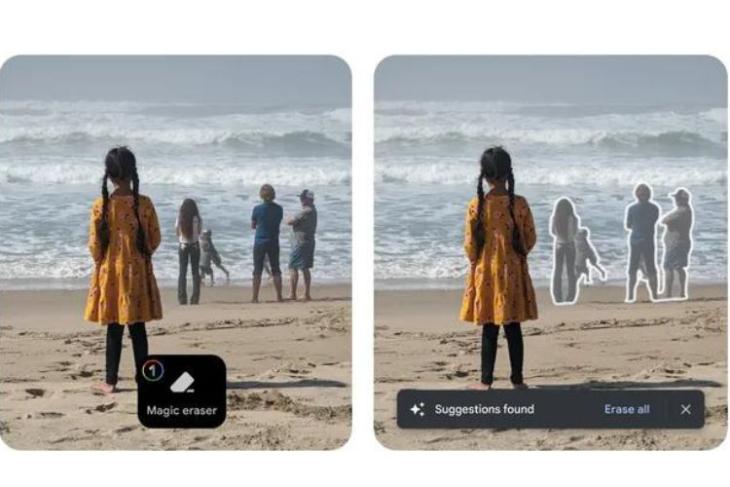 Google's Magic Eraser has always fascinated me. Sadly, the smooth way of removing unwanted objects in images has been a Pixel-exclusive feature but not anymore. The tech giant has now revealed that this editing tool is reaching more users and don't worry if you are on iOS because you can use it too.
Magic Eraser No Longer a Pixel Exclusive
The Tensor AI-based Magic Eraser will now be available for all Android and iOS users with Google Photos. But, there's one condition; you will have to be a Google One subscriber. Of course, those with a Pixel phone will be able to enjoy the benefit for free.
Magic Eraser was first introduced with the Pixel 6 series and uses AI to detect people, power lines, and more distractions only to swipe them off with a few taps.
For those who don't know, Google One provides users with access to cloud storage, much like how iCloud functions. There are three plans besides the initial benefit of free 15GB of storage; the Basic plan with 100GB of storage for Rs 130 a month, the Standard plan with 200GB of storage for Rs 210 a month, and the Premium plan with 2TB of storage for Rs 650 a month.
Google One, apart from extra storage across Google apps, also provides exclusive editing features on Google Photos, Google Play rewards and perks, and more.
This will also include features like HDR Effect to strike a balance between backgrounds and foregrounds (dark or light) and maintain the brightness and contrast of an image. Plus, Collage Editor is getting more Styles and the ability to apply them to a single photo. There will also be free shipping on print orders. But this will be in the United States, Canada, the European Union, and the United Kingdom.
These new capabilities have started rolling out and in case you are running out of storage and want the Magic Eraser badly, you can easily get subscribed to a plan. Do let us know if you end up getting Magic Eraser and don't forget to share your experience in the comments below.