It's been quite near for the 2013 Christmas holiday celebration. The atmosphere of Christmas has been flooding the air. After years of years celebrating, now it's been commonly known that holidays are not traditional celebrated any more. Nowadays, holidays mean much more to people, especially in Christmas, a worldwide festival. Now people could do far more than giving Christmas gifts, decorating Christmas trees, cooking Christmas turkey, etc. People now could do Christmas holiday shopping with big savings, as there're so many special offers online and in local malls. Also, watching Christmas movies has become another popular method to celebrate Christmas. People get more for Christmas holiday celebrating.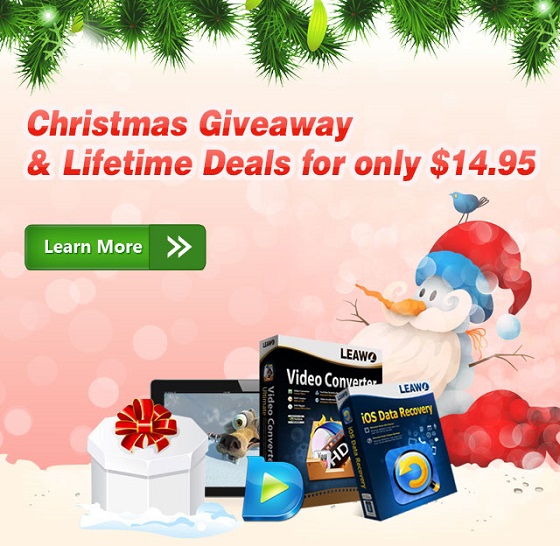 Becoming a leading and professional multimedia software developer and provider, Leawo Software prepares big Christmas gifts to worldwide movie fans and music lovers by launching Christmas Giveaway & Deals activity. From Dec. 27th to Jan. 7th, any person could visit Leawo's Christmas Giveaway & Deals activity page to win the free giveaway gifts or purchase the low-price deals – Leawo Blu-ray Ripper and Leawo Tunes Cleaner, in either Windows or Mac version.
Leawo Blu-ray Ripper
Leawo Blu-ray Ripper is a professional Blu-ray ripping and converting program that could decrypt, rip and convert Blu-ray/DVD movies in disc or/and folders to videos, and extract audio off Blu-ray/DVD movies, to save in multiple video and audio formats for diverse purposes. This Blu ray Ripper software could convert Blu-ray/DVD to MKV, MP4, MOV, FLV, WMV, AVI, F4V, MP3, AAC, MPEG, etc. By converting, you could use Blu-ray/DVD movies for multiple purposes: playback on media players or portable devices including iPad, iPhone, Surface, AppleTV, Xoom, etc., editing in professional video editing software programs like Windows Movie Maker, FCP/FCE, iMovie, etc. or even uploading to YouTube or blog for sharing. This Blu-ray converter even allows you to customize the converted results by using the internal video editor and create 3D movies in 6 different 3D effects via the built-in 2D to 3D converter. During Leawo's Christmas Giveaway activity, you could get both Windows and Mac versions of this Blu-ray Ripper program without any cost. With this Blu-ray Ripper software, no matter what Blu-ray movies you want to watch, you could watch them anytime anywhere at your own will.
Leawo Tunes Cleaner
As a simple but practical assistant for music enjoying, Leawo Tunes Cleaner offers great help in cleaning up messy and duplicated songs in your iTunes music library and other music collections. As a professional music cleanup program, it could detect and delete song duplicates in iTunes, download and add music tags like album, artwork, song name, artist, year, etc. to complete music info, allow manual editing of music tags, save unfixed music files for future fixing, apply fixed music files in one-click, etc. It could work on iTunes, MP4 music library or others. With this Tunes Cleaner, you could get a well-organized music library easily. In the same way, you could get both Windows and Mac versions of this Tunes Cleaner program for free on Leawo's Christmas Giveaway activity page.
How to Get Leawo Blu-ray Ripper and Tunes Cleaner Giveaways
Visit Leawo Christmas Giveaway & Deals activity page;
Select your desired product (Blu-ray Ripper or Tunes Cleaner) and OS version (Win or Mac), then click the green "Get Keycode Now" button;
Enter personal email address, and then click little green "Get Keycode Now" button. The giveaway download link and free license would be sent to your email instantly.
Besides the Christmas giveaway editions, these 2 apps are also available at super-low deal: Leawo Blu-ray Ripper Win/Mac at only $19.95 and Leawo Tunes Cleaner Win/Mac at $14.95 during Dec. 27th to Jan. 7th. The difference between the Christmas giveaway editions and the Christmas deal editions lie that the giveaway editions are only valid for 1 year while the Christmas deal editions are valid lifelong. To purchase the lifetime deals of each is quite easily, just clicking the red "Buy Now" button.