Shadowgun Legends is arguably the most extensive mobile game that I've ever tried, offering a combination of MMORPG and FPS elements that allow you to develop your character as the game progresses. In game, you can completely customize your 'Legends' by updating their armor and weapons, which you can collect by completing missions or buy them outright from the in-game vendors. You can form your own guild or join one and take on hordes of enemies in a futuristic sci-fi environment. Honestly, I got hooked to the game the moment I logged in and I bet that since you're reading this article, you got hooked as well. So, in case you're looking for more such games, you've come to the right place. We've compiled a list of the best Shadowgun Legends alternative that you should absolutely try out. While the games on this list won't offer the exact same experience, they have their own unique qualities which make them special, allowing them to take a spot on this list.
Games Similar to Shadowgun Legends
1. Guns of Boom
Guns of Boom, a multiplayer first person shooter (FPS), makes it to the top of the list as it offers an action-packed multiplayer FPS experience like no other. While the game's graphics may not look as impressive as those of Shadowgun Legends, it has its own unique style which sets it apart from other titles in this genre. The game offers easy and intuitive controls which you can pick up rather quickly and much like Shadowgun Legends, you also get the option to completely customize your character. You can enjoy team based PvP battles on a number of maps, with a bunch of different games modes. The game also offers a Pro Play Mode which will allow you to compete in eSports events with players from renowned eSports teams. On top of that, developer Game Insight has promised regular updates and events, which means that the game keeps on evolving and you won't get bored with it anytime soon.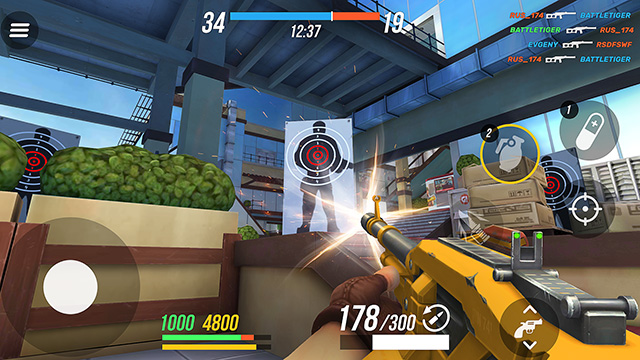 2. Mayhem
Mayhem is another great multiplayer FPS which, unlike Shadowgun and Guns of Boom, brings a unique side scroller-like perspective to FPS shooters. The game allows you to choose from a varied selection of mercenaries, each of which have their own unique abilities and play style, and jump into a 3v3 arena battle or fights your enemies in King of the Hill and Team Deathmatch modes. You can even choose your gear, upgrade your merc's abilities and bring in some sentries to add another layer of strategy to the game. New maps and mercenaries are continuously added to the game, so you're never short of options to choose from. I personally really liked the game's graphics and gameplay mechanics which don't look like any other multiplayer FPS game out there.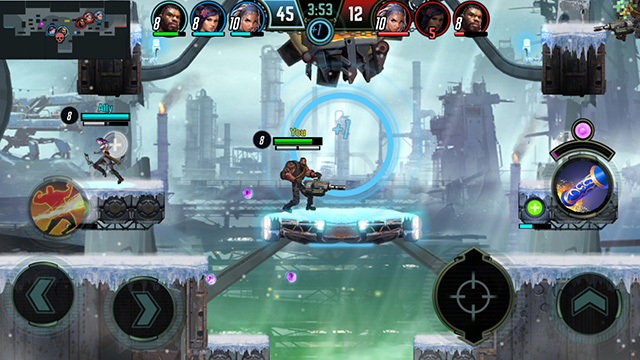 3. Bullet Force
In case you're looking for something a bit more realistic, then you can try out Bullet Force, another multiplayer first person shooter with a ton of game modes and customizations. The game allows players to take part in massive 20-player war using a bunch of iconic weapons that can be customized with weapon camouflages, optics, laser sights and barrel attachments. The game has a total of four multiplayer game modes, including Team Deathmatch, Conquest, Free-For-All, and Gun Game, which will test your limits as a mobile gamer. In case you have a bunch of friends playing with you, you can even set up custom matches with your own custom settings. On top of all that, in case you don't have an active internet connection, you can play the game offline with bots in a skirmish and campaign mode.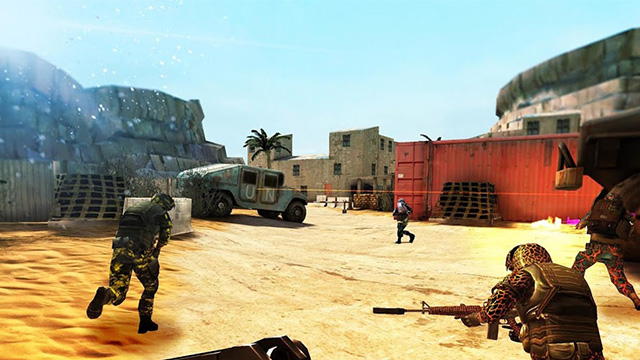 4. PUBG Mobile
It's no surprise that the iconic PUBG Mobile has made it to the list. The game, which is a direct port of PlayerUnknown's Battlegrounds on PC and console, offers the same exhilarating experience which quit possibly is more stable and lag free than the PC/console variants. You probably already know about PUBG Mobile and in case you don't then let me fill you in. PUBG Mobile is one of the best FPS battle royale games out there and it puts you up against 99 other players in a fight to the death on a large map.The game has a great selection of customizable weapons, an array of vehicles and other exciting features which make it stand out from other battle royale games out there. If you haven't tried out PUBG Mobile yet, you should definitely drop everything you're doing and start now!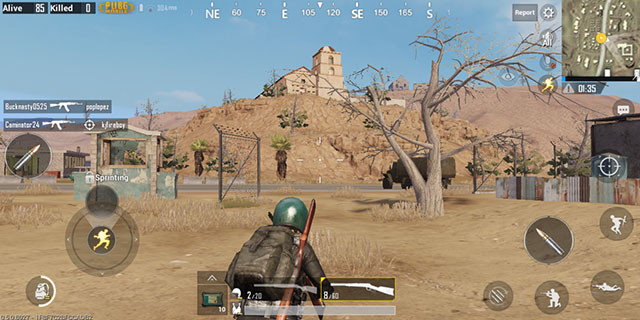 5. Modern Combat 5
Modern Combat 5 from renowned developer Gameloft is an action-packed online shooter which stands in a league of its own. The game offers a Counter Strike-like FPS experience in which you can choose from up to 9 classes of characters and team up into a squad to take down your enemies. If you're not much of an online multiplayer fan, Modern Combat 5 also has an offline campaign mode in which you can test your skills against bots before you tackle real players. The game also has a few customization options, which allow you to enable class-specific benefits for your character by spending Skill Points that you earn in game. The game is definitely worth a shot and you should definitely download it on your smartphone.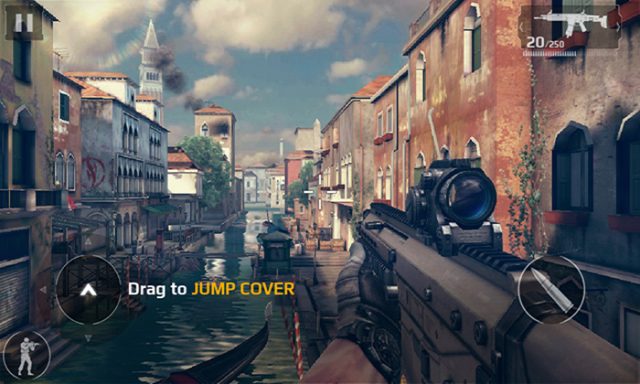 6. Hero Hunters
If you're looking for an entirely different gameplay experience while not moving too far away from the genre, you can try out Hero Hunter, which is a online multiplayer shooter that makes use of a cover-based gameplay mechanic. The game really shines in the graphics department and allows you to swap between heroes in real-time. You can choose from over 50 different heroes who have their own unique special abilities and make use of some futuristic weaponry to take down your enemies. Not only does the game offer PvP and PvE elements, it also brings a Co-Op PvE element in which you can take down your enemies along with your friends. The game also involves some strategy, so you can be sure that it wouldn't get boring anytime soon.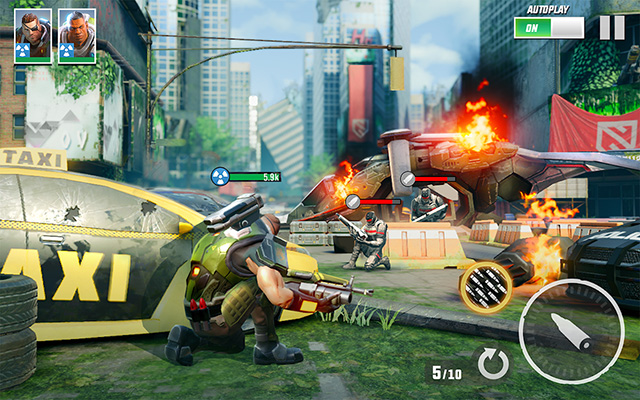 7. World War Heroes
If World War II based shooting games are more up to your speed, then you can go for World War Heroes – an online FPS where you use weapons and military vehicles from the WW II era. The game has a total of seven different features, including Hardcore Mode, Deathmatch, Team Deathmatch, Bomb Mode, Team Squad, Team Battle on Panzers and Custom Mode, which means that you'll never run short of options to choose from. You can choose from a total of 4 types of battle vehicles from different countries, over 57 unique weapons with customizations and upgrades to improve your gear. On top of that, the game hosts regular tournaments in which players stand to win attractive prizes for their clans. World War Heroes is definitely worth a shot and you should download it right away if you're looking for a bit of old-school action.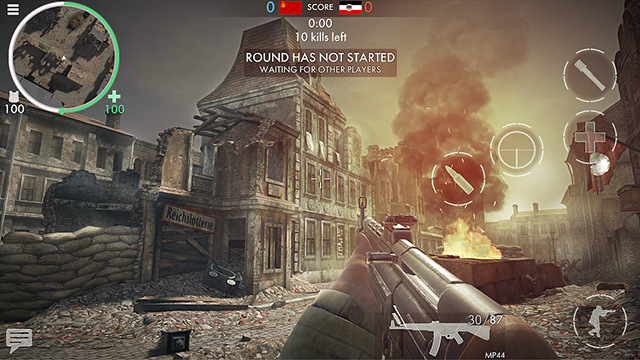 8. Kill Shot Bravo
If you're looking for a shooter with a comprehensive campaign mode alongside PvP elements, you can give Kill Shot Bravo a shot (lel). The game allows you to take the role of a Special Forces soldier and hunt terrorists, zombies, and evil armies over a course of 2400 missions spread across different terrain. Once you're done defeating all possible enemies, you can jump into the PvP Sniper duel and use a heat meter to spot the enemy before you're found. You can even join alliances and help other players out to complete high-risk missions, while collecting valuable bounty from enemies. On top of that, Kill Shot Bravo also allows you to completely customize your avatar and unlock perks which will help you in battles.
9. Forces of Freedom
Although the game is currently in early access beta, Forces of Freedom is a great 5v5 multiplayer shooter which allows you to create a tactical team and take the enemy head on. Based in the 60s, the game also has some great retro elements, including uniforms, weapons, and classes which add to the overall aesthetic beauty. Fight your enemies in a variety of environments with different terrains and game modes. The game even allows you to customize the on-screen controls so that you can choose however you wish to play the game. Since the game is in early access beta, you might face some minor issues here and there, but in my testing I didn't find anything that had an adverse effect on the overall experience.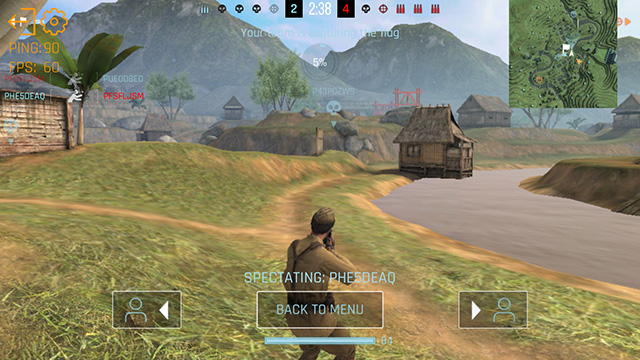 Download: Android (Free)
10. CrossFire: Legends
Finally, rounding up the list is CrossFire: Legends, another online shooter from Tencent offers players an immersive experience like no other. The game offers you a variety of different game modes along with different maps and customizations to keep you hooked. You can also choose from a variety of different weapons, with more being added to the game with each major update. The game even has a comprehensive ranked ladder, which matches you with players at your own skill level so that you never feel outmatched. CrossFire: Legends is one of the most popular FPS titles in China and it definitely deserves all the attention. Make sure you check it out, even though it takes the last spot on the list.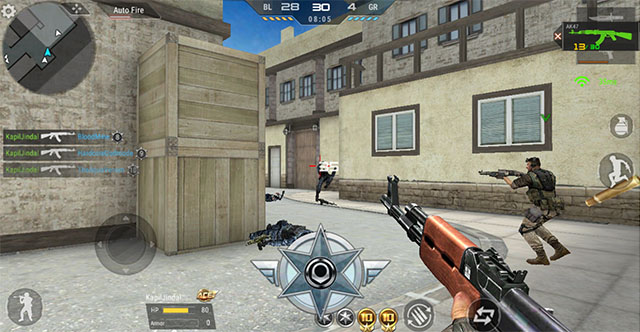 SEE ALSO: 10 Best Games Like PUBG on Android And iOS
Best Games Like Shadowgun Legends
Well, that rounds up our list of the 10 best games like Shadowgun Legends on both Android and iOS. You should definitely give each of the aforementioned games a shot and let us know which one is your absolute favorite. Have fun enjoying these online multiplayer shooters and in case you know of a game we might have missed, drop a link in the comments section below and we'll make sure to include it on the list if it fits the category.
---
Load More