Samsung's latest take on the Android tablet came in the form of the Galaxy Tab S3, and it is an absolute win. The tablet is by far the best Android tablet… not only in the market right now, but possibly of all time. It is extremely well designed, and looks oh-so-beautiful with its glass back, and thin profile. The Galaxy Tab S3 uses a 9.7″ Super AMOLED display, and I don't think there's any need to say this, but the screen is awesome. Which comes as no surprise, seeing that Samsung does put some of the best looking displays on its flagships. The tablet also uses the Snapdragon 820 (snappy!), and has support for Vulkan API, so gaming will definitely be a smooth experience. Add the massive 6000mAh battery to the mix, and you can see how it definitely is one of the best Android tablets. An all glass back is obviously susceptible to scratches, and the display obviously is. So, if you're buying the newest tablet from Samsung, and are looking to keep it new and shiny, here are the 8 best Samsung Galaxy Tab S3 cases and covers you can buy:
1. Samsung Galaxy Tab S3 Keyboard Cover
The Galaxy Tab S3 is a very powerful device, as is clear from the power-packed internals that Samsung has crammed into it. As such, it can easily perform the tasks of a basic laptop, and if you're looking to do that, you should definitely check out the official keyboard cover from Samsung. Priced at $129.99, the keyboard cover is meant for a seamless experience with the Galaxy Tab S3.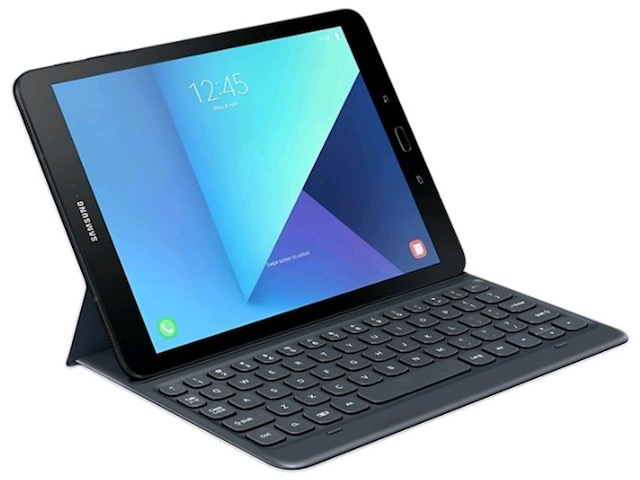 It comes with a flip cover, that can be folded into a stand, so you can use the tablet as a screen, and type with the keyboard. Plus, the flip cover keeps the screen protected when it is closed. The cover will be in stock starting March 31.
Buy from Amazon: ($129.99)
2. Samsung Galaxy Tab S3 Book Cover
If keyboards for tablets are not your cup of tea, and you're just looking for a protective book cover for your Galaxy Tab S3, this one from Samsung is definitely one of the highest quality ones you can get. The cover maintains the Galaxy Tab S3's slim profile, while providing a lot of protection, both to the beautiful glass back, as well as the 9.7″ super AMOLED display that the device comes with.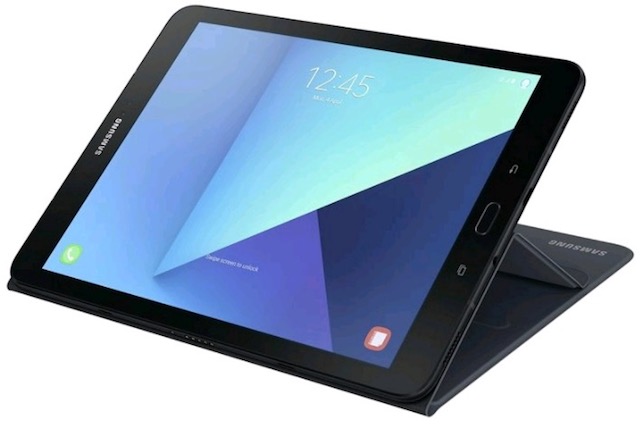 The Samsung Galaxy Tab S3 Book Cover can also be folded to be used as a kickstand to position the device in landscape mode for a comfortable viewing experience. As with the keyboard cover, the book cover will also be in stock starting March 31, and you can order one on Amazon right now, to be shipped when it comes in stock.
Buy from Amazon: ($59.99)
3. LK Silicone Protective Case for the Galaxy Tab S3
Lightning Knight has also come out with a protective case for the Samsung Galaxy Tab S3, and it looks great, especially in black. The back cover is made out of soft silicone, and has a thin profile that easily maintains the look and feel of the Galaxy Tab S3, without compromising on protection for the device. Made out of flexible TPU, which is shock-absorbent, the LK protective case will definitely keep your device protected from minor shock impacts, such as short drops and bumps.
The case material is dust and stain resistant, so even after long term usage, it'll look just as good. The back of the cover has a pattern design to provide extra grip for you, as well as personality to the case, making it a good fit for the looks of the Galaxy Tab S3.
Buy from Amazon: ($8.99)
4. Poetic Revolution Rugged Galaxy Tab S3 Case
With a device like the Galaxy Tab S3, and the price point at which it comes in, its hard to not be worried about damaging it. Glass breaks easy, and the Galaxy Tab S3 has a full back made of the damn thing. If flip covers aren't your thing, and you want the maximum protection for your device, look no further than this rugged case from Poetic Revolution. The rugged armor case provides all around protection to the Galaxy Tab S3, thanks to its polycarbonate, and TPU construction.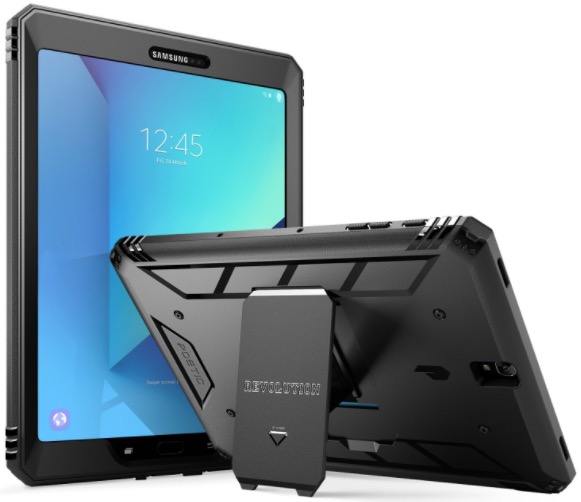 The case comes in two parts, one for the back, and one for the front (with a screen protector, by the way). It also has a 1mm raised lip, to protect the display in case the device falls flat on its face. The corners of the Poetic Revolution rugged case are raised, and made with TPU for extreme shock protection in case of harder drops. All that, with an added kickstand for easy landscape viewing, makes this case one of the best options for protecting your Galaxy Tab S3.
Buy from Amazon: ($14.95)
5. BELK Flip Case with Card Pockets for the Tab S3
Another flip case (or book case, as I've been calling them) for your Galaxy Tab S3 could be this one from BELK. Not only is it almost a quarter of the price that the official book case is, it also comes with card pockets! The case is made out of PU leather, with a texture that makes it look like real leather. While it is bulkier than the case that Samsung offers, it still manages to look good.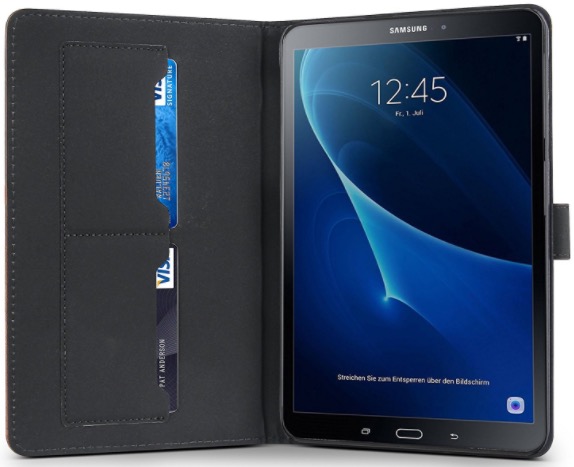 The cover is made from polycarbonate, so your tablet will be protected from drops, bumps, etc. You can also fold the case to turn it into a kickstand, which, by the way, attaches magnetically. All in all, at the price point, this case is simply amazing, and you can definitely consider it while you're at it.
Buy from Amazon: ($13.99)
6. IVSO Flip Case with Semi-Transparent Back Cover
I think we've established by now that the Samsung Galaxy Tab S3 has a beautiful design, especially due to the glass back. Which is why covering it up could be a crime against beautiful gadgets. However, a material as fragile as glass does need protection, which is where this flip cover comes into play, bringing in the perfect balance of looks, and protection.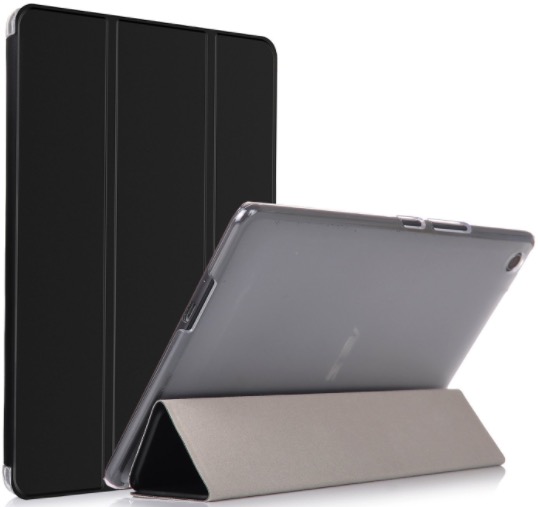 The flip case from IVSO comes with a semi-transparent back cover, so that the glass back of the Samsung Galaxy Tab S3 is visible through the case. It is made from PU leather, and has a microfibre interior to prevent scratches to your device. The case can also be folded to make a kickstand, for easier viewing on your device, or for taking Skype calls…or just drawing on the screen with the S-pen.
Buy from Amazon: ($7.90)
7. KuGi Keyboard Case
Oh look! Another keyboard case! If the official keyboard case from Samsung seems too pricey to you (it probably is), you can consider KuGi's offering. It comes with a detachable Bluetooth keyboard. The keys are apparently not mushy like most silicone keys are. Made out of PU leather, with microfibre interiors, the case is looking to protect your device both inside and out. It can easily protect the Samsung Galaxy Tab S3 from impacts, scratches, and dirt.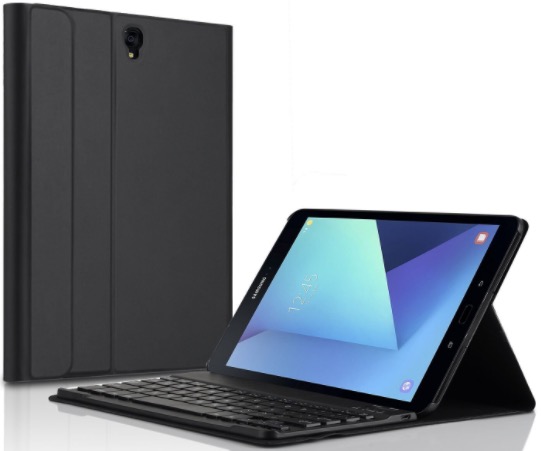 Plus, with precise cutouts for the camera, buttons, and ports, you'll not be faced with the problem of having to take the tablet out of it's protective housing, every time you need to click a picture.
Buy from Amazon: ($19.50)
8. WWW Designer Flip Case for Tab S3
If these cases and covers seemed a little bland, and boring to you, allow me to present a somewhat stark contrast to the rest of the list. This flip cover from WWW should definitely strike the right chords with most design enthusiasts. The case features a flower pattern in black and white, and there are other colors available if this one is not to your liking. The precise cutouts on the case provide easy access to all the ports, buttons, and the camera on the Galaxy Tab S3.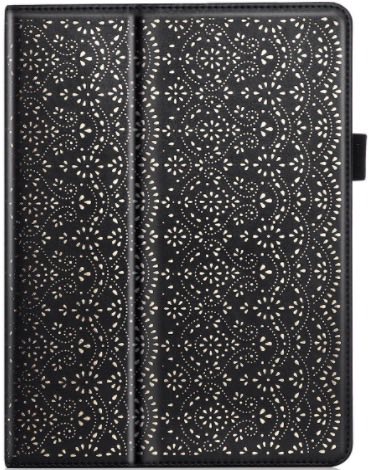 Since the case is made out of PU leather, it looks really nice, and can even protect your tablet from some minor drops, along with all the regular scratches, and dust. If you're looking for a case that can make a statement, you should definitely check this one out.
Buy from Amazon: ($12.99)
SEE ALSO: 15 Best Samsung Galaxy S7 And S7 Edge Accessories
Use These Galaxy Tab S3 Cases and Covers to Keep Your Device Safe
The Samsung Galaxy Tab S3 is one good looking device, and as such, with the materials used to build this device in such a great way, it deserves to be protected. Devices with all glass backs have always been susceptible to breaking even upon minimal impact, because glass is fragile, so it's a good idea to put a protective case or cover on such devices. With the Galaxy Tab S3, the problem extends much further, because being a tablet, you'll be placing it on a surface to use it, most of the time, which will definitely scratch the device's back, and end up making it lose all of it's exterior appeal. These cases and covers will definitely keep your brand new Galaxy Tab S3 looking good, and new all the time. So, are you planning on buying the new tablet from Samsung, and do you think it is worthy of the title of "the best Android tablet, ever"? Let me know your thoughts in the comments section below, along with any suggestions of great cases that you may have.