The smartphone space is not only crowded these days, it's also fiercely competitive. And that's precisely why almost all manufacturers, no matter how big or small they might be, release their latest and greatest flagships every year, to attract buyers. But if there's one company (other than Apple) whose new smartphone launches generate the most buzz every year, it's undoubtedly Samsung. And this year, the story is no different.
Launched at Samsung's Unpacked 2016 event during the recently concluded Mobile World Congress in Barcelona, Spain, the Samsung Galaxy S7 is a beast of a device, and certainly one of the (if not the) best Android flagships that you can get. And with the pre-orders now live, we're pretty sure that many of you already have your Galaxy S7 on the way. But a smartphone this impressive (and costly) requires solid protection, against all kinds of dings, scratches, and falls. Right?
Of course, and that's why we've curated this listing of the 10 best Samsung Galaxy S7 cases and covers. So what are you waiting for? Read on, and get your brand new Galaxy the protection it needs.
1. VRS Design Galaxy S7 Case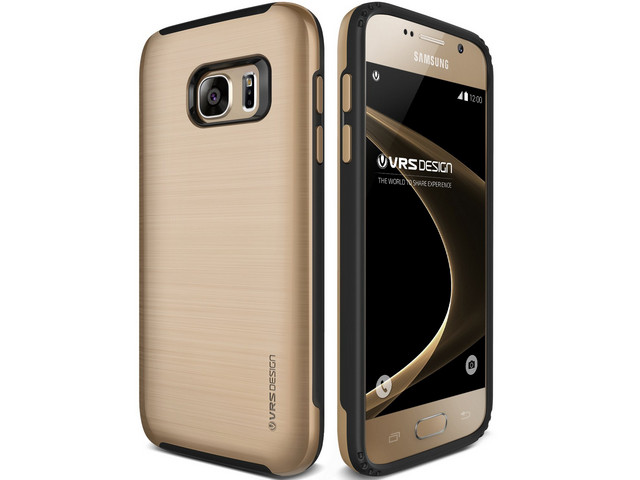 Gorgeous looking and meticulously designed, the VRS Design Galaxy S7 case is the perfect companion for Samsung Galaxy S7. The case is made up of two impact resistant layers, with the inner layer being made up of a soft, high-grade, TPU material, and the outer layer being fabricated from hard poly carbonate. There are precise cutouts for easy access to all the buttons and ports on the device, and the case fits the Galaxy S7 perfectly. Then there are raised edges that protect the phone's screen from scratches. The case has a brushed metal look, and is available in multiple colors, such as Shine Gold, and Satin Silver.
If the brushed metal back isn't something you like too much, check out the VRS Design Triple Mixx case, featuring a clear, patterned back.
Price: $17.99
Where to buy: Amazon.com
2. Samsung Galaxy S7 VRS Design Case with Card Slot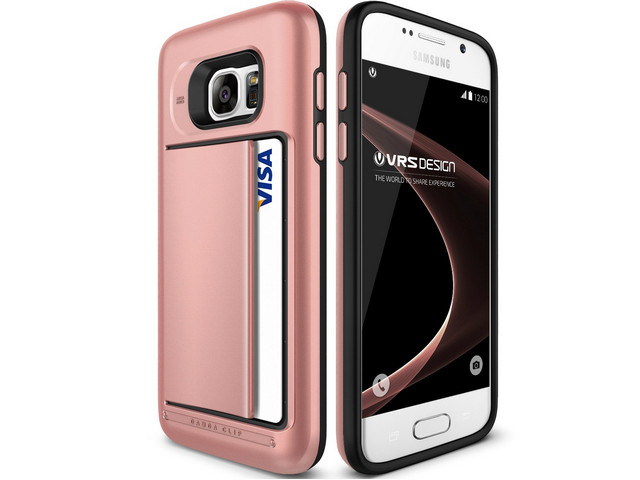 If you're looking for a case that offers reliable all around protection to your Samsung Galaxy S7, look no further than the VRS Design Case with Card Slot. It has two layers made from soft Thermoplastic polyurethane (TPU), and poly carbonate. The case is lightweight, and has precise cutouts that let you access all ports and buttons on the device with zero problems. But the standout feature of this case is undoubtedly the card holder built into the back, which lets you carry up to two IDs, credit/debit cards, or anything else like that. You also get multiple colors to choose from.
Price: $18.99
Where to buy: Amazon.com
3. Galaxy S7 VRS Design Leather Flip Case
If the shell cases leave you worried about the exposed touchscreen on the front of your Galaxy S7, the VRS Design Leather Flip Case is just the thing you need. The wallet style case offers full protection, and the flip cover has a magnetic clip that makes closing the case a cakewalk. Of course, you can talk on the phone with the flip cover closed, thanks to the earpiece cutout. The leathery material lends a premium feel to the case, and it even has a money pocket, and slots for carrying up to three credit/debit cards or IDs. How cool is that?
Price: $21.99
Where to buy: Amazon.com
4. Speck CandyShell Galaxy S7 Case
Coming from Speck, a well known name in smartphone cases and covers, the Speck CandyShell case features a patented design that merges two layers of protection into a single-piece construction. It has been run through military grade drop-tests on the ground, so you can be assured that your Galaxy S7 is in good hands. The exterior shell of the case is hard, whereas the interior is soft, for maximum impact absorption. There are a variety of patterns and colors to choose from, and you also get one year warranty.
Price: $34.95
Where to buy: Amazon.com
5. SamsungGalaxy S7  S-View Flip Cover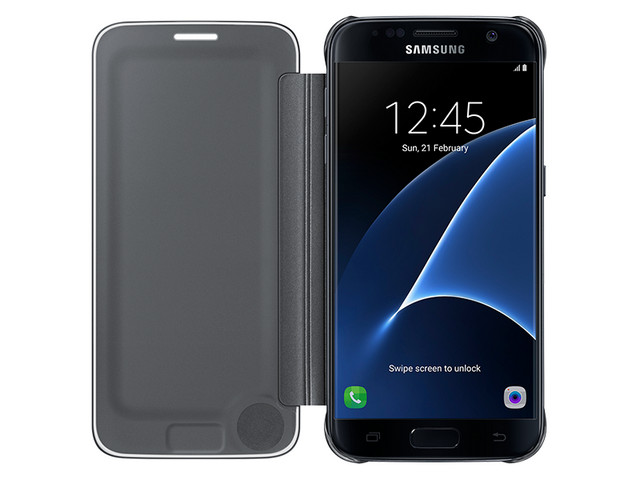 Third party cases and covers are no doubt great, but they hardly match up to original accessories. And that's why the Samsung S-View Flip Cover is an absolute must have for the Galaxy S7. What makes it unique is that you can check the notifications, and answer/reject incoming calls, even when the flip cover is closed. All you have to do to act on relevant notifications, is swipe on the front folio. The cradle design takes the effort out of putting on/taking off the case, and the hard plastic corners further add to the protection.
Price: $59.99
Where to buy: Samsung.com
6. Galaxy S7 Wireless Charging Battery Pack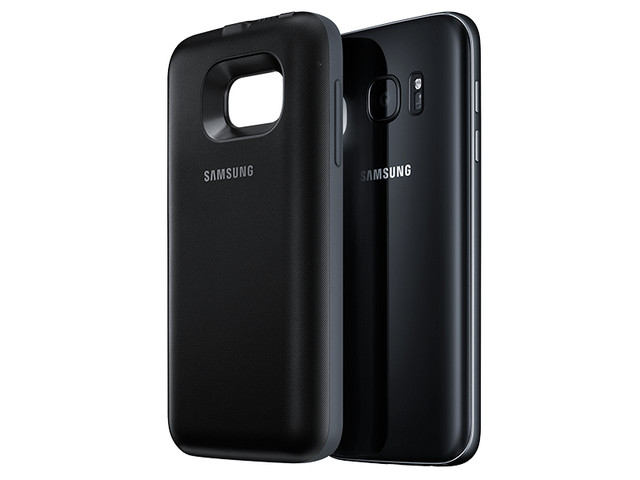 Although the Galaxy S7 has a pretty good 3000 mAh battery, having a bit of an extra juice is never bad. The case in point here is the Samsung Wireless Charging Battery Pack. And while it's true that it's not a case, it's included in our listing because once it's on your Galaxy S7, it feels just like that. The pack includes a mammoth, 3400 mAh battery that starts charging the Galaxy S7 (via Qi Inductive Charging technology), the moment you snap it to the smartphone. What's more, there's also a four level battery status LED indicator that lets you check how much battery power is remaining.
Price: $89.99
Where to buy: Samsung.com
7. Otterbox Commuter Series Case for Galaxy S7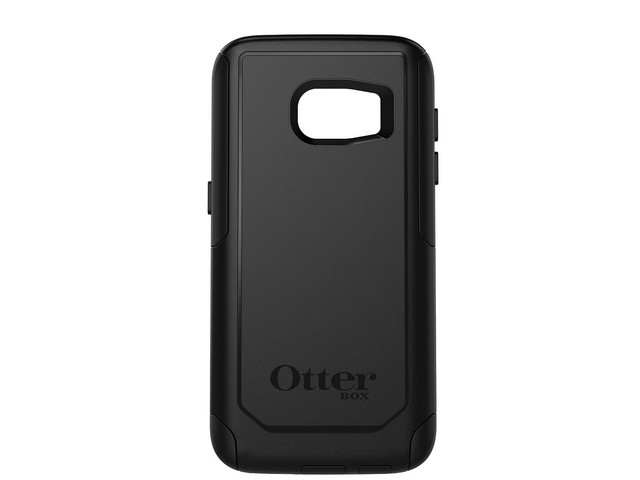 Otterbox is basically synonymous with quality cases and covers, and the Otterbox Commuter Series Case perfectly shows why. The feather light case has a two piece design, and provides top notch protection to the Galaxy S7 against all kinds of bumps, drops, and shocks. It also includes port covers that block the entry of dust and debris into the device. The case is available in multiple color variants, and is backed by one year warranty.
Price: $34.95
Where to buy: Amazon.com
8. Otterbox Defender Series Case for Samsung Galaxy S7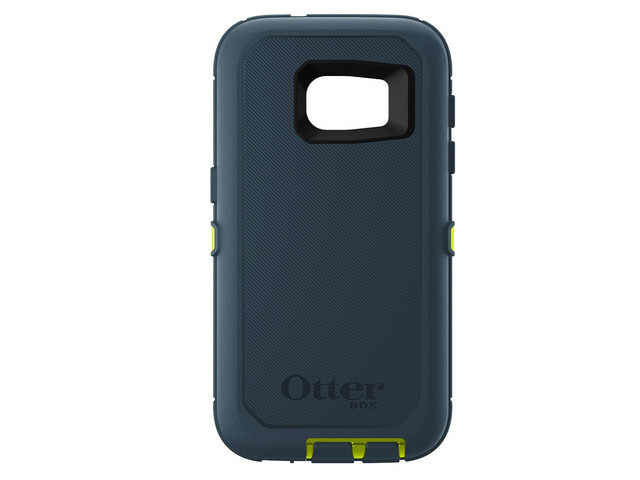 Without a doubt the most rugged and durable case available out there, the Otterbox Defender Series Case is capable of shielding your Galaxy S7 from, well, just about anything. It is made up of an unbelievable four layers that offer unmatched protection. There's a built-in screen protector that guards the device's screen against all kinds of scratches. And that's just the tip of the iceberg. Otterbox Defender Series Case comes with a belt-clip holster, that also doubles up as a kickstand. Then there are port covers that block dust and debris. And did we mention the one year warranty?
Price: $49.95
Where to buy: Amazon.com
9. Galaxy S7 Spigen Flip Wallet Case
Made with premium grade synthetic leather and poly carbonate, the Spigen Flip Wallet Case is both impressively durable and good looking. The case has three card slots that can be used for keeping debit/credit cards, IDs, and even extra cash. It also has a little soft buffer on the inner side of the flip cover that prevents it from accidentally touching the Galaxy S7's home button. The reversible magnetic clip securely holds the cover in place, and the cover even lets you prop up the device, providing functionality similar to a kickstand.
Price: $16.99
Where to buy: Amazon.com
10. Griffin Reveal Clear Protective Case for Galaxy S7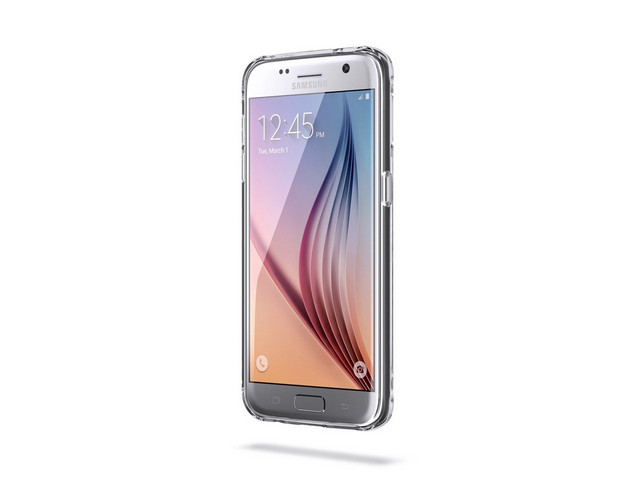 Not everyone wants bulky cases that add to the thickness of their devices, and also hide the device's exterior design. If you're among the lot, the Griffin Reveal Clear Protective Case is just what you need. The ultra thin (about 1 mm) case is made up of TPU and poly carbonate, and provides your Galaxy S7 robust protection, with next to none added heft. And the clear, transparent design means that the phone looks just as amazing with the cover on, as it does without it. The Griffin Reveal fits the Galaxy S7 perfectly, and comes with a one year warranty.
Price: $19.99
Where to buy: Amazon.com
SEE ALSO: 7 Best Amazon Echo Cases And Covers
Solid protection for the Samsung Galaxy S7
As the standard bearer of Android flagships for 2016, the Samsung Galaxy S7 is a stunning device, packed with all the tech goodness that you'd expect from it. And the cases and covers discussed above ensure that it stays that way, protecting it from scratches, drops, and everything like that. So which of these case(s) and cover(s) would you be getting? Don't forget to mention in the comments below.