I was really intrigued when Apple launched the new portrait lighting effects. It is something that no other smartphone manufacturer has done till date and when it works, the photos that you capture look stunning. That said, "when it works" is the key factor here as in my testing, it doesn't work most of the time. You really have to be in a perfect lighting situation for the portrait lighting to work.
That's why, imagine my surprise, when I found out that there was a third-party app on the App Store which allows you to use portrait lighting effects on portrait mode photos in a far more consistent manner. Not only that, while Apple only gives you 4 different lighting options, this app supports more than 30 different light sources. The app that I am talking about is called Apollo and in this article, we are going to take a deep dive into its features to see if it's worth your time or money or not:
Note: The app works only with Portrait mode photos. Portrait mode photos are supported on iPhone 7 Plus, iPhone 8 Plus, iPhone X, iPhone XS, iPhone XS Max, and iPhone XR.
Key Features
We will start talking about this app by first discussing all its key features. This will help us find out what the app has to offer us:
1. Supports Multiple Light Sources
One of the main features of the app is that it supports over 30 different light sources. What I mean by this is that you can add up to 30 light sources in a single picture. Each light source can be individually edited and the spread the light sources can be contained in specific areas. When it comes to light-source editing, you will be able to change its color, distance, brightness, spread, and more.
While Apple makes you stick with one lighting source at a time, with Apollo, you can use multiple lighting sources and edit them individually to get a unique look which otherwise would not be possible.
2. Photo-Realistic Lighting
My personal favorite feature of Apollo is that it just doesn't add a 2D lighting layer which makes the photo look unrealistic, rather it uses the depth data of your portrait mode photos to calculate photo-realistic lighting effect which looks exceptional. The light source can be moved and positioned in a 3D space which no other app on the App Store can do right now. That's why Apollo only works with portrait mode photos as it needs the depth data to work.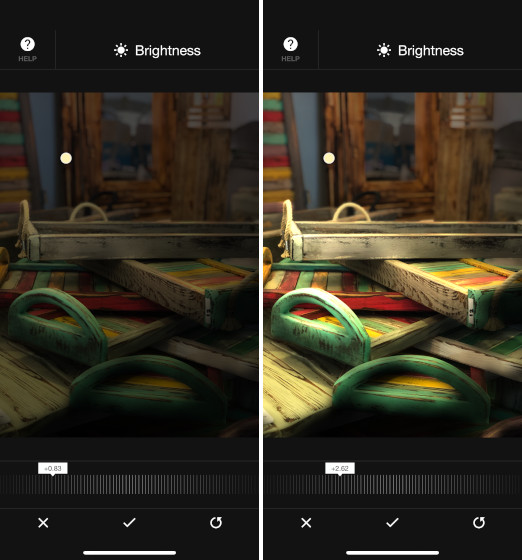 3. Real-Time Editing
Another key feature of Apollo is real-time editing. The app uses a proprietary graphics card processing algorithm and is able to illuminate a portrait scene in real time. That means you don't have to wait for rendering or anything like that. All the edits happen in real time and the results don't differ when you export the phots.
4. Light Mask Support
Apart from your normal photo lighting effects, Apollo also supports light masks which allows you to use different lighting patterns to make your photos look unique. There are more than 50 different light masks which include both black and white and colored options.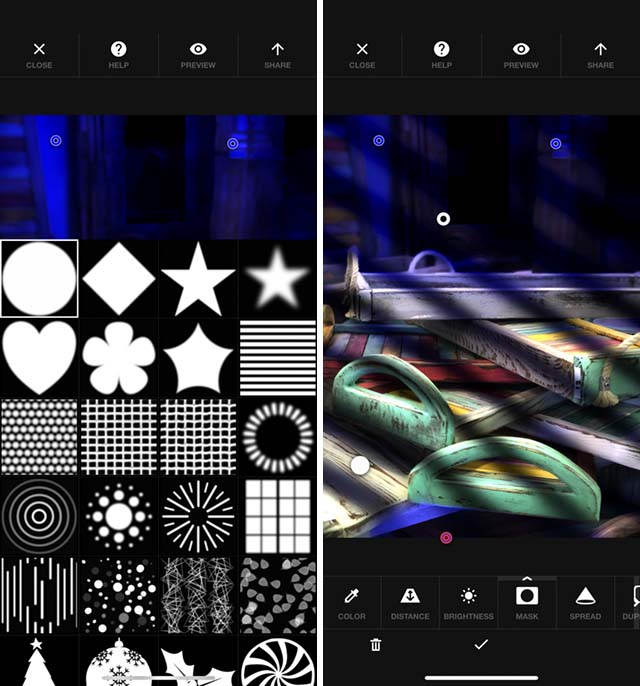 5. Non Destructive Editing
One small feature that I love about Apollo is that it doesn't ruin the quality of the photo being edited. All your photos are saved in the same resolution and it also respects Apple's wide color (P3) gamut.
User Interface and Ease of Use
Now that we know what you are getting with Apollo, let's see how easy it makes it for you to use those features. I am using the app since the last couple of days and I am happy to report that Apollo features a no-frills interface. When you launch the app for the first time and allow it to access your photo library, it will automatically scan all the portrait mode photos and bring it to its library.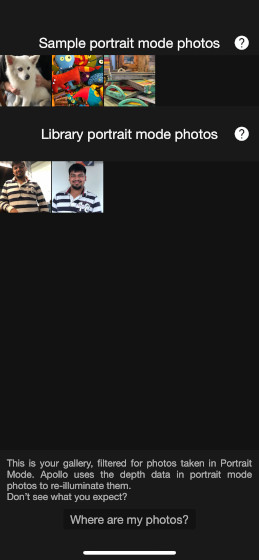 From here, you just have to tap on the picture that you want to edit and it will open. There's a plus button at the bottom which allows you to add light sources, while there's an effects row at the bottom which you can scroll through to find and use the effects that you want to. Once you tap on an effect, you are presented with a small slider which can be used to adjust the intensity.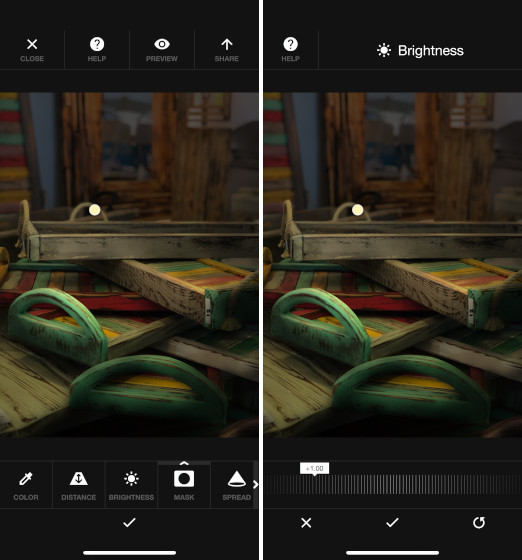 The light sources are shown in the picture using small white dots which you can drag to move. Finally, there's a preview button at the top which allows you to preview the edited image, and a Share button which allows you to both save the photo to your gallery or share it with your friends and family using the share sheet. As you can see, the app is pretty easy to use, still, if you want some help, there's a built-in help menu which will guide you through all the controls.
Pricing, Availability, and Compatibility
Apollo brings a simple one-time purchase method and there are no hidden charges or subscriptions involved which I like very much. The app is available on the App Store and you can buy it right now. It supports all the iPhones that can capture portrait mode photos including iPhone 7 Plus, iPhone 8 Plus, iPhone X, iPhone XS, iPhone XS Max, and iPhone XR. However, do note that iPhone XR only sports a single lens and uses software to capture portrait mode photos, hence, the quality of photos will be lower than other phones.
Check Out Apollo: $0.99 (INR 79)
Give Your Photos a Unique Look with Apollo
For its price, Apollo is bringing a lot to the table. I mean there is no other app on the App Store which handles lighting effects quite as well as Apollo and you can buy this app under a dollar. You should definitely download this app as I know you won't be disappointed. Also, if you want to see some awesome pictures created using Apollo, you can check out their Instagram profile.