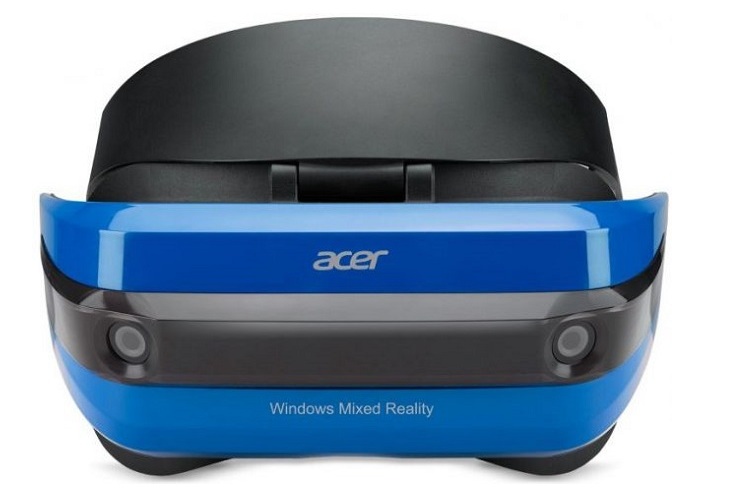 After originally unveiling it earlier this year for the global media, Taiwanese tech company Acer has finally launched its Windows Mixed Reality headset in India. While there's no word on the device's pricing just yet, it comes in two different versions in the U.S., costing $299 (around Rs. 19,260) for the base version and $399 (around Rs. 25,700) for the premium variant that ships with a pair of wireless controllers.
The Acer MR headset needs to be hooked up to a Windows 10 PC running at least the Fall Creators Update. The device comes with two separate 2.89-inch LCD panels that have a resolution of 1440 x 1440 pixels each. The panels have 90 Hz refresh rate and 95-degree field-of-view. The device also comes with a 13-foot cable, has built-in audio and, offers HDMI, USB 2.0 and 3.5mm AUX connectivity.
While many traditional PC-makers, like Asus, Dell, HP and Lenovo, have all tied-up with Microsoft to launch MR headsets with the Windows Mixed Reality platform, Acer is the first one to have brought its offering to India, although there's still no clarification on either the ETA or the pricing of the device. Windows itself offers the HoloLens Head Mounted Display (HMD) based on its own MR platform, but at a whopping $3,000 apiece, it's safe to say that the third-party offerings are likely to be the ones to gain more traction.
In case you're planning to get Acer's MR headset once it's available for purchase, here are the minimum hardware requirements for the Windows Mixed Reality platform:
Intel Core i5 CPU
DX12-compatible GPU, including the Intel HD Graphics 620.
8GB RAM
100GB SSD
Support for Bluetooth 4.0
HDMI 1.4/2.0 port or a DisplayPort 1.3
Mixed reality promises to bring the best of virtual and augmented reality by combining motion-sensors, advanced optics and cutting-edge software. If Microsoft can deliver even a fraction of what it is promising, MR can open up a whole new world of possibilities by bringing apps, games and interactions that we're yet to experience.
---