Football fans, get your jerseys, popcorn and smartphones ready! This year, you don't even need to be around a TV to catch all the 2018 FIFA World Cup action from Russia. The 32 national teams are ready to slug it out, and here is how you can keep up with all the action with these essential apps for football fans.
2018 FIFA World Cup Russia Official App
Well, it goes without saying but this is the most obvious app to add to that World Cup folder on your homescreen. Keep track of every FIFA World Cup match and update. This app asks you to select your favorite team and puts you at the heart of the football action with minute-by-minute updates (live blog) and notifications
You will be able to check out live scores, see exclusive videos of key moments, and learn more about the team you support among other things. There's not a whole lot of fluff in FIFA's official app but it will deliver you all the updates without any frills.
Download the 2018 FIFA World Cup Russia Official App (Android, iOS)
Live Score Apps – FotMob, Onefootball, Forza Football
If you currently search for an app to help you keep tabs on 2018 FIFA World Cup scores, then you'll find that app stores are flooded with many such score-keeping apps. We know that it can be confusing to pick one, so we did all the hard lifting for you and here's our suggestion – FotMob (Android, iOS).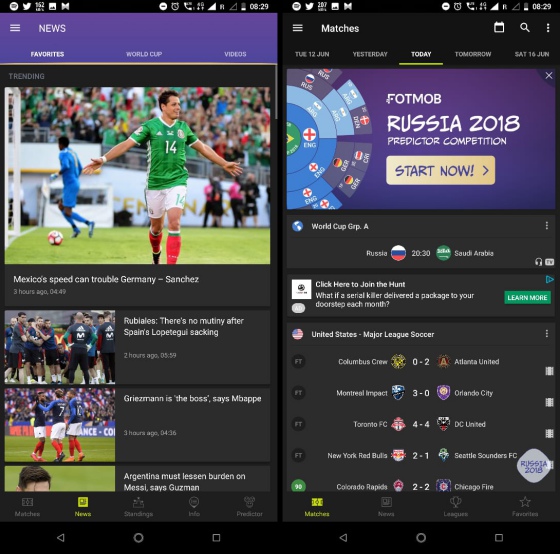 We've picked this app because FotMob is the complete package if you simply plan to track World Cup matches and read all about them. The app includes a dedicated 'Russia 2018' World Cup mode that offers you live scores and other stats such as the starting lineup, goals, cards, penalties, missed penalties, assists and substitutions in a clean and dark UI.
If you don't like the UI or the commentary on FotMob (which is totally understandable) and would like access to more info on the matches or players, then you can pick between OneFootball (Android, iOS) which has a brighter UI and a cleaner look overall, or Forza Football (Android, iOS) which lets you pick themes which could match your national team's colours.
2018 FIFA World Cup Fantasy – RealFevr
With the 2018 FIFA World Cup starting in mere hours, you have just enough time to build that kickass fantasy football team. I have already picked my favorite and well-performing players, spending the virtual $100 million cash, to build my dream team using RealFevr.
Yes, as the name truly suggests, FIFA World Cup will be the 'real' fever for the next 30 days and RealFevr gives you the chance to be part of the excitement by building your own team. You can pick 15 players (4 substitutes), manage them and track their performance in real-time all through a simplified, intuitive and clutter-free UI.
You also get access to latest news and updates about the players to help you build your team through their regular blog posts.
Download RealFevr – Fantasy Sports (Android, iOS)
While I like the UI and aesthetics of RealFevr, there are other fantasy football apps available on the app stores. Another popular one is Goal Fantasy Football (Android, iOS). It has similar features but its user experience isn't as fun as RealFevr.
Already have a team on RealFevr? Join our in-house football maniacs in the Beebom League, by clicking on this link. Alternatively, you can enter our League ID – cea2ccc3 – in the RealFevr app.
SonyLIV
If you're a true football fan, it is highly possible that you've already penned a list for all the FIFA World Cup fixtures you want to watch live instead of just keeping tabs on the scores. SonyLIV is your one-stop destination for just that, at least in India. You can stream all the matches for free, but will have to bear with the 5-minute delayed and ad-supported telecast.
You can, however, get rid of the ads and delay by picking the Rs 199 'Super Sports' pack for six months, which is a great deal for football fans who plan to stream a ton of matches over the next 30 days.
SonyLIV will supplement the telecast with additional data like live scores, player positions, team info, match stats and commentary in the 'Match Center' within its app, which is certainly a plus. All of these features are not live yet but should appear over the next few hours or days.
Download the SonyLIV app (Android, iOS)
You can also watch the matches live on AirtelTV and JioTV apps for free by selecting the right channel from the TV schedule.
BBC FIFA 2018 VR experience
While the aforementioned apps will enable you to keep track of events on the field at the 2018 FIFA World Cup, BBC wants to put you in a seat of the football stadium. Yes, BBC is bringing live coverage of all 33 matches live in virtual reality through its BBC Sport VR – FIFA World Cup Russia 2018 app.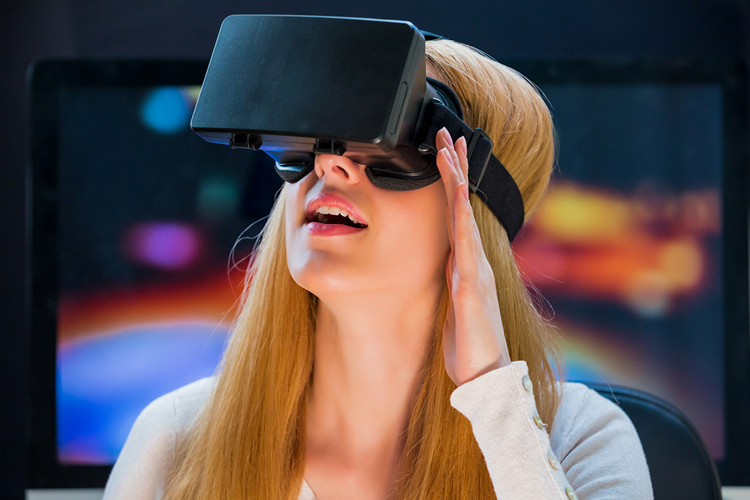 You can use any phone with a gyroscope or a VR headset to immerse yourself in the real-world experience of being at one of the games. BBC will also display the match stats and switch angles to give you the perfect view of matches in real-time. This app is compatible with both Android and iOS devices, along with Gear VR, Oculus Go and PlayStation VR.
Google Assistant and Siri World Cup Updates
However, if you are not looking to download an exclusive app to stay updated with all the developments of the 2018 FIFA World Cup then don't worry, Google and Apple are here to help you out as well. You can now ask Google Assistant and Siri to serve you updates for ongoing matches or turn to Twitter for latest updates.
Playing Football in Downtime
One of the biggest questions is how do you keep your football fever high when there are not games. Get into the thick of it by playing football on your phone. The FIFA Soccer: FIFA World Cup (Android, iOS) and PES 2018 (Android, iOS). Both of them have been updated with latest national squads to make for a fun and true-to-life gameplay.
So, there you have it; you won't need a TV or a laptop to keep up with all the action. Just get these apps, and if we missed out on any truly interesting ones, let us know below.