In last one year number of  Twitter users has doubled, according to a recent study by Pewinternet. In May 2011, 4% of online adults used Twitter on a typical day but now in Feb 2012, that number has increased up-to 8%.
Here's the graph showing Twitter usage over time,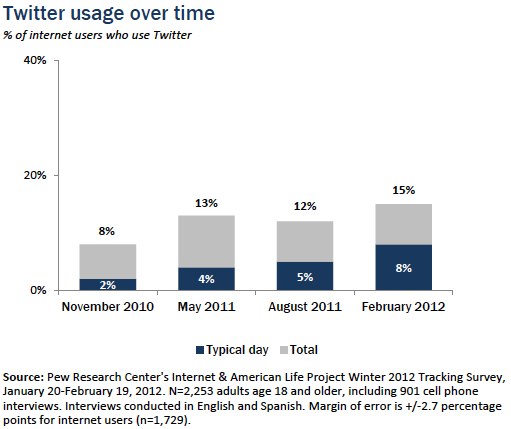 Over last 1 year, there has been a rapid increase in mobile technologies, especially smartphones which is correlated to increase in number of  Twitter users. People having basic phone are half as likely to use  Twitter on phone than people having smartphone.
Age group 18-24 are the fastest growing group in Twitter users over last one year, which is also the fastest growing group in smartphone ownership.
Hence, 1 in 5 smartphone owners use Twitter regularly.
One more reason for increased Twitter usage on phone is that Twitter experience on mobile is as satisfactory as that on PC or Laptop but other social networking sites like Facebook and Google+ are still struggling to give its users a nice mobile interface to work with.
P.S. This report is based on data from telephone interviews conducted by Princeton Survey Research Associates International among a sample of 2,200+ adults, age 18 and older.