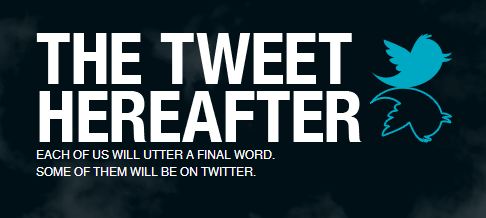 Social Media has changed our life to a great extent but now, Social Media is slowly making its way in to our afterlife too.  Here's how,
The Tweet Hereafter is a web service which documents the last words (tweets) of the notable and famous personalities who are no longer with us.
To help you understand in a better way, Here's an example (hypothetical but scary)
Imagine yourself Tweeting and walking down the lane and suddenly a car hits you and you die just after pressing the tweet button, you are gone but your tweets will stay and your last tweet is certainly your last word.

If you are famous enough at the time of passing away, your final social media activities, your final tweets will be published and remembered as your last word, no matter whatsoever is written there because you never knew you were going to die, right?
This is the basic idea on which The Tweet Hereafter is built.
Jamie Forrest and Michael McWatters were working on this project since last one year and they have launched it yesterday only.
This idea clicked to them when they were discussing about an incident happened with one of their friend, who tweeted something in anger and went for a walk and later died of a heart attack.
SEE ALSO:  Most Epic Tweets on Twitter
Since last one year or so, they have been collecting the last tweets of famous personalities and now that they have launched, you can check it out.
Here's the Link, The Tweet Hereafter.
A little suggestion from my side would be that, it should be made open for everyone so that people from every part of the world can preserve and publish the last memories of their loved ones in the form of their last tweets.