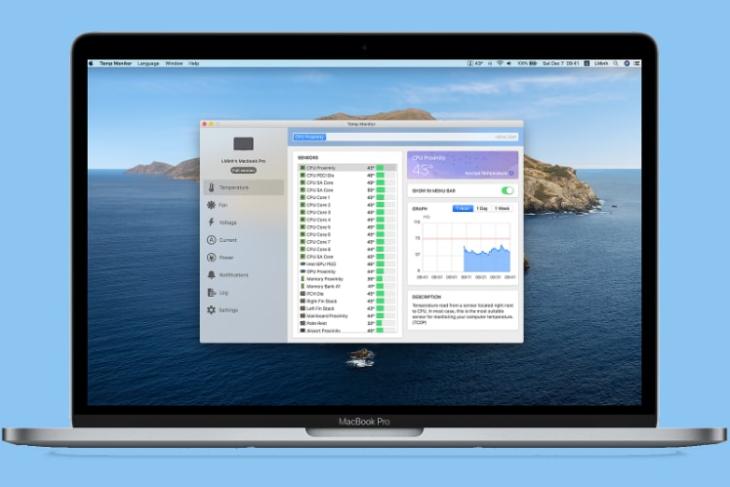 While Macs are good at many things, controlling system temperature is not one of them. First, there's no built-in temperature monitoring system that lets you monitor the system temperature. And second, there's no fan-speed control software that lets you crank up the fans to manage overheating issues. Add that to the fact that macOS by default keeps the fan speed at low to keep things quiet, and you have a combination that leads to high internal temperature under medium to heavy loads. Thankfully, there are third-party apps that let you mitigate these shortcomings. In this article, we are going to share one such app with you. It's called Temp Monitor, and it will help you keep your Mac cool so you can get the best performance.
Key Features
In this section, we are going to discuss some of the key features of this app to give you an idea of what this app can do. We will then briefly discuss Temp Monitor's user interface, and then move onto pricing and conclusion. Now that you know the structure, let's get into the key features of the Temp Monitor app:
1. Sensor Monitoring
One of the best features of the Temp Monitor is that it allows you to monitor the temperature of all the sensors in your Mac. You can view the name, description, current value, min/max value, status, and even a historical graph of all available sensors in your Mac.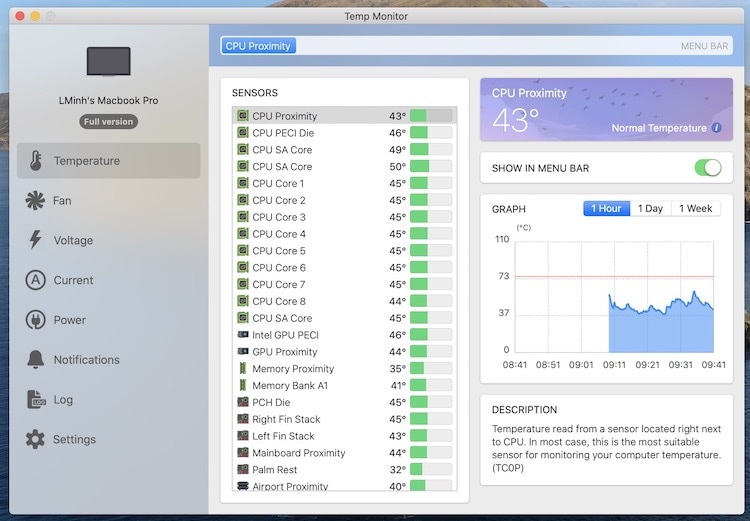 2. Background Monitoring and Overheat Notification
What I love most about this app is that I don't have to constantly monitor the temperature on my Mac. The app monitors everything in the background and sends me a notification when anything overheats. The notifications are persistent, which means they will not go away until you manually dismiss them. If you receive an overheating notification when you are away from Mac, you will still be able to see it when you come back to it.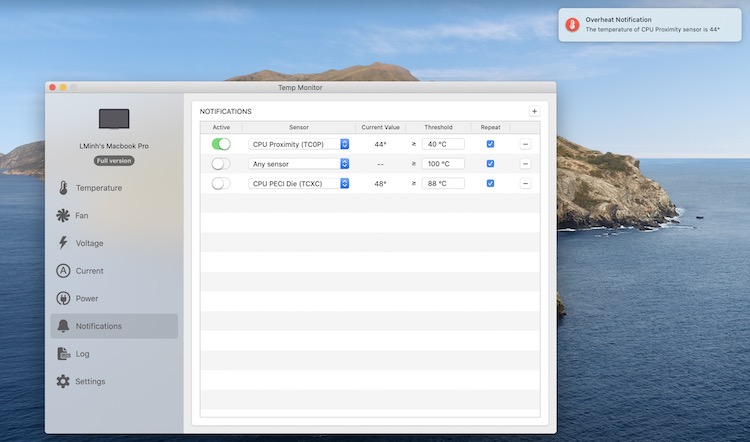 3. Fan control
Another great feature of this app is that it allows you to see and control the fan speed on your Mac. You can view the current speed and minimum & maximum speed (rotations per minute) of every fan in your Mac. You can also crank up the fans to decrease the temperature of the system. For example, when you receive an overheating notification, you can open the app and crank up the fans to cool down your machine. There's also an "Auto Boost" mode that automatically boosts up the fan speed when the app detects overheating.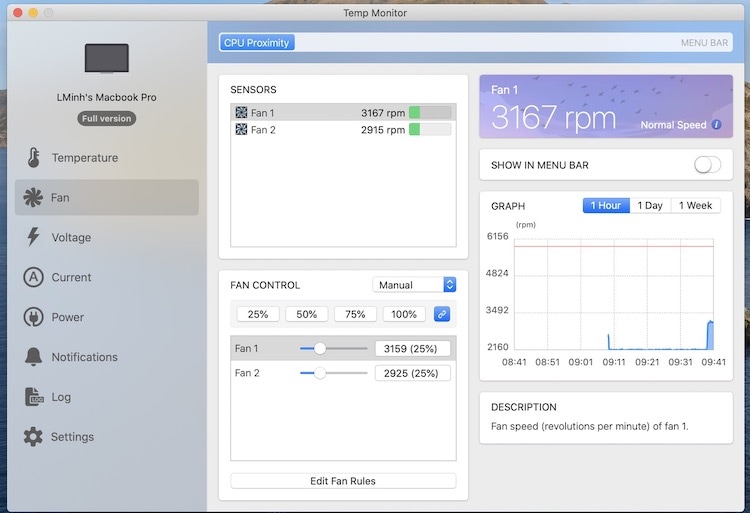 4. Menu Bar Display
Temp Monitor also shows you the current temperature of the system in a menu-bar icon. This is handy when you are running resource-heavy tasks like editing 4K video, and want to keep an eye on the overall temperature of your Mac.
User Interface and Ease of Use
Temp Monitor is a simple app that is easy to use. When you launch the app you are greeted with a UI that feels native to macOS operating system. There's a sidebar to the left that lets you switch between different monitoring systems, including temperature, voltage, current, fan speed, and more. The main window shows you all the details corresponding to the side tab that you have selected.
The app is really simple, and there's no fluff. Changing the fan speed is as easy as sliding the fan-speed control slider or selecting the fan speed percentage. In "Auto Boost" mode, you can define the temperature threshold at which the boost will kick in along with the fan speed of boost mode. As you can see, the app is quite easy to use.
Pricing and Availability
For a macOS utility that improves your Mac's performance and makes it last longer, Temp Monitor is quite cheap. You can download and try it for free for 14 days. When it's time to upgrade, it will only cost you $4.99. If you have multiple Macs, you can get the bundle for $19.99. It is valid for use on five different Macs.
Monitor Your Mac's Temperature and Keep It Healthy
Temp Monitor is a simple Mac utility that lets you monitor your Mac's temperature and set the fan speed to prevent overheating. You can use this app to get better performance out of your Mac. Not only that but preventing overheating will also improve your Mac's longevity. So click on the link above and check it out right now. There's a free 14-day trial, and you don't have to pay a penny to try it out.