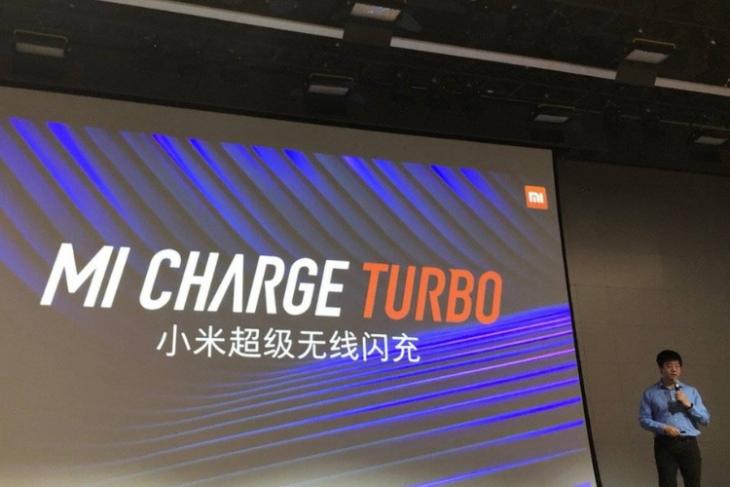 Xiaomi teased last week that it will announce Mi Charge Turbo, its next-gen fast-charging technology on September 9. Well, the Chinese giant held an event in China today and it's been uncovered that Mi Charge Turbo is Xiaomi's super-fast wireless charging technology that can fully charge your phone in just 69 minutes.
In line with the rumors, Mi Charge Turbo supports wireless charging speeds up to 30W. This is quicker than the company's 20W wireless fast-charging solution, which we have already seen on the Mi Mix 3. Xiaomi boasts that its new technology can juice up a 4,000mAh battery completely in just 69 minutes — which is on par with OnePlus's wired Dash Charge technology.
As you can see in the image below, Xiaomi boasts that its fast wireless charging tech is capable of topping up 50% charge in just 25 minutes. This is exactly similar to the Dash Charge charging time, but you don't need to plug in any cable and merely have to place your device on Xiaomi's super-fast charger. This is just bonkers on another level, right?
Xiaomi has also confirmed today that its future phones will support ultra-high power reverse wireless charging, a feature rumored for the Mi Mix 4. This will enable you to charge your accessories, like AirPods or fitness band, using the smartphone itself.
Xiaomi's flagship Mi 9 Pro 5G will be the first smartphone to support "Mi Charge Turbo," requiring additional cooling technology to be baked into the device to keep the temperatures in check. The company will unveil Mi 9 Pro 5G sometime later this month.
While we also expected Xiaomi to make its 100W Super Charge Turbo technology official today, announcing when we can expect to see it in commercial phones, it just got a brief stage presence. The technology can completely charge a 4,000mAh battery from 0-100% in just 17 minutes, so it could complement the Mi Charge Turbo technology really well.
It would be a shame if Xiaomi offered 27W wired fast-charging support but 30W wireless charging support on its next smartphone – possibly the Mi Mix 4, which is rumored to be coming towards the end of September. Maybe, well maybe, Apple could take some cues from Xiaomi (who is regularly accused of copying Apple) to offer faster-charging speeds and hardware out-of-the-box.
Image Courtesy: Weibo