With the FIFA World Cup just a few days away from us, people all over the world are preparing themselves by getting their country jerseys and re-scheduling their daily activities accordingly. This is a once-in-four-years' experience and no one would want to mess it up in any way possible. The FIFA World Cup 2014 is set to kick-off on June 12 in Brazil. This competition would start off from the start of June till the mid of July with the finals scheduled to played on July 13.
In India, the exclusive airing rights for the FIFA World Cup have been acquired by SONY SIX, so, the matches in India will be aired only on SONY SIX SD and SONY SIX HD. In USA, the World cup will be aired on ABC, ESPN and ESPN 2. As far as Britain is considered, television duties for the World Cup 2014 here have been shared by BBC and ITV, just like during the previous World Cup. If you aren't sure what TV channels are airing the competition in your country, you could just head over to Live Soccer TV and check it out.
Well, that was all about TV airing of the competition. What if the only channel airing the competition is not available in your region or in your subscription? No one would want to miss the competition due to travelling schedule or no access to these channels! What then? Here we are providing you with online resources for live streaming FIFA World Cup 2014. Enjoy the game!
WatchESPN (US Subscribers only)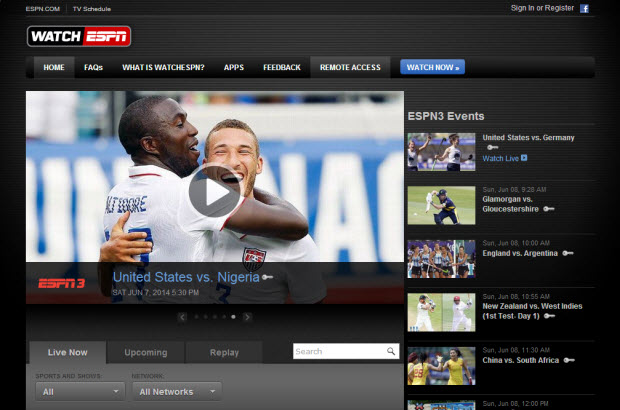 ESPN has made a great move ahead by offering its subscribers based in US an app that offers live streaming of ESPN, ESPN2, ESPN3, ESPNU, ESPN News and ESPN Deportes (Spanish). This app called WatchESPN is available for all platforms including iOS, Android, Windows 8, XBOX 360, XBOX One, Apple TV, Google Chromecast and Amazon Fire TV. So, if you are a resident of USA and happen to have a subscription to ESPN, you could live stream the matches from almost anywhere and on almost any device! This feature is exclusive to US only, and isn't available for India.
Online live streaming (For users worldwide)
For the rest of the world, who don't have access to the channel airing their favourite FIFA World Cup 2014 matches could resort to a few online services that offer completely free live streaming of football matches, but at the expense of quite a few ads. Note that these services may not be legal in many countries, as these are unauthorized live streaming services and usually tend to offer low quality streaming and no playback options. These services are the only resort for people worldwide to live stream football matches.
SportLemon.tv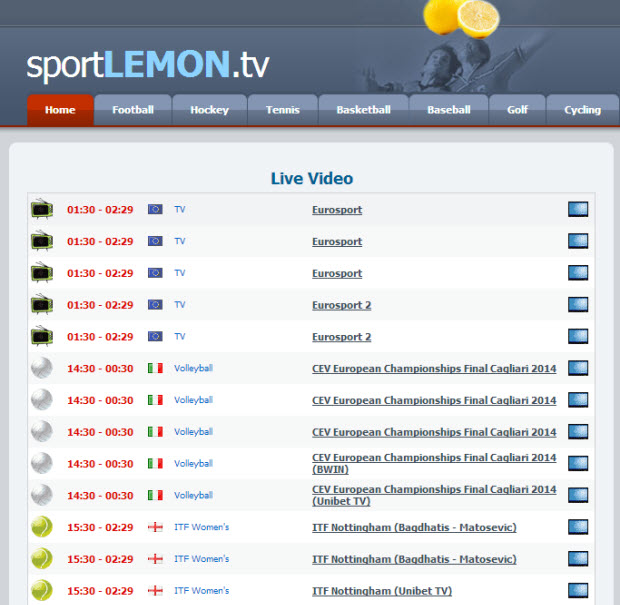 SportsLemon is probably the biggest and best online live streaming website out there. SportLemon.tv offer live streaming of many major sports including American football, soccer and FIFA World cup 2014 with multiple links to stream a single match. The ads here are less obtrusive compared to the rest of them and the quality of streams here makes it the best of them.
FirstRowSports
This is a streaming website that I recommend to most of them as I have personally accessed them during times of TV cable outage and this service has always attracted me back for more. This is another most popular live streaming website on the internet. The links here might be broken sometimes, but with a range of links for each match, this does stand on top of our live streaming choices.
LiveTV.sx
LiveTV is one of those fewer live streaming services that are not only designed perfectly, but it has been offering great functionality over the rest of the services. They cover many competitions and sports and offer multiple links per event. They also offer video archive for finding full matches, goals and highlights from already finished games.
Stream2Watch.me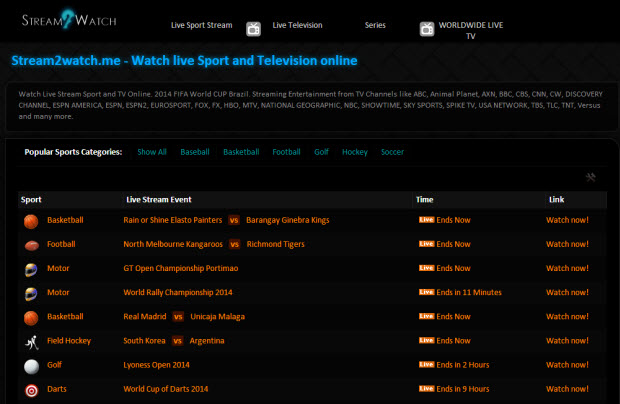 Stream2Watch.me is a similar live streaming website to the above mentioned services offering multiple links per event and multiple events over wide ranges of channels.
WiZiWiG.tv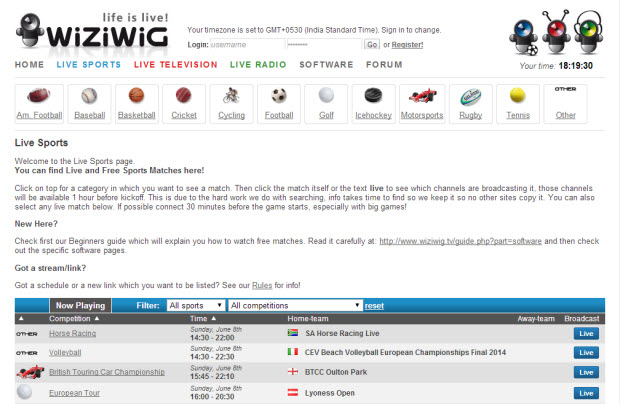 WiZiWig is another live streaming service and offers everything all of the above mentioned services offer. This service might not offer as many links per event as the others mentioned above, but nonetheless, could be accessed if you find some more services in handy.
So, now that you have learned about all the online live streaming options for FIFA World Cup 2014, do you find any service missing from our list above? Feel free to share your favorite live streaming websites in the comments section.