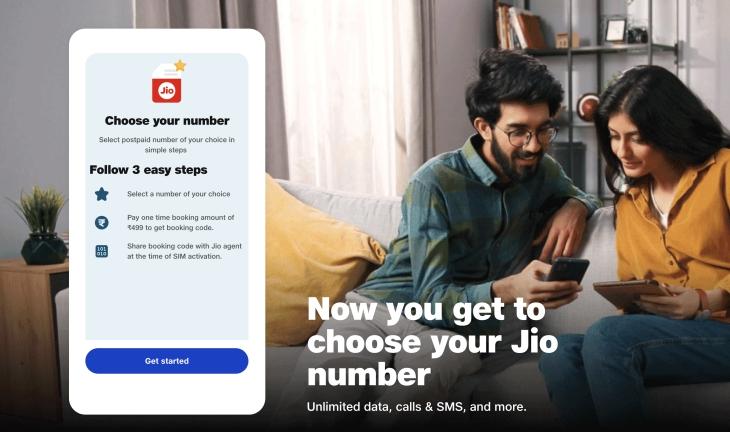 Reliance Jio will now let you pick a postpaid number of your choice, sort of. Jio has introduced this feature in order to attract new postpaid users. That said, let's learn all about Jio's new scheme and how you can select your own postpaid number.
Pick Your Own Jio Postpaid Number for Rs 499
The latest offering from Jio is listed on their official website as "Jio Choice Number." If you are looking to avail Jio's postpaid facilities, this service is meant for you.
First-time Jio postpaid users can visit the "Jio Choice Number" website to claim a new number that they want. But, as expected, there's a catch. You cannot choose each digit of the entire 10-digit number. You can only choose the last 4 to 6 digits of the new postpaid number. The rest will be generated by Jio. You will be presented with multiple numbers to choose from. And once you are satisfied with your selection, you will be able to book and claim your number for only Rs 499.
Though it's not a complete number, this feature still lets you add a level of personal touch to your Jio phone number. But it is only possible with its postpaid facility. From introducing Jio Plus to exciting Jio postpaid plans, the company is on the lookout for new customers.
Steps to Choose a Personal Jio Postpaid Number
If you are intrigued by the idea of choosing your own Jio number, Follow the steps below to claim the postpaid number of your choice right now!
1. Visit the Jio Choice Number website and click on "Get started" to begin.
2. Enter your mobile number to generate an OTP.
3. On the next screen, enter your Name, Pincode, and four to six digits of your choice. These digits will be the last four or six digits of your generated mobile numbers. Click on "Submit" to proceed.
4. Now, you will see all the postpaid numbers that include your lucky numbers. Simply click the "Book" button against the number you like, and it will be reserved for you. All you need to do now is make a payment of Rs 499 to claim your personalized Jio number.
So, what do you think of this new offering from Jio? Are you excited to claim your personalized Jio Postpaid number? Comment down your thoughts below.