There are plenty of free as well as paid screen capture software that are currently available for PC users. These software are extremely useful, especially if you want to record your gaming sessions or just capture your screen for making some great tutorial videos. Wondershare's Filmora Scrn is one such tool that aims at making the whole recording and editing process as simple as possible, because the company behind some of the popular software like Video Converter Ultimate, PDFelement and Filmora has managed to integrate a minimalistic video editor right into the screen recording software. Personally, I've used plenty of screen recording software for recording my gameplay sessions, and most of them have been lacking in the editing department. Well, if you're looking for a simple solution to capture your screen, you're in luck, as we'll be taking an in-depth look at Filmora Scrn screen capture software.
Key Features
Unlike most of the software that I've personally used so far, Filmora Scrn screen capture software easily manages to stand out in terms of simplicity and functionality, thanks to the inclusion of a built-in video editor that barely requires any video editing experience to use. Well, without further ado, let's check out all the key features that Filmora Scrn has to offer:
When most of the video recording software cap out at 60 frames per second, Wondershare manages to take this limit to a whole new level by letting their users record up to 120 fps. This is extremely useful if you're using a monitor with a refresh rate higher than 60 Hz. Well, the 120 Hz recording prowess makes a huge difference when you're recording fast-paced games like Battlefield 1, Counter Strike: Global Offensive, Overwatch, etc. It's also helpful if you want the final footage to be in slow-motion, after some post-production work. Apart from high frame rate recording, users will also be able to record at a very low 15 fps.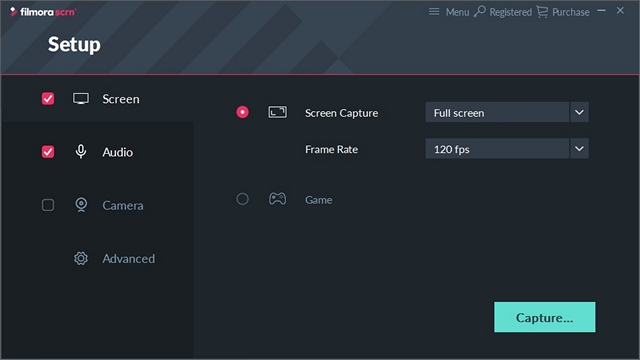 Record Screen & Webcam Simultaneously
Filmora Scrn not only lets you capture your screen, but also lets you capture your face, if you have a Webcam. Depending on the hardware you're having, you'll be able to adjust the recording resolution and frame rate for your Webcam. This is pretty useful for Facecam, especially if you're planning to upload your tutorial videos or gameplay footage to YouTube. The screen recording and webcam recording will be displayed neatly in a picture-in-picture fashion.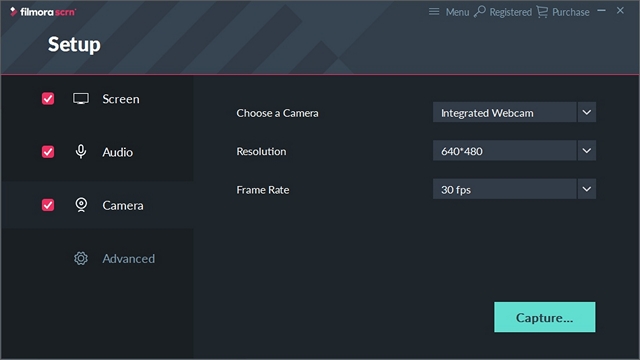 In addition to recording your screen and face, Filmora Scrn also lets you record audio, if you have a microphone, regardless of whether it's built-in or dedicated. Well you can enable/disable it according to your preferences, but the feature is pretty useful, especially if you're doing live commentary while gaming or explaining stuff while recording tutorial videos using a high quality studio microphone.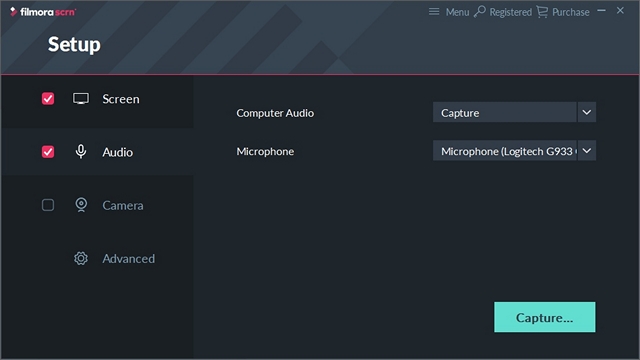 This is pretty much the standout feature of the software, as most similar software seems to miss out on video editing capabilities. Well, this is absolutely necessary if you want to enhance your final footage before uploading it to social networking sites by adding some music, cuts, annotations and more. Immediately after opening up Filmora Scrn, you will be taken to a menu which lets you choose between screen recording and video editing. Once you've ended your recording session, Filmora Scrn automatically asks you whether you're interested in exporting the footage to the editor.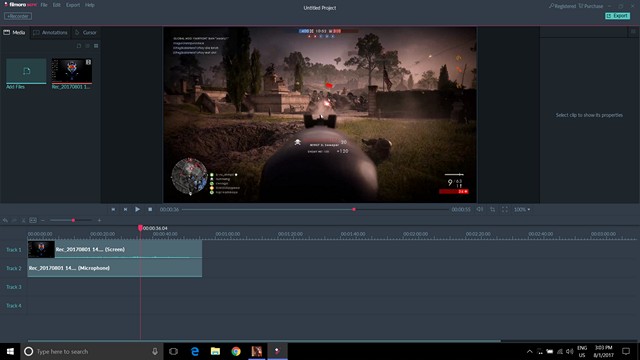 In addition to editing recorded videos, you can browse and import any other video that's on your computer. It's pretty simple to use and requires no prior knowledge on video editing at all. However, the tools available for the users are pretty much limited, and it cannot be considered as a full-blown video editor for advanced users.
How to Record & Edit Your Footage With Filmora Scrn
If you have no clue how to record and edit your videos with this software, don't worry at all. Filmora Scrn is pretty straightforward, as you're not handling with cluttered menu and controls, like several other software out there. If your PC is running Mac or Windows, make sure that you've downloaded and installed Filmora Scrn from the official website. Once done, simply follow the steps below to easily capture your screen and edit videos within minutes:
Immediately after you open up the software, you will be asked to choose between "Quick Capture" and "Video Editor". Since we're going to record our screen first, simply click on "Quick Capture".
Now, a small overlay will pop-up at the bottom-right of your screen, which lets you start capturing your screen right away. Suppose you want to record your gameplay, start the preferred game and then click on "F10" to immediately start the recording process. You can also easily adjust the recording area by simply dragging from any of the corners or sides, according to your preferences. In order to stop recording, simply click on "F10" again.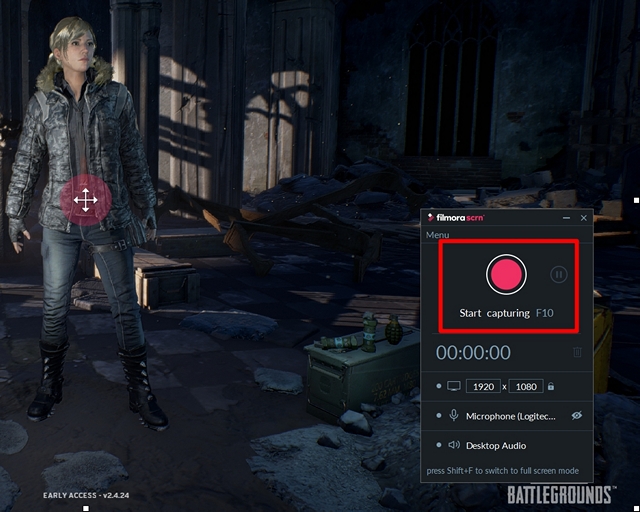 Once you end the recording process, the following window will show up on your screen. The software will you ask you whether you want to export the recorded clips to the editor for enhancing it. You can either choose this option or just export it to local files. If you're interested in editing the footage, simply click on "Go".
Now, you'll be taken to the built-in video editor, where you'll be able to trim your recorded videos, add tracks, annotations and more. The user-interface is neat and straightforward, making the editing part of the software much suited to beginners.
Once you've successfully edited your video, go to Export -> Create Video located at the top-menu.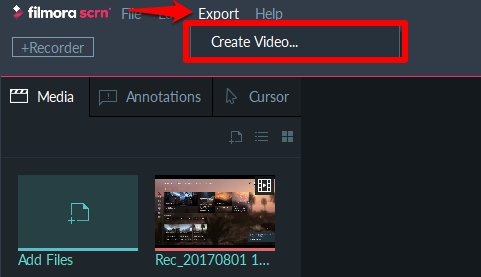 Now, a new menu will pop-up on your screen where you can change the output video format, customize resolution, frame rate and even bit rate for the final video. Once you've chosen the necessary variables, simply click on "Export".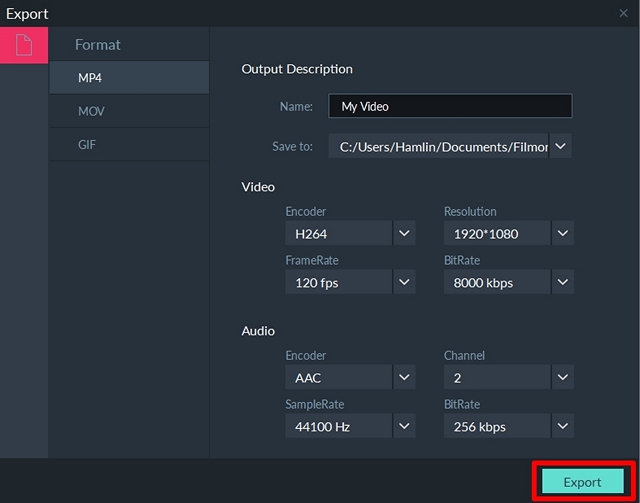 Well, that's pretty much the whole recording and editing process. We're pretty sure it was quite easy for you to use, even if you're completely new in this department. So, what are you waiting for? Easily capture and edit your videos before you upload it to YouTube, with Filmora Scrn.
The User Interface
Above all the features that Filmora Scrn has to offer, what we enjoyed the most about this software is it's minimalistic user-interface. Overall, the software is neatly designed and the controls are not cluttered, in order to make it as simple as possible for the beginners. All you need to do is, simply open up the software and hit the F10 button to start recording right away. Well, can it get any more easier?
As far as video editing is concerned, Wondershare has done a splendid job by making it so easy to use for even the most inexperienced users. Music, annotations and cuts can easily be done within a matter of minutes, depending on the size of the video. However, the lack of advanced video editing tools force the professional users to look elsewhere for a dedicated video editing software for meeting their post-production demands.
Pricing & Availability
Filmora Scrn can be downloaded for both Windows and Mac devices from the official website for free. However, as long as the software is unregistered, you will have access to only a very limited set of features. If you want to take full advantage of Filmora Scrn, you will have to shell out either $19.99 on a yearly basis or $29.99 for lifetime access to this software and its unique set of features. Both of the available options come with free software updates, so there's worry in this regard.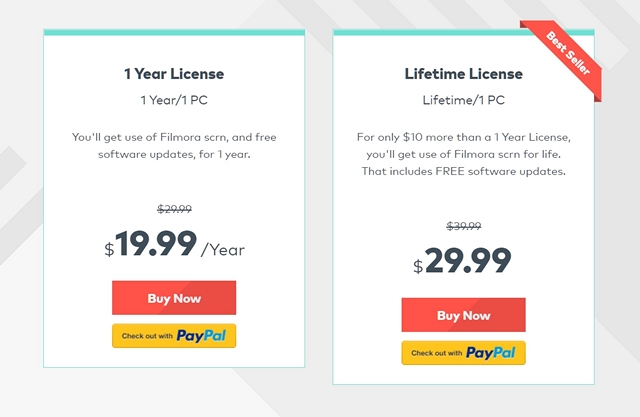 Pros
Easy to use
Clean User Interface
Record up to 120 fps
Picture-in-picture mode for Facecam
Built-in Video Editor
Well-suited for beginners
Cons
Noticeable performance impact in games
Lack of advanced tools in Video Editor
Not suited for Advanced users
Easily Record & Edit Your Footage With Filmora Scrn
Considered as a game recording software by the company themselves, Filmora Scrn is one of the best software you can use in terms of simplicity and capabilities. Being capable of recording up to a blistering fast 120 fps, Filmora Scrn manages to flex its muscles while you're recording all your gaming sessions. However, the software manages to fall short in terms of performance impact, as you'll experience noticeable frame drops while simultaneously gaming and recording, unlike NVIDIA's GeForce Experience. That being said, the built-in video editor is a much welcome feature for all the beginners, despite lacking advanced features, as it lets them trim, add annotations and tracks with absolute ease. So, are you guys ready to try out this nifty software for capturing your screen? Will you be ready to shell out almost 20 bucks if you enjoyed using it? Do let us know, in the comments section down below.
Download Wondershare Filmora Scrn here