Facebook is no longer the dominant social media platform among US teens and has been replaced by the likes of YouTube, Snapchat, and Instagram. According to a recent survey conducted by Pew Research Center, while just over half (51 percent) of US teens aged 13 to 17 say they use Facebook, only 10 percent say that it's their most used social media platform.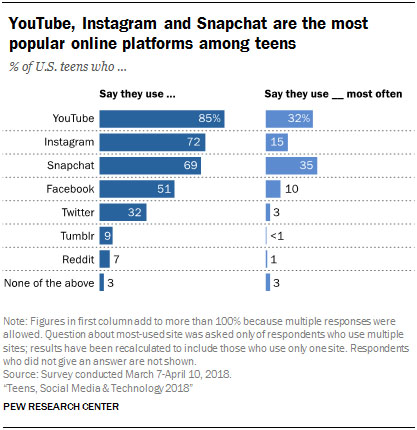 Compared to the Center's previous survey conducted in 2015-16, in which 71 percent teens reported being Facebook users, the platform has seen a major decline in the last couple of years. Instead, teens these days are more attracted to other online platforms, like YouTube, Instagram, and Snapchat, with 85 percent, 72 percent and 69 percent reporting that they use the platforms, respectively.
YouTube, Instagram, and Snapchat have also replaced Facebook to become the most used platforms among teens, with almost a third claiming that they use Snapchat (35 percent) and YouTube (32 percent) most often, while 15 percent say the same for Instagram.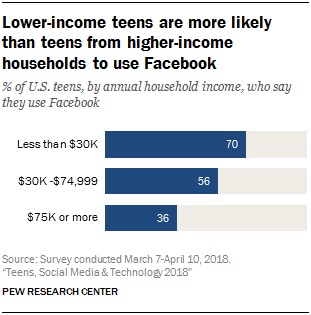 The survey also highlights how a number of other factors like income, gender, race, and ethnicity influence the teens' internet use. According to the data, lower-income teens are more likely to use Facebook than those from higher-income households. When it comes to usage, teens from lower-income households are also more likely to choose Facebook as their most use platform (22 percent vs. 4 percent).
Girls are more likely to choose Snapchat as their most used platform over boys (42 percent vs. 29 percent), while boys are more inclined to pick YouTube as their go-to platform (39 percent vs. 25 percent). The data also reveals that white teens (41 percent) are more likely to say Snapchat is their online platform of choice, as compared to Hispanic (29 percent) or black (23 percent), while black teens are more likely to choose Facebook as their most used platform than white teens (26 percent vs. 7 percent).
Does the aforementioned data apply to you? What online platforms do you use and which one is your favorite? Let us know in the comments section below.
---