While people still haven't fully discovered the Minecraft 1.19 update yet, the developers are back with a bigger surprise for the players. As a first, we are getting a new action strategy spin-off Minecraft game by the name of Minecraft Legends. It is supposed to plug the gaps in the story of Minecraft's overworld while giving birth to a series of new myths. With an interesting plot and a new but familiar world, Minecraft Legends is easily set to become one of the most beautiful and best RTS games out there. So, let's dive right in and discover everything you need to know about this new Minecraft game.
Minecraft Legends: Everything You Need to Know (2023)
We have covered the official gameplay, release date, compatible platforms, features, and more for Minecraft Legends in separate sections. You can freely explore each of them using the table below.
Note: This article was updated on 26th January 2023 at 11:30 PM PST to include details about the release date and gameplay mechanics for Minecraft Legends.
What is Minecraft Legends?
Minecraft Legends is an upcoming action-strategy game based in the overworld of classic Minecraft. We got a first look at this game during the Xbox and Bethesda Games Showcase in mid-June 2022. This game has been developed by Minecraft's original creator, Mojang Studios along with Blackbird Interactive.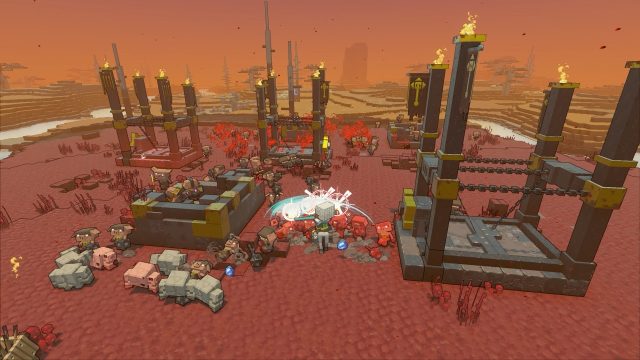 At first glance, the game might appear similar to Minecraft Dungeons. But leaving aside the similar theme, this title features a distinctive rendition of Minecraft's world along with a new style of gameplay similar to games like Age of Empires.
Minecraft Legends Release Date
[UPDATE | 26th Jan, 11:30PM PST] – During the Xbox Developer Direct 2023 event, Microsoft announced that Mojang's new blocky action strategy game, Minecraft Legends, will be released on 18th April 2023. It will be available on the following platforms — Nintendo Switch, Xbox One, PlayStation 4, Windows, PlayStation 5, Xbox Series X, and Series S. Moreover, much like other variations of Minecraft, this blocky world adventure will also be available on the Xbox Game Pass and PC Game Pass.
As revealed during the Minecraft Live 2022 event, Minecraft Legends will release in spring 2023. So, you can expect the game to reach you within the early months of next year. Taking the release of Minecraft 1.20 into consideration, we speculate this game to be out in the April or May 2023. Though, there is no official confirmation of the exact release date yet.
Minecraft Legends Story and Trailer
As per the Minecraft blog, the story of Minecraft Legends covers the myths that are discussed in the overworld villages. No one knows the reality behind them, but you can experience those stories firsthand with this new game. According to the myth, the creatures of the overworld (including Minecraft villagers and mobs) had to unite to stop the invasion of the Nether dimension's piglins.
The piglins aim to corrupt the overworld with Nether features, and not only you, but the whole overworld must defend its home. So, instead of just featuring the main character's story, Minecraft Legends keeps the world in focus. You are the force that unites the overworld, but it's the mobs of the overworld that work together with you to defeat the piglins. The creators have promised to share the depth of the stories in the months following the game's release.
Minecraft Legends Gameplay
In terms of gameplay, Minecraft Legends borrows from a variety of existing action-strategy games and adds a spin of its own. It presents us with a third-person perspective of the familiar blocky world of Minecraft, but with some new features, mobs, biomes, and mechanics in tow.
You can explore the overworld to collect resources, complete campaigns, and experience various structures. Some might even give you new Minecraft house ideas for the vanilla game. Thanks to the demo showcased during Minecraft Live 2022, we now fully understand what the MC Legends gameplay will look like. Mojang also released a new gameplay trailer for Minecraft Legends, which you can check out here:
What Happens in Minecraft Legends
The game starts at the Well of Fate, which is a temple-like structure where you spawn. There you are welcomed by the three host mobs – Knowledge, Action, and Foresight. They get you familiar with the overworld, your objectives, and the storyline.
Then, you get a bunch of weapons early on in the game to help you start your adventures. One of them is the Flame of Creation, which acts like a mob spawner and allows you to spawn different types of friendly mobs. Another item you get is the Banner of Courage, which you can wave to make the overworld mobs follow you. It also allows you to command the mobs to do different tasks for you. It's similar to an army journal controlling an army for war.
Finally, the last and probably, the most creative weapon you get is the Lute. Deriving its name from a flute, the Lute is a musical instrument that allows you to spawn two types of Allays in Minecraft Legends. Unlike their counterparts in the main game, these Allays are much more powerful. One of them (blue Allay) breaks down trees and other natural structures to gather material. Meanwhile, the yellow Allay is going to build structures for you.
Once you have a few mobs and the Allays following you, all that's left to do is explore the overworld and fight Piglin infestations. Gradually, you will also get the chance to upgrade your army, recruit new types of mobs, and even create defensive structures. Since the game features an overworld, you most likely will never be out of work to do.
PvP Multiplayer Mode
Yeah, similar to other real-time strategy games, Minecraft Legends also has an online multiplayer PvP and co-op mode. You can team up with other players to complete campaigns and explore the world. Or other players can try to attack your villages, plunder your resources, and challenge you in exciting battles.
Minecraft Legends will feature PvP servers that are independent of the main campaign. These servers will consist of procedurally generated random words that you and your friends can join. Each server can host up to 8 players at once who are divided into two teams of four players each. The Allay and other functionality will more or less be the same. But attack alerts and a dedicated map seem to be exclusive to the PvP mode.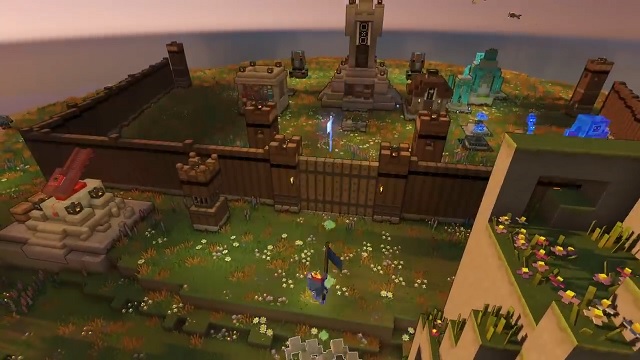 You are free to explore the world, build bases, and attack enemies with all the resources you can gather. The main objective of PvP is to eliminate all of the enemy bases while keeping yours protected. Due to the random world generation, there will be times when the resource allocation might feel a bit unfair, but that's only a test of your strategies. Not to forget, the Piglins are also a part of these servers. So, even if you can't find resources, you can still lure them to enemy bases for unplanned support.
As far as matchmaking goes, Minecraft Legends allows players to invite their friends or join open servers. It is similar to other combat-based online games where players host and join public servers. But it supports way more playstyles in its gameplay than any other game out there. You can explore our dedicated guide for Minecraft Legends PvP to dive deeper and learn about each of them.
Moreover, there is no information on whether Minecraft Legends will support cross-play or not. Right now, both Minecraft (Bedrock) and Minecraft Dungeons support crossplay on all modern platforms. So considering the pattern of existing Minecraft games, the hopes of cross-play support and cross-play progression are high for this new spin-off.
Minecraft Legends: Key New Features
Analyzing the gameplay mechanics revealed in the official demo, we have found various interesting features of MC Legends. Some of them are:
Material Gathering: Keeping the core spirit of Minecraft alive, MC Legends wants you to go around the world to collect resources for your mission. Fortunately, you don't have to spend hours mining blocks. Instead, you can ask the Allays to mine blocks and collect them for you.

Structure Creation: Since we are no longer mining blocks, we don't have to place them as well. Whether it's a bridge, tower, or anything else, you just need to request the yellow Allay, and it will be built within seconds.

Mob Positioning: Minecraft Legends allows you to choose and position specific mobs as you desire. You can send some of them to combat while keeping others in long-distance posts or safer locations. Due to limitations over the player's direct involvement in the fight, this is one of the most important game mechanics.

Locations: On top of the UI, Minecraft Legends has a direction-based navigator. You can rotate around the world to find out which direction leads to what specific structure.

Friendly "Fun" Mobs: Leaving combat aside, this game also allows you to recruit mobs to roam around and accompany you. They are not good for fighting but are great to hang out and relax with.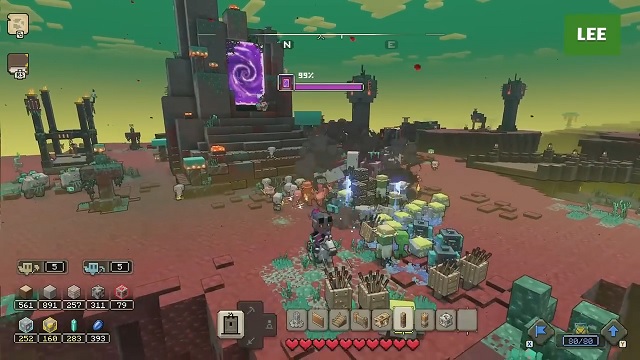 Material Ores: Similar to Minecraft mineral ores in the main game, you can collect minerals to upgrade your armor, weapons, and more in Minecraft.

Speed Weed and Bounce Caps: The environment of Minecraft helps you in movement along with combat. The Speed Weed gives you a major speed boost allowing you to run and ride faster. Similarly, Bounce Caps are bouncy mushroom heads that provide a jump boost to climb high places.

Unique Worlds: Just like the vanilla games, each new world in Minecraft Legends is completely different than an existing one. So, no story here plays out the same way as another.

Allay Chests: Wild Allays in the game tend to roam around the world and collect random items which are then stored in Allay chests. You can find these chests throughout your world to easily collect a bunch of resources.

Biomes: The world of MC Legends is divided into a bunch of biomes, and each biome has its own perks and dangers. For example, the forest biomes have high trees and the desert has damaging bushes.

Mob Spawners: If you can't find mobs to recruit in your army, you can use mob spawners to spawn them manually. Such spawners can be found throughout the world and even be crafted manually. But to use a spawner, you must make sure your "fire of creation" is high enough. It is visible on the bottom right side of the UI.
Minecraft Legends Mobs
The upcoming Minecraft Legends game features the following mobs, most of which have been designed from scratch to fit into this action-strategy game:
Zombie
Skeleton Mob
Llama
Horse Mob
Creeper
Emerald Cavalry Golem
Mossy Golem
Plank Golem
Cobblestone Golem
Grindstone Golem
Turtle
Axolotls
Pigs
Allay
Regal Tiger
Telemachus
Foxes
Wolves
Piggo
Portal Guard
Grunter Mob
Runts
Bruiser
Lava Launcher
If you want to know more about these creatures, you can head over to our Minecraft Legends mob guide to continue digging.
Minecraft Legends: Supported Platforms
Sometime next year, Minecraft Legends will be released on the following platforms:
Windows
Xbox Series X/S
Xbox One
PlayStation
Nintendo Switch
The game will be available to play using the Xbox Game Pass and PC Game Pass on the release date itself. This applies to all the platforms that support this service.
Minecraft Legends: Minimum Requirements
As per Steam, your system needs to fulfill these minimum requirements to run the game smoothly:
OS: Windows 11/10 (Nov 2019 or higher) or Windows 8/7 (limited functionality)
Processor: Core i5 2.8GHz or equivalent
Graphics: NVIDIA GeForce GTX 660 or AMD Radeon HD 7870 or equivalent DX11 GPU
Memory: 8 GB RAM
Storage: 8 GB
DirectX: Version 11
It is also worth noting that the game doesn't support Windows 10S. But you still might be able to run it if it's included in Game Pass as a part of Xbox Cloud gaming.
Are You Going to Play Minecraft Legends?
With that, we have covered everything you need to know about Minecraft Legends. The game offers a lot of promises for seasoned and new Minecraft players. But whether it will live up to the hype or not is something only time will tell. But one thing is clear, with the extension of Minecraft's world, we're bound to see more mobs and biomes in the world of Minecraft. Moreover, there will soon be an abundance of best Minecraft mods in no time, bringing the same features to the vanilla game. So, make sure to install Forge in Minecraft while we wait for the new game to launch. With that said, are you excited to explore Minecraft Legends next year? Or will you skip this non-traditional Minecraft experience? Tell us in the comments!