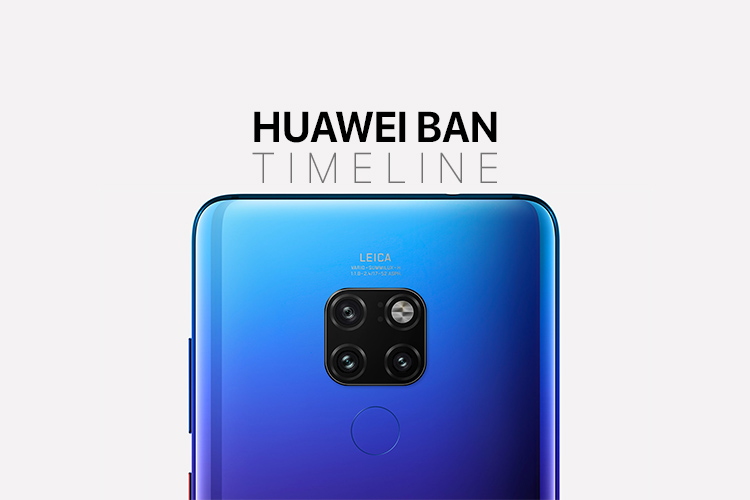 A lot has happened with Huawei over the course of the last week. The company saw itself being put on the Entity List by the US Commerce Department — a list of companies that aren't allowed to buy technology from US based companies without government approval — approval that the US government wouldn't give to Huawei anyway. In the immediate aftermath of being placed on the list, US companies started cutting off Huawei from access to their technologies, starting off with Google. So, if you're confused about everything that's happened in the Huawei ban saga so far, here's a timeline of how the Huawei ban has unfolded so far.
May 15: Trump Effectively Bans Huawei in the US
US President Donald Trump signed an executive order that effectively banned Huawei from the United States. The US Department of Commerce said, "The executive order prohibits transactions that involve information and communications technology or services designed, developed, manufactured, or supplied by persons owned by, controlled by, or subject to the jurisdiction or direction of a foreign adversary whenever the secretary of commerce determines that a transaction would pose a threat to national security."
May 19: Google Restricts Huawei's Android License
Google took the major step of restricting Huawei's Android license, forcing the company to use the open source version of Android (AOSP) in its future phones and denying the company the right to pre-install major Google apps like YouTube and the Play Store. The Mountain View giant will also not provide any support to Huawei phones in the future, even as current Huawei phones will retain their Google apps.
May 20: US Gives Huawei a Temporary 90 Day License
The US Department of Commerce gave Huawei a temporary license to continue operating its networks and devices, which also allowed Google to work with the company again, for the 90 days that it has the license. Commerce secretary Wilbur Ross said, "In short, this license will allow operations to continue for existing Huawei mobile phone users and rural broadband networks."
May 22: ARM Cuts off Ties with Huawei, Microsoft Removes Huawei Laptops, Google Takes More Steps
UK based chip designer ARM sent a note to its employees asking them to cease all business dealings with Huawei and its subsidiaries (inclueding Honor). Huawei will not be able to use ARM's chipset designs for future development of its Kirin line-up of processors.
Microsoft also joined in on the ban, removing Huawei's Windows laptops from its official store. The company didn't revoke Huawei's Windows license yet, but that might happen soon as well.
Google removed the Huawei Mate 20 Pro from its Android Q beta program, so Mate 20 Pro users will no longer be able to try out the latest iteration of Android Q.
On the same day, a report mentioned that Huawei's in-house smartphone OS, reportedly called HongMeng, might be ready to roll out as early as this fall.
May 23: Mobile Networks in Europe and Asia Begin Suspending Orders for Huawei Smartphones
The ban on Huawei started rippling through the tech industry, with telecom operators in Europe and Asia suspending orders for Huawei smartphones. Vodafone suspended pre-orders for the 5G Mate 20X, and another UK carrier, EE, followed suit. In Japan, NTT Docomo said it's not taking pre-orders for the P30 Lite — a phone that was scheduled to launch in the country next month. Other Japanese telecom operators, KDDI and Softbank Corp., also announced that they will delay the release of the smartphone.
May 24: Goldman Sachs Says Apple Could Suffer Big if China Retaliates
An investor note from Goldman Sachs said that if China retaliated to the US ban on Huawei by banning iPhone sales in the country, Apple's profits could plummet by as much as 29%. Moreover, China could also restrict production of iPhones in the country, which would be a major blow to the Cupertino giant's ambitions.
The entire Huawei ban saga is still unfolding, and this story will be updated with the latest happenings, so check back often.
---