WhatsApp is the world's largest instant messaging platform and there's no doubt regarding that. With over a billion daily active users utilizing this service to send texts, images, videos, etc. to stay in touch with their friends, family, colleagues, and relatives, the application rightfully deserves this feat. Although WhatsApp offers a lot of useful features to the end user, the platform has been lacking in one particular department ever since its launch. That's the inability to initiate a WhatsApp conversation without adding them to your contacts. Well, this is a usually a problem when you have to add someone who you don't really know to your contacts, just to text them. Sometimes, we might not even know the name of the person who we've added, for example, the electrician, delivery agent, plumber, etc. However, there's a workaround for this, and it involves the usage of a third-party app.So, without further ado, let's take a look at how to send WhatsApp messages without adding contact:
Sending WhatsApp Message Without Adding Contact
Note: The ability to send WhatsApp messages without adding the contact only works on Android devices. There's no such app or any method to send messages on WhatsApp without adding contact on iPhone.
The workaround is pretty easy, and it barely takes a few seconds to get the job done. So, if you're interested, simply follow the steps below:
First of all, you need to download this third-party application called Click2Chat WhatsApp from the Google Play Store. It's available for free, so you don't have to worry about shelling out your hard-earned cash.
Once you open it up, you'll be able to type in the specific phone number and even change the country code. After you're done typing the message, you can simply tap on "Send Now", which will directly take you to the WhatsApp application, where you'll be able to hit the send button. That being said, you can also choose to schedule the message to a later time or date, by tapping on "Send Later".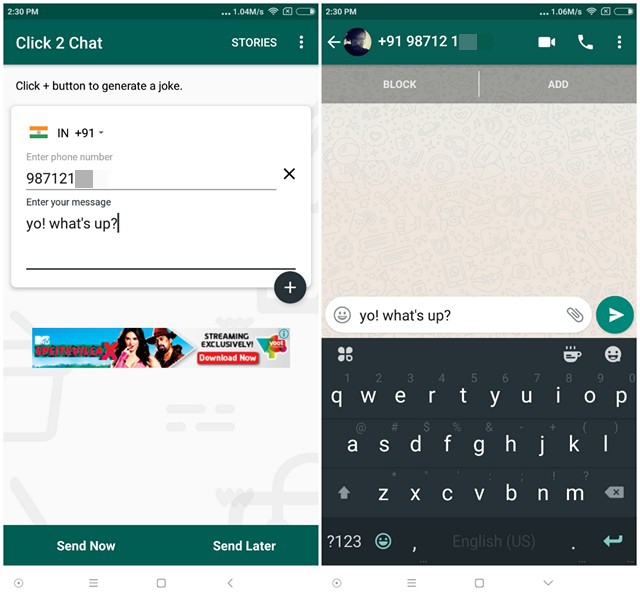 SEE MORE: 15 Cool WhatsApp Tricks You Should Be Using
Send WhatsApp Messages Without Saving Contacts
Well, that wasn't pretty hard, was it? That's all you got to do, if you want to easily send WhatsApp messages to a number who's not in your contacts list. Once you've initiated the conversation, you can go back to WhatsApp any time and reply back to the messages from the chat log. Basically, Click2Chat helps you initiate a WhatsApp conversation with an unknown number within seconds. So, are you guys willing to make use of this app to send messages to people who're not in your contacts? Do let us know your valuable opinions regarding this, in the comments section down below.