The Google Pixel 3 and 3XL may have been a sales disappointment for Google but that forced them to launch a new mid-range Pixel 3a series to attract more consumers. It may have been a desperate attempt to further smartphone sales, however, it showed us that Google still cares about its hardware division. And we could see that translate into the Pixel 4 series.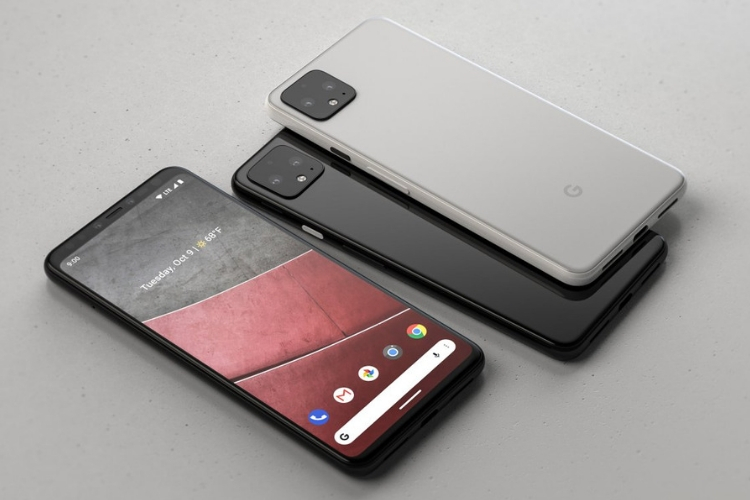 Well, the leak culture is at its peak right now and no smartphone really remains hidden under wraps until launch. The same is the case with Pixel 4 (and the Pixel 4 XL), which Google itself has also officially shown off and revealed the fundamental design of its upcoming flagship series. However, there's a whole lot of other rumors and leaks about the Pixel 4 lineup floating around the Internet, so we decided to collect everything in one neat, tidy and in-depth listing for you.
If you've been looking to read about everything that's leaked, rumored or even officially known about the Pixel 4 lineup, well, you've landed at the right place. Read on:
Google Pixel 4 Release Date
The first Google Pixel was unveiled back in October 2016 and well, Google has adhered to this launch schedule for the Pixel 2 and Pixel 3 lineup that followed. Hence, we can without a doubt say that Pixel 4 and Pixel 4 XL should also go official in the first week of October. I don't think Google would like to coincide its launch with the iPhone 11 in September.
Well, the usual October launch date for Pixel 4 has further been confirmed by tipster Evan Blass on Twitter. He shared a screenshot of Verizon's marketing calendar, showing a timeline for the company's marketing efforts for a multitude of upcoming flagship phones.

Google Pixel 4 appears to be listed to go on sale in the third week of October, which lines with the usual launch date in the first week of the month. So, even though Google is yet again teasing us by officially leaking its upcoming flagship (taking a quick jab at the leak culture) but the devices won't arrive until later this year.
Google Pixel 4 Price
Phone makers have been ramping up the price of its flagship devices, with some of them now even asking for $1000 (roughly around Rs 70,000) for the premium factor and extra features added into the mix.
The regular Pixel 3 was priced at $799 for the 4GB/64GB variant whereas the Pixel 3 XL started retailing at $899. Google is desperate to sell more smartphones and it should be looking to aggressively price its upcoming Pixel 4 lineup. However, it isn't necessary that Google will take this route (which it should, to tackle OnePlus) instead we can expect the prices of Pixel 4 lineup to easily go upwards of $1000 this time around, with a new Pixel 4a line-up next year to counter the budget flagships.
There have been no leaks about the pricing of the Pixel 4 lineup, but stay tuned as we'll update this article once we learn more.
Google Pixel 4 News, Leaks and Rumors
Google Pixel 4 has been in the news for quite some time now. The initial sighting for the Pixel 4 can be traced back to April when codenames for both variants surfaced in a commit to AOSP (Android Open Source Project). The Pixel 4, for sure, is codenamed as Coral whereas the codename for Pixel 4 XL is flame. I hope you are aware that Google codenames its smartphones after aquatic creatures and the tradition continues.
The codenames were followed by renders of the Pixel 4, with dual rear cameras and a punch-hole display with dual cameras – similar to that on the Galaxy S10 Plus. Well, a number of tipsters ran away with this design and you can check out the render below. However, OnLeaks later released renders for what the Pixel 4 would actually look like, giving everyone a first look at the square camera block and the absence of a massive, hideous notch.
Phone Designer">
And just when everyone had started talking about it and comparing the square camera block to the rumored square camera bump on the iPhone 11, Google graced us with the biggest leak of all. Making the leaks official. Google tweeted out a picture of Pixel 4, showing off the uniform glass build and rear camera block. This came as a huge surprise for everyone, as no one expected Google to confirm the design of its flagship months before launch. It means Google has claimed the spot for being the first one to launch a device with a square camera block in 2019, so iPhone fanboys wouldn't spew shade at them.
Well, since there seems to be some interest, here you go! Wait 'til you see what it can do. #Pixel4 pic.twitter.com/RnpTNZXEI1

— Made By Google (@madebygoogle) June 12, 2019
Plus, a new leak of the Pixel 4 and the Pixel 4XL completely shows off the new design and the different colors the device will come in.
While I didn't really like the square camera block on the rear at first, it has started to grow on me over the past few days. The more I look at it and contemplate whether I will like it or not, the more I seem to be okay with it. We'll have to wait for the Pixel 4 to land in our offices to deliver a final word.
Google Pixel 4 Design: Teaser and Photos
Just a couple of days after Google made the Pixel 4's design official, the flagship was spotted in the wild. The device may be clad in a soft case but you can clearly see the square camera bump. It corroborates the setup on the render and this could indeed be Google Pixel 4 – casually being tested out in the open.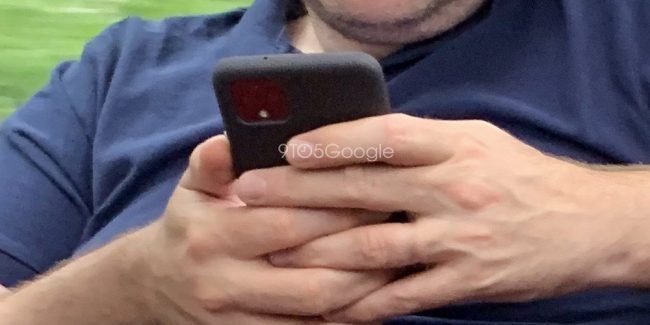 We already know what the Pixel 4 is going to look on the rear, however, the rumor mill doesn't really have a ton of info on the front. The tipster who took a quick peek at the device's front says that there's still a substantial top bezel housing a pair of cameras – similar to that on Pixel 3.
They didn't talk about the bottom bezel, but it's speculated that Google could be doing away with dual front-facing speakers. We'll probably still have stereo speakers onboard, however, I'm more excited to see the display stretched to the very bottom on the front.
There was also chatter about Google removing physical buttons in favor of a pressure-sensitive key structure, however, the official render does show physical keys and that's certainly a relief. Pressure-sensitive keys can't really emulate that real-life button click, which can be oddly satisfying.
We have recently also heard that Pixel 4 will be thicker than its predecessor, where the dimensions of the Pixel 4 should be roughly 147.0 x 68.9 x 8.2mm whereas that of the Pixel 4 XL should roughly be 160.4 x 75.2 x 8.2mm. The thickness bumps up to 9.3mm when you take into account the camera block.
Google Pixel 4 Fingerprint or Face Unlock
I bet you would have already noticed, but the back panel on the Pixel 4 render doesn't sport a fingerprint sensor. This suggests that Google may finally be ready to make the switch from a physical fingerprint sensor to an under-display fingerprint sensor. We've received no concrete leak for the same, but using an optical under-display fingerprint sensor could be on the cards as opposed to the ultrasonic fingerprint sensor found on Samsung Galaxy S10.
The absence of a physical fingerprint sensor, however, could also mean that Google is looking to follow in the footsteps of Apple and is confident enough in their FaceID-like technology to completely eliminate the fingerprint sensor from Pixel 4. This is a huge possibility as the company is rumored to have been working on a "more secure facial authentication feature" for quite some time.
Talking about the display, a recent leak suggests that Pixel 4 will pack a screen size between 5.6-inch and 5.8-inch, which is just slightly bigger than the 5.5-inch screen you will find on the Pixel 3. Its elder sibling Pixel 4 XL, however, is expected to feature a screen size between 6.2-inch and 6.4-inch, which is exactly the same as Pixel 3 XL.
The displays would still be Quad-HD+ OLED panels, with a taller aspect ratio and I hope, enhanced vibrancy. There have also been reports that Google is working on Apple-like True Tone auto white balance feature. This means the display on the Pixel 4 would adapt to the surrounding's lighting conditions and hints for the same have been spotted within the Settings app in Android Q.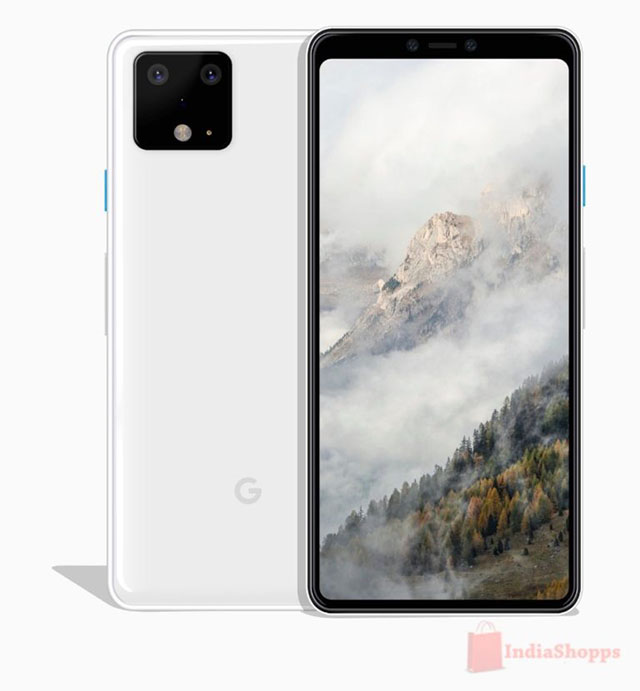 We aren't completely certain of what the Google Pixel 4 will look like on the front, so I'm also leaving this mockup with a punch-hole display right here. If Google's design contest for the Pixel 4 results in punch-hole display design, this is what the device could possibly look like: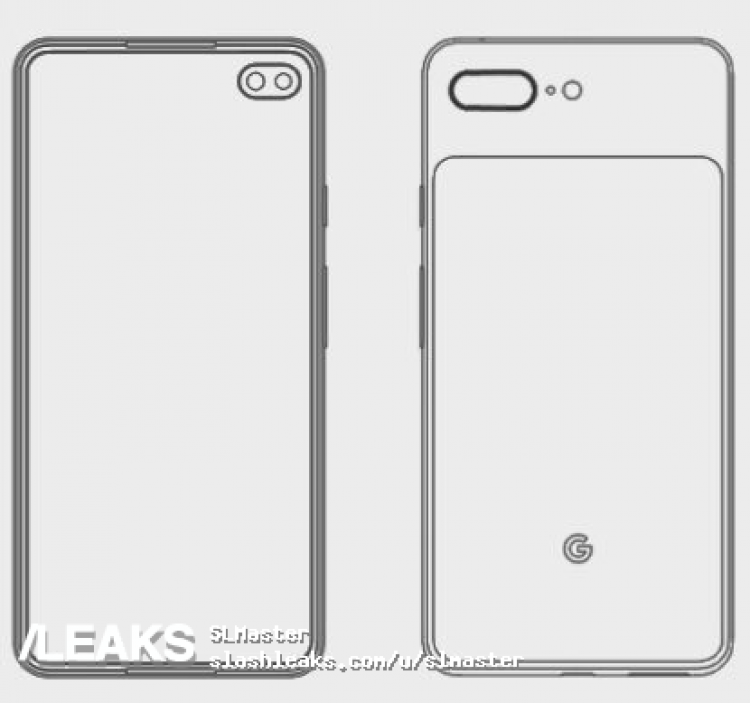 Pixel phones are known to the masses simply because of their cameras, or should I say camera. Google has stuck with a single rear camera since the OG Pixel days, utilizing its software (AI and machine learning) prowess to deliver excellent photo quality. It's often dubbed to have the best camera on a smartphone – surprising people with its single rear snapper.
But, as you would've obviously noticed in the render above that is now about to change and Google will finally upgrade to a multi-camera setup with the Pixel 4 lineup. The square camera module, which was first adopted by the Huawei Mate 20 Pro, could become a trend in the second half this year as the next iPhone (possibly iPhone 11) is rumored to also feature a square block. However, we're more interested in the sensors these devices would have on offer.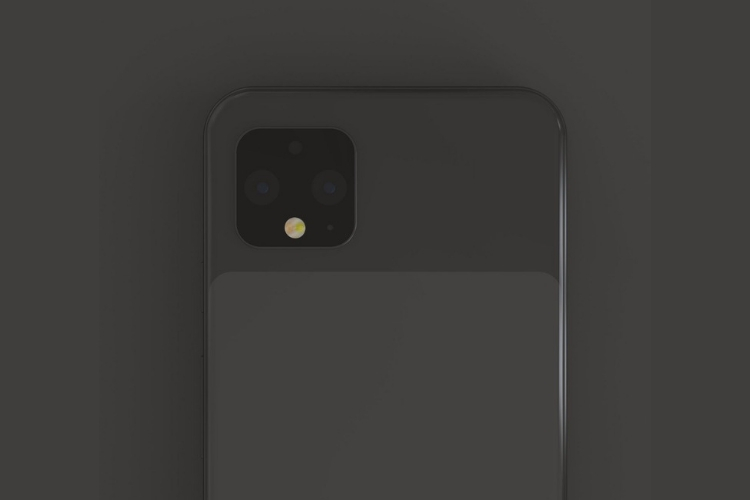 The official render shows that Pixel 4 will include a dual rear-camera setup, along with a third sensor and an LED flash, sitting in the square block. The rumor mill has no word on the sensors, but we expect the second sensor to be an ultra-wide angle sensor to match the Pixel 3's dual-camera selfie setup. The new lens will also give Google a chance to explore new camera features in the process. It could be a telephoto (with 3x optical zoom) lens or a monochrome lens as well, so let's wait for more leaks to pour in. We still have a good four months to go until the launch.
As for the third sensor, it is rumored to be a TOF (time of flight) sensor that will enable Google to gather additional depth data to further enhance its portrait photos. Google is pretty focused on its AR efforts as well, so we expect the TOF sensor to be used for 3D mapping as well – similar to what Huawei did with the Mate 20 Pro. It might be able to hand you the power to scan anything around you, create a 3D model that you can then place in the real-world back again as an AR model. Doesn't this sound cool?
On the selfie front, well, we expect Google to continue to stick with their dual selfie-camera module that was introduced in the Pixel 3 lineup. The company has made the decision to offer an ultra wide-angle lens on the front, enabling the users to click group selfies effortlessly. It cannot backtrack now and the Pixel 4 lineup will also boast a dual-selfie setup, however, the ultra wide-angle lens will probably have a wider FOV (field of view) this time around.
Google Pixel 4 Specifications
Being the flagship lineup, there's no debating that the Pixel 4 will be powered by the Qualcomm Snapdragon 855 chipset. It's an octa-core chip based on the 7nm node architecture and can be found in most Android flagships launched in 2019. This will be replacing the Snapdragon 845 SoC on the Pixel 3 lineup.
This is no biggie though. Geekbench scores for the Pixel 4 were leaked a long time ago, however, they're not as high as one may expect. The Pixel 4 prototype has a single-core score of 3,296 and a multi-core score of 9,235. The numbers are pretty good for a Snapdragon 855-powered device running an internal Android Q build but we expect the final figures to be higher, for sure.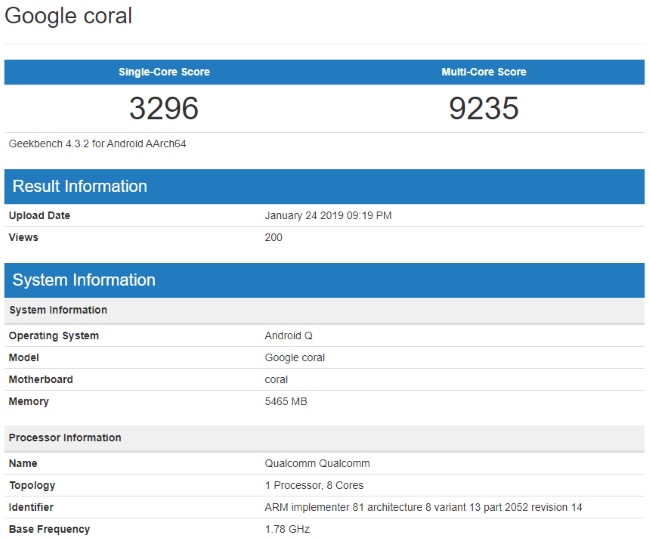 The most important upgrade that users expect to see on Pixel 4 is better memory management, along with more than 4GB RAM onboard. Google has stuck with 4GB RAM for the past 2 years while its flagship competitors have released phones with up to 12GB RAM. We're not asking for a lot, but Google should probably increase RAM on the Pixel 4 lineup to 6GB (which is also seen in the screenshot above, if not more. We would certainly sing its praises if an 8GB variant sees the light of day.
The storage options will most likely see a minor change, with 64GB no longer being the base variant. We expect Google to offer a 6GB+128GB and 6GB+256GB variant for the Pixel 4 lineup this time around.
Google Pixel 4 Hand Gestures
With Pixel 2, Google debuted the Active Edge feature which allows users to squeeze the sides of their smartphone to activate Google Assistant. It was carried forward to Pixel 3, but I'm not too sure if a lot of people actually use the feature to call upon the Assistant. Well, if you thought that was crazy then get ready one of the most interesting features that's speculated to debut on the Pixel 4 lineup – touchless hand gestures.
Pixel 4 could integrate Google's Project Soli radar chip as per a number of reports, including a sighting about the same in Android Q Beta by XDA. The Project Soli-based feature requires an "Aware" sensor, which we expect to be a codename for this chip in development stage. We're unsure whether it's the final name of the feature or not.
The rumor mill suggests that Google is working on a variety of new gestures that will use this chip to provide users with gestures for media controls such as skip track, play/pause music and more. We're also of the belief that Google will add a gesture to activate Google Assistant and make it more easily accessible from the lockscreen or Active display.
Could it be similar to gestures on the LG G8 ThinQ, we cannot say, but it used the TOF sensor and the gestures were finicky, so I believe the uber-sensitive radar chip will be much better.
Do we even need to talk about the software? Google Pixel 4 lineup will be one of the first few devices to be running the latest version of Android, i.e Android Q right at launch and that too in its purest form. We still don't know the dessert which Google will pick to name the latest Android release, but its flagship devices will run the same out-of-the-box.
In addition, Google's phones always come baked with some Pixel-exclusive features and you can expect the Pixel 4 lineup to arrive with some in tow as well. The Android Q beta program is currently underway and we have seen a lot of new features including iPhone-like navigation gestures, dark mode, better security and privacy options, and a lot more.
There were, however, some features which were spotted in the first Android Q beta, like native screen recorder and desktop mode but they've been removed in the existing beta updates. We speculate that Google could introduce them as Pixel exclusive features and offer a full-fledged screen recorder, as well as a Samsung Dex-like desktop experience to Pixel 4 users.
Google Pixel 4 Battery & Charging
Rejoice Pixel fanboys! Google Pixel 4 lineup should bring along a larger battery and that could offer you a higher screen-on-time and the ability to click more pictures in a single charge. The 2,915mAh and 3,430mAh battery packs on the Pixel 3 and Pixel 3XL aren't really significant or huge to comfortably last you a complete day. Hence, we expect the thicker build of the Pixel 4 lineup to translate to larger batteries. A 3,500mAh battery inside Pixel 4 and 4,200mAh battery in the Pixel 4 XL would be a good enough uptick. Don't you agree?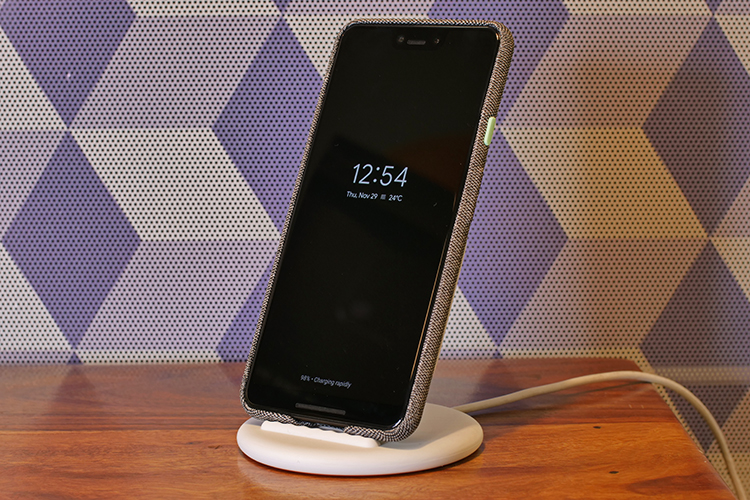 As for those curious about wireless charging, Pixel 3 and 3 XL were the first devices to include a glass design and wireless charging to Google's flagship. We can see the same being available on the Pixel 4 lineup as well, complete with Pixel Stand support and few new tricks in tow.
Google's Pixel devices have had some form of IP rating from the start, climbing up from IP53 rating on the original Pixels to IP68 on the Pixel 3 lineup. Well, since Google offers dust and water protection on its existing flagships, this means we can expect to see an IP68 rating for the Pixel 4 and Pixel 4 XL as well. You'll be able to dunk the Pixel 4 devices into the water without any hesitation, so don't worry about it.
Google has stuck with a dual-tone finish and pastel color theme for the Pixel lineup over the past three years, but that's going to change with the Pixel 4. The official render that the company has shared with us reveals a more common glass build over the dual-tone glass design of the Pixel 3. However, that's for the good and I'd like for Google to give a glossy matte finish to the back, like the Oppo Reno, so it doesn't scratch or wear out so easily – like our Pixel 3 XL did.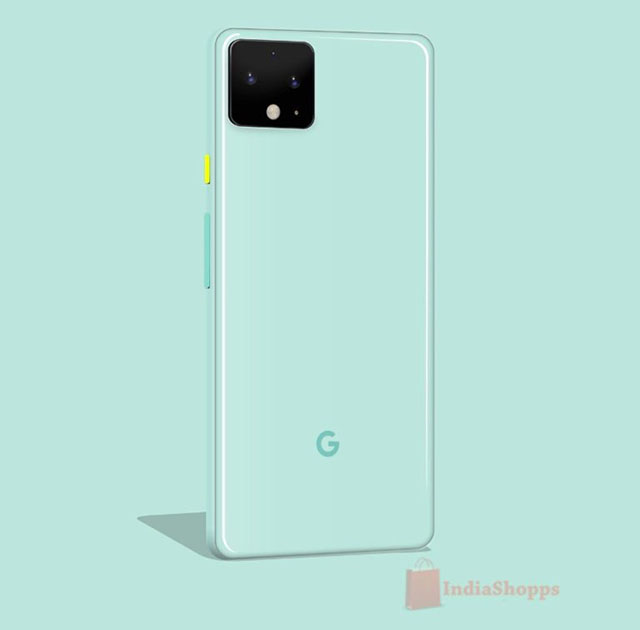 As for the color scheme, well, Google is not going to be experimental and stick with the tried and tested white and black color variants for sure. However, it adds a new color to their Pixel lineups with each iteration, like the Not Pink Pixel 3 or the Purple-ish Pixel 3a. Even the Stadia controller comes in a pastel green 'Wasabi' color and well, according to a new leak, the Pixel 4 will come in a similar mint green color variant.
Google Pixel 4 Stadia Support
What started out as Project Stream with just one game title, Assassin's Creed: Odyssey available to test, has now graduated to Google Stadia. Google's cloud gaming service is slated to officially become available sometime in November, just a month after Pixel 4's launch, so I think Google should make Stadia exclusive to its Pixel 4 flagship (and other ChromeOS devices it unveils at their event) for a few weeks before making it accessible widely.
Google could also use this opportunity to make its Stadia controller reach more users simply by bundling it with the Pixel 4 at launch, giving users an extra discount on the controller when they buy the device.
The strategy would be similar to what Samsung did with the Fortnite partnership in an attempt to sell more Galaxy Note 9 devices at launch. Google needs to pull off a stunt similar to this more than anything because we all know that Pixel 3 sales have been a major disappointment. And the hype around cloud gaming could push users to pick up these flagship devices in heaps – of course, also if there's no hideous notch up top.
Google Pixel 4 vs Google Pixel 3
One of the most significant and easily noticeable differences in the Pixel 4 and its predecessor is the rear cameras. The Pixel lineup has always relied on a solo rear camera, well for three years now, and it's for the first time we will see a multi-camera setup with Google Pixel 4. And this really has me excited because we have no info on camera features it will bring in tow.
Pixel 4 is also expected to move past its two-tone rear finish and offer a uniform glass design, which I'm totally in favor of. Yes, the lineup will lose its signature touch and it would look like any other glass smartphone. However, I expect Google to keep it neat, minimal and classy.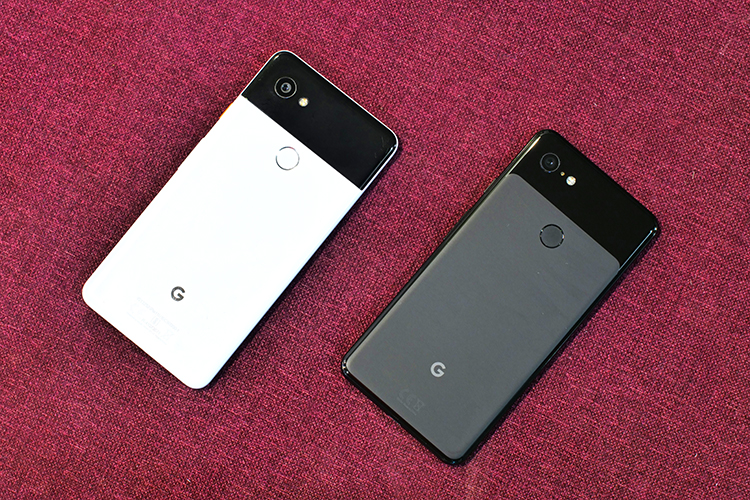 Also, another important change that we will see in Pixel 4 is the absence of a massive 'bathtub' notch, which many people found hideous. Google is expected to go with the slightly bigger top bezel alternative, but an almost negligible bottom chin, which could mean no front-facing stereo speakers. Slightly bigger screens would be in tow as well.
The internals will obviously witness an upgrade. The Pixel 4 series will be powered by Snapdragon 855 and sport more RAM, hopefully, to address your widespread memory management issues that have cropped with each release in the past. We'll see bigger batteries onboard as well as compared to the Pixel 3 lineup.
Google Pixel 4 vs Pixel 4 XL
While the Pixel 3 and 3 XL clearly had their differences in design and build, we should expect the Pixel 4 and 4 XL to be more alike. While we can't say for sure, but the new Google flagships are expected to be identical this time around – there have been zero rumors that prove otherwise.
This means Pixel 4 series could finally be going back to its OG roots and offering users a similar design and build, features and more in both the variants. They'll have a difference in screen and battery sizes, but that should be pretty much it.
SEE ALSO: Samsung Galaxy Note 10 Launch Reportedly Set for August 7
Google Pixel 4: Everything We Know So Far
So, that's pretty much everything that's known about the Pixel 4 and Pixel 4XL right now. Though a whole lot is still unknown about the devices, the leaks suggest that it's shaping up to be a pretty capable and worthy flagship. But only time will tell. We'll keep updating this article as more leaks and rumors start pouring in, closer to the launch date. So, don't forget to bookmark this article and check back for more updates.
So, after reading all this information on the upcoming Pixel 4 series, do you think you will be interested in buying Google's upcoming flagship? Let us know in the comments below.