We are almost done with Genshin Impact 4.1 and there are lots of things in Genshin Impact 4.2 to be excited about. For those unaware, Genshin Impact 4.1 introduced two new characters — Neuvillette and Wriothesley besides others that appeared in the Archon Quest which was mildly traumatizing for us players and ten times as much for Furina at Knave's tea party, while Neuvillette was out for a "business trip." Either way, Genshin Impact 4.2 brings significant lore, expanding the Fontaine region more to the east, and introducing new bosses, events, and lots of good stuff, so here's everything we know so far about Genshin Impact 4.2 release date, banners, characters, and of course, those precious Primogems.
Genshin Impact 4.2 Release Date
Genshin Impact's version 4.2 will be released on November 8 as soon as the second phase of version 4.1 ends. Each Genshin Impact version lasts for 42 days and has two phases, each lasting 21 days. Since 4.1 was released on September 27, its first phase ends on October 18 and the second phase ends on November 7. The preinstallation feature will be available a couple of days before the Genshin Impact release date, i.e., November 8.
Genshin Impact 4.2 Livestream Date
The Genshin Impact 4.2 Livestream was delayed due to the death of a Chinese official and the new date for Genshin Impact 4.2 Livestream is 3 November 2023. You can watch the Livestream on the official Genshin Impact Twitch channel first, followed by the game's YouTube channel later in the day. And yes, codes for free Primogems have also been revealed. Check out Genshin Impact 4.2 Livestream codes here.
Genshin Impact 4.2 Banners: Characters and Weapons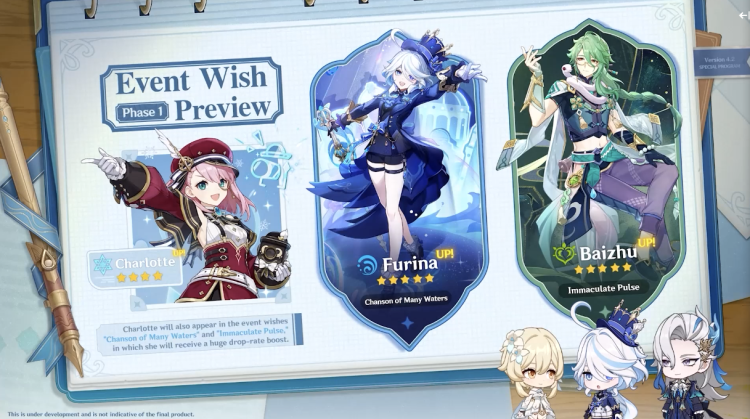 The first half of Genshin Impact will feature Furina and Baizhu while the second half will feature Ayato and Cyno. As for the four-star characters, the first half will have Charolette, Beidou, and Collei; as of now, we don't have any info about the four-star characters appearing in the second half of Genshin Impact 4.2 banners.
As for the weapon banner in Genshin Impact 4.2, Furina's and Baizhu's signature weapons Splendor of Tranquil Waters and Jadefall's Splendor will appear in the first phase. The weapon banner in the second phase, looking at the characters, will feature Staff of the Scarlet Sands and Haran Geppaku Futsu, the signature weapons of Cyno and Ayato, respectively. More information about the Genshin Impact 4.2 weapons and characters will be coming shortly on the website, so stay tuned.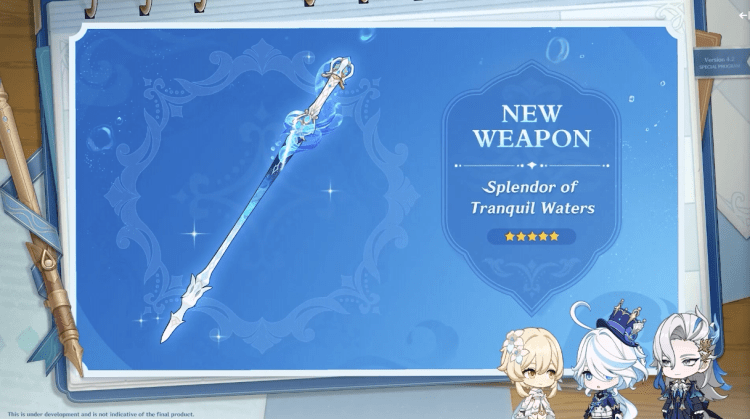 Phase 1 of the Genshin Impact 4.2 will also feature a new 4* character Charolette, one of the Steambird journalists, and her gameplay looks pretty good and unique.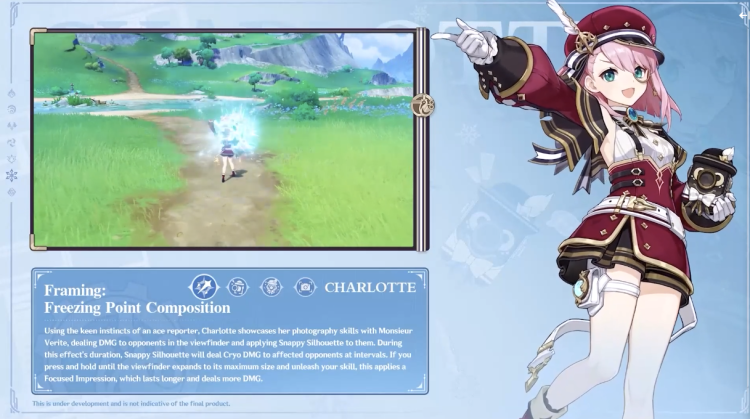 If you're fixed on pulling for the Hydro Archon, we've compiled a list of the best builds for Furina and also a pre-farming guide to help you farm efficiently so do check them out. Speaking of wishing for Furina, we've also tabulated the number of Primogems you can get in 4.2.
Genshin Impact Map Expansion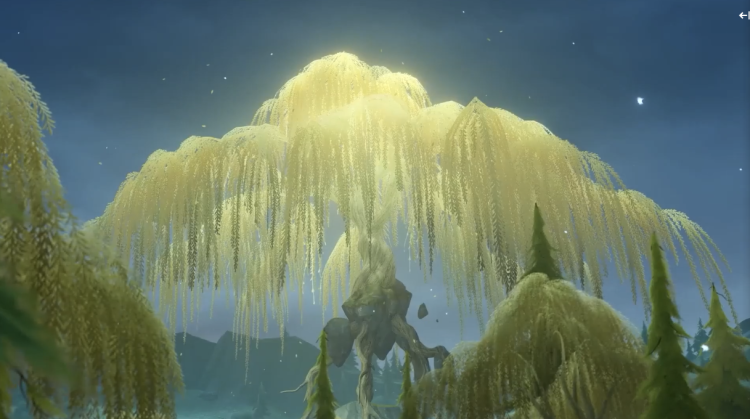 As stated earlier, Fontaine will be expanding a bit to the east toward Liyue, adding a series of new islands at the edges of where the map ends in the east. This includes both land and a new underwater region which looks huge.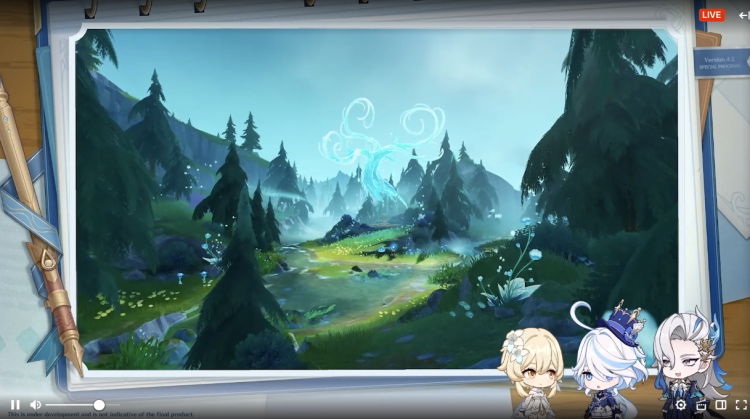 The Livestream also showed us new glimpses of a region with a huge water droplet blowing air to keep away everything.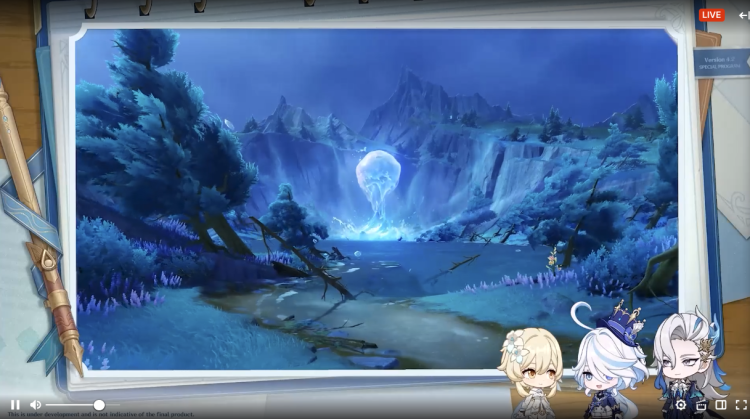 There's also a mysterious tower that is supposedly locked by four seals and hides lots of secrets.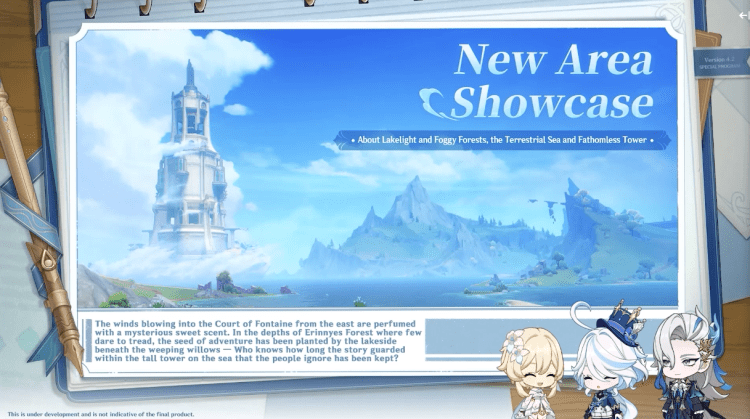 To give you a perspective, here's the current Fontaine map.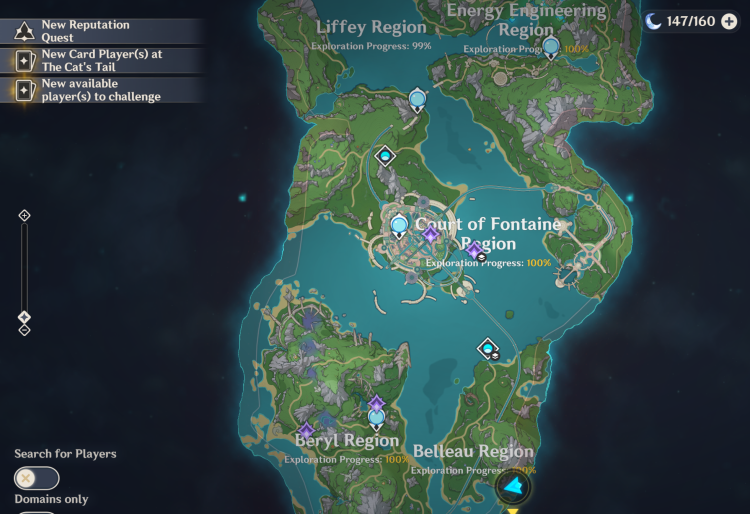 As you can see (And no I didn't zoom out to flex my progress), the current Fontaine map is more stretched upward rather than sideways. Genshin Impact 4.2 should add more regions on the right side, toward Liyue. This also gives us a hint about the rumored new Liyue region called Chenyu Vale which is coming somewhere in 4.4. We've already heard from a bunch of NPCs that most people enter Fontaine via Chenyu Vale since traveling via the Sumeru Desert is a tough sport.
Genshin Impact 4.2 Archon Quest
Genshin Impact 4.2 brings a new Archon quest labeled "Masquerate of the Guilty," which is the last Fontaine Archon quest with lots of new details. The trailer for the same leaves a death flag for Furina, but we can only wait and see how the story unfolds. It looks from the trailer that the quest will involve Arllecchino, Neuvillette, Traveler, and Navia.
Genshin Impact 4.2: New Bosses
Genshin Impact 4.2 will bring a new weekly boss that's closely related to the lore and story and Childe. Like any weekly boss, the Whale boss will also have phases where it'll summon a humanoid that suspiciously resembles Childe and looks like a mix of him in Foul Legacy form and the seven Knights we dealt with in the Chasm (We'll leave it at that).
We are NOT excited to have this boss in the Spiral Abyss; please Hoyo have mercy! We'll also finally see Childe's master whom he referenced in the previous Archon quest, Skirk. Here's to hoping she becomes playable in the future.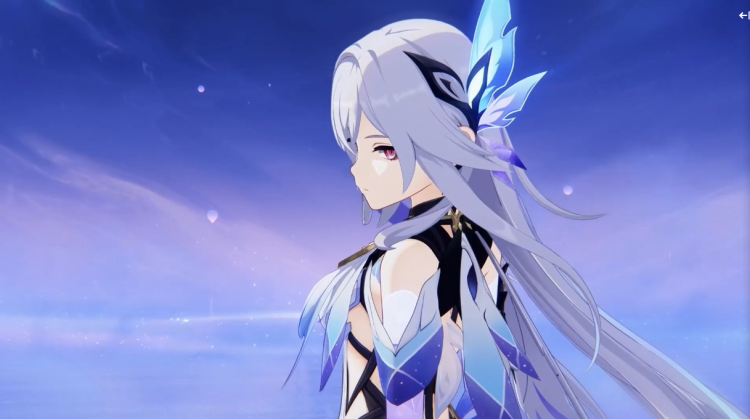 Besides, there's one more boss whose materials are the source for Furina's ascension materials called Hydro Tulpa.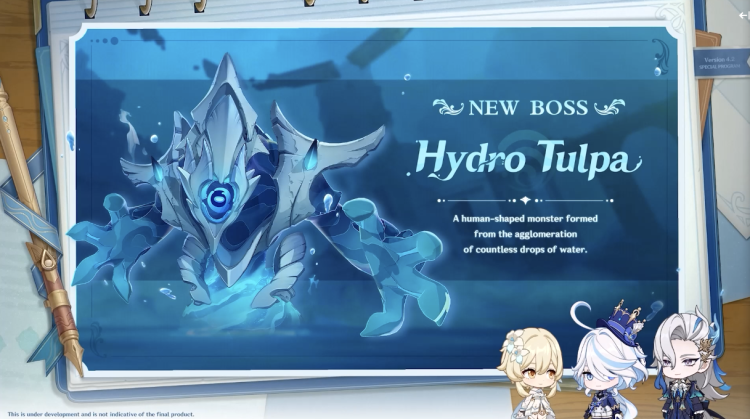 Genshin Impact 4.2 Events
There will be a total of four Genshin Impact 4.2 events and one of them is a flagship event. If you didn't know, Genshin Impact gives players free characters during versions that end with an even number and a free weapon during odd versions.
4.2's flagship event is hosted by an NPC called Thelxie and will be a battle event where players receive various buffs to take on challenges. Upon successfully completing the objectives of the event, players can redeem the event's limited currency for a free Freminet and other rewards.
Some of the other events coming in 4.2 include:
Five Flushes of Fortune
Lil' Fungi's Fun-Tastic Fiesta
Graph Adversarial Technology Experiment Log
Misty Dungeon: Realm of Light
Ley Line Overflow
Genshin Impact 4.2: Quality of Life Improvements
There are lots of QoL improvements in Genshin Impact 4.2. Here are all of them:
Quick Start for Weekly Bosses
As the name suggests, after the 4.2 update, players will be able to start a Weekly Boss fight from anywhere, except for the Stormterror and Dominator of the Wolf bosses.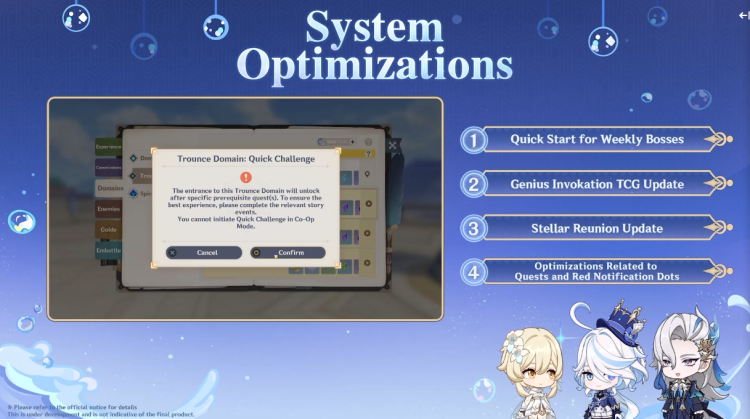 This is a much-welcome feature as you can now save time by not teleporting and starting the domain fight directly from the Domains menu in the Traveler's Handbook. It looks like it only applies to trounce domains as of now.
Stellar Reunion Update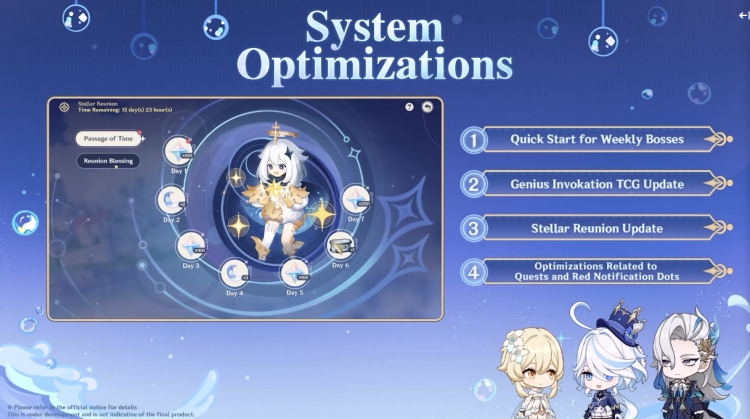 The Stellar Reunion UI has not been revamped and has been made more helpful for players returning to Genshin Impact after a long time. The new menu will show the new regions, making it easier for returning players to figure out new regions, and the Stellar Reunion menu will not have more rewards!
Quests and Notifications
The character Story Quests will not start automatically and clutter your quests section. Rather, when you unlock a Story Quest, you will have to press "Start story" to actually start the quest and for the same to appear in your list of quests. This should tidy things up.
Besides, if you play on more than one platform, when you open the game on one platform and dismiss all notifications, they will no longer show up on the other platform. Pretty cool! Also, when you click on a quest, it will now show all the prerequisite quests you'll need to do first to unlock the said quest.
Lower Boss Difficulty
For those who are stuck due to a hard boss, rejoice! Starting from Genshin Impact 4.2, you can lower a boss' difficulty once you're defeated during the story quest.
---
Load More