Genshin Impact 3.8 update is just around the corner and the latest event live stream has revealed everything about the update. It also gave us a sneak peak of what Fontaine, the nation of justice may look like. Besides, a few leaks have revealed more information about the new region. Version 3.8 brings a new temporary map, new events, and a few events that we're already familiar with, alongside character reruns that we've been waiting so patiently for. Here's everything you need to know about Genshin Impact version 3.8, the pre-Fontaine update.
Genshin Impact 3.8 Release Date
Genshin Impact 3.8 update will be released on on July 4th or 5th, depending on your region and time zone. Here's when it will release for the following time zones:
PDT (UTC -7): 8:00 pm (July 4)
MDT (UTC -6): 9:00 pm (July 4)
CDT (UTC -5): 10:00 pm (July 4)
EDT (UTC -4): 11:00 pm (July 4)
BST (UTC +1): 4:00 am (July 5)
CEST (UTC +2): 5:00 am (July 5)
MSK (UTC +3): 6:00 am (July 5)
IST (UTC +5:30): 8:30 am (July 5)
CST (UTC +8): 11:00 am (July 5)
JST (UTC +9): 12:00 pm (July 5)
NZST (UTC +12): 3:00 pm (July 5)
The expected release dates have been brought to you after determining when the current banners will likely end, which is around 11 days from today. Depending on your time zone, you may get the 3.8 patch on July 4 or 5.
Genshin Impact 3.8 Livestream Codes
We figured you would be interested in knowing the latest codes that give you 300 freemogems as always. Here are all the codes from the version Genshin Impact 3.8 livestream.
QBQ2NH6DB4Z9 – 100 Primogems, 10 Mystic Enhancement Ore
2SR3PY7CA52V – 100 Primogems, 5 Hero's Wit
6A836GNUA52Z – 100 Primogems, 50,000 Mora
Genshin Impact 3.8 New Region: Penumbra
The Sumeru expansion is not done yet. The 3.6 update added Gavireh Lajavard, a pretty significant part of the Sumeru desert and the 3.8 update will add a decently big new map to the already big lush rainforests of Sumeru. Leaks suggest it will be called Veluriyam Mirage and it's as big as the Golden Apple Archipelago that we traveled to in version 2.6. The name of the event that will be held in this region is called Secret Summer Paradise.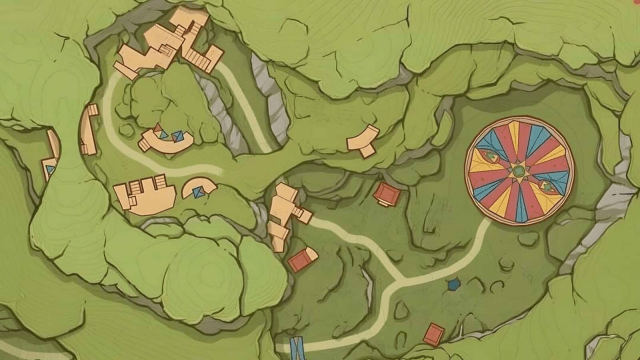 This new region supposedly embraces an amusement park theme and Fontaine mechanics as Fontaine is around the corner. So yeah, this is a great time to get familiar with how Fontaine's main mechanics will look. And as you may have guessed, Penumbra is a temporary map and will only be around until the 3.8 events, which we'll get into in a bit.
Genshin Impact 3.8 Character Re-runs
The characters coming back in version 3.8 are listed here. The first half of the version will feature Eula and Klee, while the second half will feature Sangonomiya Kokomi and Wanderer. As for the four stars, the first half brings Rosaria, Mika, and Razr, while the second half will bring Furuzan, Thoma, and Yanfei.
While both banners have great characters, one of the most anticipated characters in the banner roster has to be Eula, who hasn't shown up in a re-run for over a year. And Genshin Impact 3.8 seems like the right time to bring her back.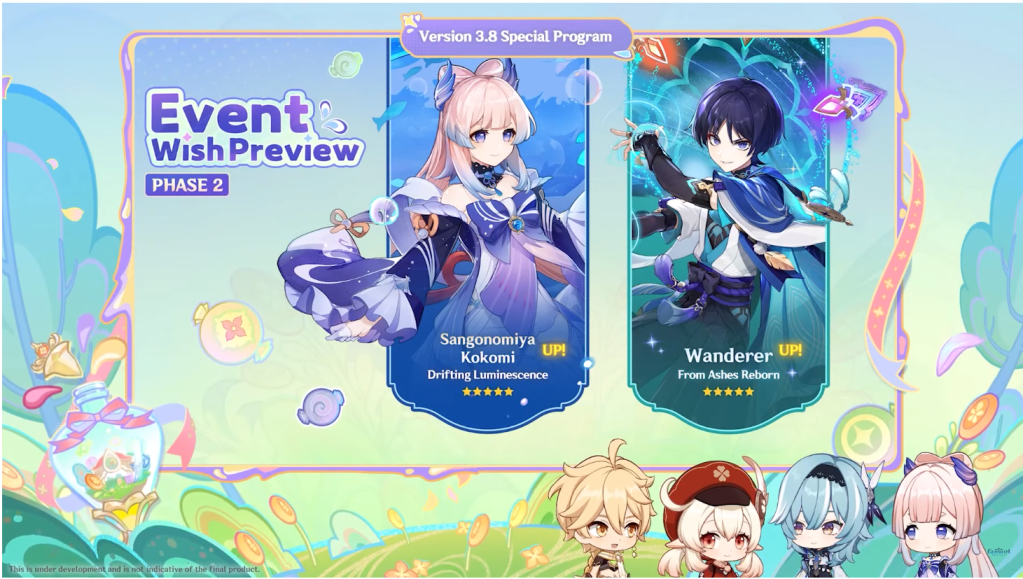 New Character Outfits
After Ayaka, Klee and Kaeya are all set to get new outfits in the 3.8 update. As always, Kaeya's outfit will be free to claim during the event, whereas Klee's will need to be unlocked using Genesis Crystals. This information comes from some of the most reliable sources in the Genshin community such as SYB, Uncle SB, and Hutaolover77.
Genshin Impact 3.8 New Events
One of the new events in Genshin Impact 3.8 is an Oceanid-themed event at the new temporary region Veluriyam Mirage which should offer freebies and a free four-star character, Layla.
This event alongside a critters event will probably end in the first half, and the second half should bring two older events namely the Perilous Prospect battle event and Adventure Trials V2.
The events in the second half should give us a free Kaeya outfit. According to a reliable source, Genshin Impact 3.8 may also give us a glimpse of someone called "Necalevia," perhaps a future playable character? An Archon? An NPC? We'll have to find out ourselves. And, finally, for all the Kaeya fans, you're getting a Kaeya hangout event.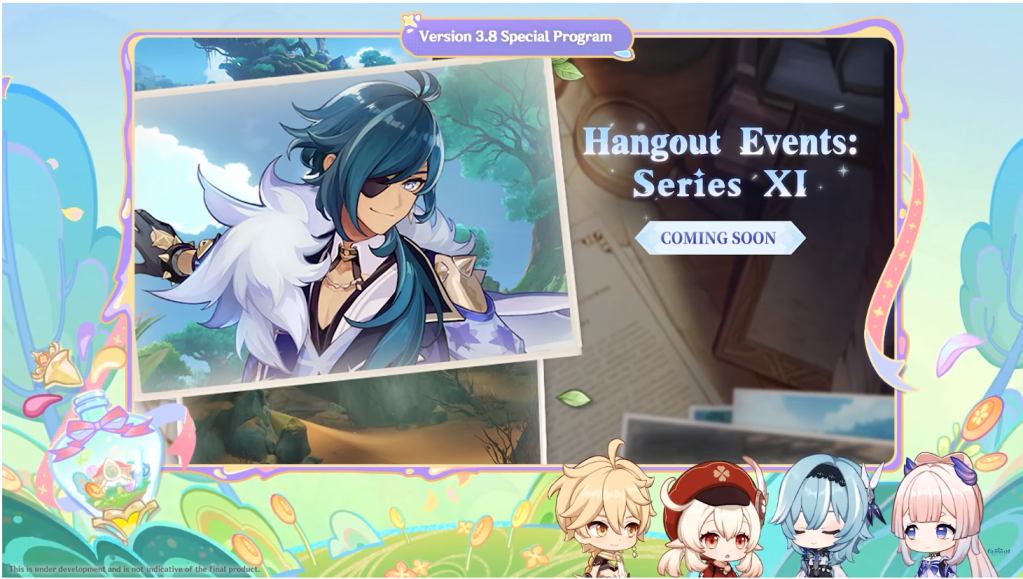 Genshin Impact 3.8 New Features
Map and Quest Tracking Enhancements
It was revealed in the developer's discussions recently that from version 4.0, Genshin players would be able to switch to different layers of the terrain to make it easy to navigate and explore certain areas. An example of where this would be applicable is in the Sumeru desert at Khemenu Temple, which has a multi-layered terrain with lots of teleportation points.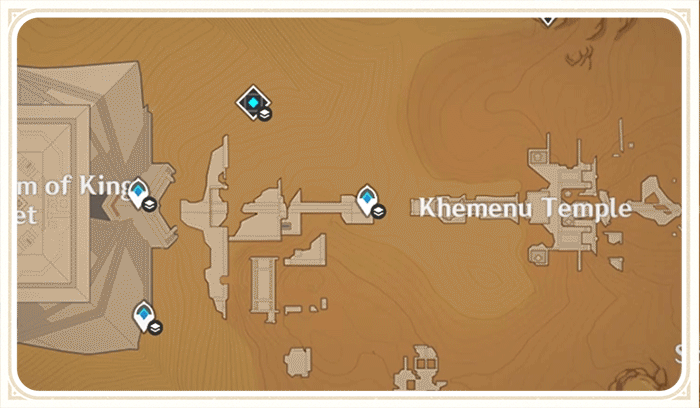 Similarly, it was also revealed that tracking quests will be made easier from version 3.8. Clicking on the navigate button will take players to the map and show them where it is. You will also be able to track the next commission as soon as you complete one, therefore, saving you from the hassle of opening the map and pressing navigate each time.
Quest Menu Sorting and Prerequisite Quest Optimization
In the Genshin Impact 3.8 update, Quests will be sorted in a better way and important quests such as Archon quests will be labeled with an exclamation mark enclosed in a red circle to easily find them.
Similarly, the update will also bring a fix for the issue players face when trying to go through the main quest but the game shows a character is already involved in another quest. Developers are trying to figure out a better way of adding detailed guides for the affected quests and characters. While you are here, learn how to get Genshin Impact characters for free via our linked guide.
Genshin Impact 4.0 Fontaine Teaser
Hoyoverse has finally revealed a first look at the nation of justice Fontaine. Prior to the live stream, the underwater exploration mechanics were also leaked, and here's your first look at the same.
We will doing a deep-dive into the upcoming Fontaine update soon, so stay tuned for more information. In the meantime, let us know your opinion on the next update.