Sunday. Even though Vernon Dursley might consider it the best day because there's no post, we're really glad that Xbox Wire has posted the list of new games hitting the Xbox Store this coming week. There are quite a lot of games, as usual, so get pumped and read on:
Metal Gear Survive
An Xbox One X Enhanced Game, Metal Gear Survive comes with a new take on stealth gameplay and takes place in an alternate universe. The game also has a co-op mode so you can team up with your friends and enjoy together. Metal Gear Survive is coming to the Xbox One on February 20.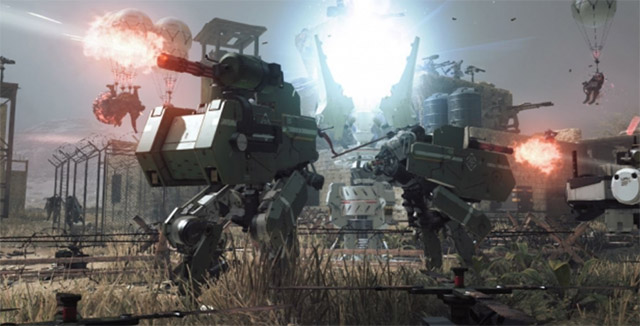 The Station
The Station takes place inside a remote space station that you're sent to for investigating what happened to the crew stationed there. It's a sci-fi mystery game that's coming out on February 20.
Tiles
Tiles calls itself a unique action puzzle game that will convolute your mind and burn your fingertips. If that description doesn't get you excited about the game, nothing I can say ever will. It's coming to the Xbox on February 20.
Rad Rogers
Rad Rogers has been inspired by classic platformer games like Conker and Commander Keen. You, Rad, are sucked into your TV and are now in the middle of your own adventure game. Enjoy! The game comes out on February 21.
Xenon Valkyrie
A wicked witch lives on the moon, and your job is to explore the moon's deepest recesses and defeat the witch. You'll be fighting through a randomly generated world in this rogue-lite platform that comes out on February 21.
Defender's Quest: Valley of the Forgotten DX
Defender's Quest is a tower-defense/RPG hybrid game that focuses more on tactics and strategy than anything else. The game follows a character-driven story and is coming out on February 21.
Sword Art Online: Fatal Bullet
Yet another Xbox One X Enhanced game, Sword Art Online throws you headfirst into a dangerous land with supersonic flying bullets, photon swords and a lot more. You can create your own Avatar to explore the world that's coming your way on February 23.
Past Cure
Past Cure is a dark, psychological thriller where you are a tortured soldier who had his mind experimented on. You have to use his world-bending powers and discover how his mind is being attacked. The game comes out on February 23.
Abo Kashem
Abo Kashem is a comedy RPG where you wake up in the middle of nowhere and now have to figure out what happened to you. You and your only friend, a lizard, have to figure out a big conspiracy. The game comes out on February 23.
Symmetry
Symmetry is set in a futuristic, yet retro looking world where you're a crew member aboard a research starship. You get marooned on an abandoned planet and now it's up to you to ensure the survival of your group. The game comes out on February 23.