Announced long back at BlizzCon 2019, Diablo IV is one action-RPG game that gamers the world over have been expecting for the longest time. Blizzard has been taking its sweet time to release Diablo 4. Thankfully, the company has shared some dev updates that have revealed quite a lot about the upcoming game. At this point, you must be eagerly awaiting any news about Diablo 4. Fortunately, you are at the right place, as we have compiled everything you need to know about the game. So equip your strongest armor and dive into the world of Diablo 4 right now. We have discussed everything from Diablo IV's gameplay and classes to its release date and supported platforms.
Diablo 4: Everything We Know So Far (2022)
Since we will discuss a variety of different topics about Diablo 4, it might get confusing for some people. However, if you already know what to look for, use the table below to directly read about that.
Diablo 4 Release Date (Confirmed)
First, let's get the most asked question out of the way. While Diablo 4 was initially expected to release in late 2022, we now know that isn't going to happen. Microsoft-owned developer Blizzard Entertainment has now confirmed that Diablo 4 will release sometime in 2023. Unfortunately, a more specific release date isn't available at the moment.
Rest assured, we will update this article with any new information as and when it's available, so bookmark this page and stay tuned.
Diablo 4 Platforms and Crossplay
At launch, Diablo 4 will be available to play on PS5, Xbox Series X, PC, and last-generation consoles (PS4 & Xbox One) in 2023. For those unaware, Blizzard has been bought by Microsoft. So one would expect that the game to be an Xbox exclusive. Thankfully, that's not the case, as Diablo 4 will be coming to a variety of platforms right at launch. Moreover, PC players will love that Diablo 4 will even support controllers.
When it comes to crossplay, during the recent Xbox and Bethesda showcase, it has been confirmed that Diablo 4 will come with crossplay and cross-progression across all platforms. However, do note that you will require a Battle.Net account.
Diablo 4 Beta Test: Sign Up Process
Dungeon raiders have been itching for some kind of Diablo 4 beta. And to their surprise, some fans even spotted a Diablo IV beta on the Battle.Net launcher back in July. However, Rod Fergusson, GM of the Diablo franchise, has confirmed that the beta was only an internal test. As such, there is currently no Alpha or Beta testing going on for Diablo 4.
However, as the game's release date draws closer, there is a chance a public beta might come out. If you want to be one of the first few to test the game, head to Diablo's website and opt-in for the latest news and beta release updates.
Diablo 4 Storyline: What Is the Game About?
For those of you who have forgotten about Diablo 3's storyline, let me give you a quick refresher. The world of Diablo takes place as a never-ending battle between the armies of High Heavens and Burning Hells, which has been known as the Eternal Conflict. The protagonist, which is you, arrives in the Sanctuary, the mortal world of the game.
As the main player, it's your job to use your heritage and stop the evil plans of Diablo, which intend to take over the world. You often seek the help of angels for aid in achieving this. However, each Diablo iteration has its own set of stories, characters, and villains.
Diablo 4 takes place a few years after the events of its predecessor, and it will most likely see the namesake villain's return. Since the last installation, the Gates of Heaven have been closed after almost all of the Sanctuary was destroyed by Malthael, the Angel of Destruction. Remember I mentioned the High Heavens?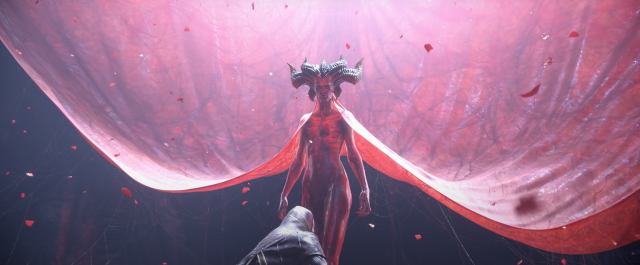 Well, it's because of the Heavens that Lilith, the daughter of Lord of Hatred, is set loose from her shackles and walks free. As seen in Diablo 4's 2019 cinematic trailer, Lilith will likely be the upcoming title's villain (antagonist) as she takes revenge against everyone who has wronged her. However, this also means Lilith might just overshadow Diablo itself and take over the game as its main villain.
Five Regions
The world of Sanctuary is also set to expand with five different expansive regions in Diablo 4. Instead of being a generic copy-paste of the same regions over and over, the game promises that each region will have its own intricacies. That means players are free to roam around these six regions and navigate through their different passageways, shortcuts, traps, and whatever else lies in their way. Thankfully, Diablo 4 game developer has uploaded a series of videos with some gameplay in these regions. To see them in action, check out the links below.
While not a lot of information about Diablo 4's story is available right now, rest assured that Lilith's return and extended screen time will make for a game full of action and drama.
Diablo 4 Campaign Length (Confirmed)
In an interview with Gamespot, Diablo 4 director Joe Shely officially confirmed that the game's campaign will be a 35-hour experience. Shely promises that the campaign is "just brimming with story and characters that are really human and you can really connect with on an emotional level. We've worked really hard on the campaign in Diablo 4, and we're really proud of how it's developing."
Diablo 4 New Classes and Abilities
Blizzard has already revealed a lot about the classes in Diablo 4 through its monthly dev diary updates. Each class has its own playstyle and abilities, which will help you to make the perfect campaign run. The Diablo 4 classes you will be able to play are:
Barbarian: A brute class of warriors known for their high damage, strength, and variety of weapons.
The barbarian can throw out a wave of energy that damages other enemies among other abilities. If you are the type of player who tries to run headfirst into combat, choose the Barbarian class once Diablo 4 drops.
Sorceress: If you find yourself to be more of a tactician, then perhaps the Sorceress class is better for you.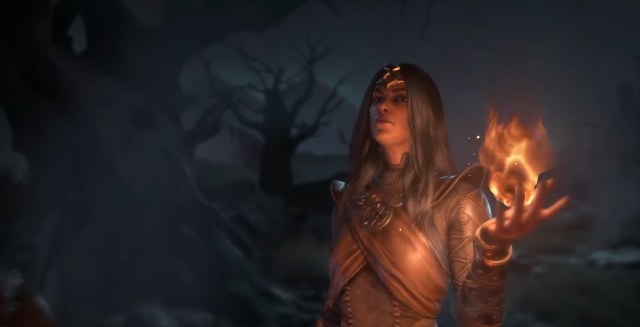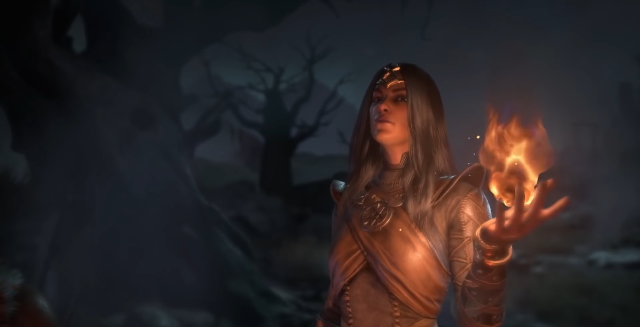 Being a ranged unit, the sorceress attacks enemies from a distance using elements like lightning, ice, and fire. Furthermore, sorcerers will even be able to enchant skills, thereby, gaining passive abilities.
Druid: Coming back from Diablo 2, the Druid class is here with their shapeshifting abilities.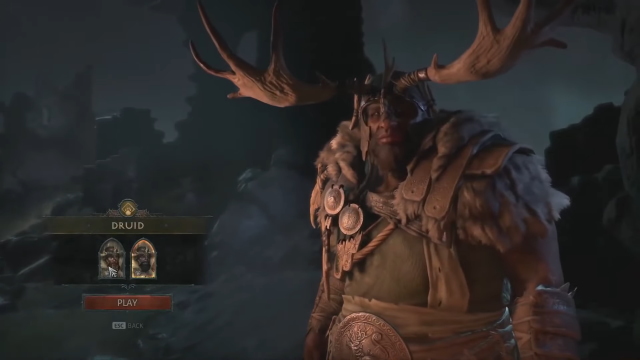 Druids are able to use the powers of the wind and earth to transform themselves into animal forms like wolfs or bears. This Diablo 4 class is also coming back with new magic abilities and a new design.
Rogue: Coming from the days of the original Diablo title, Rogue is a class you will see back in action here. While the original Diablo Rogue was a bow wielder, the upcoming game will allow the player to equip other weapons as well.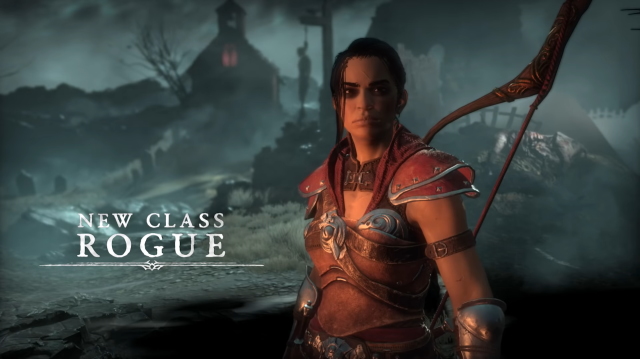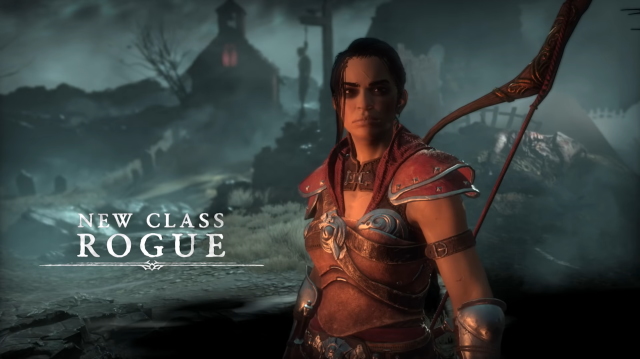 Rogue class users will be able to use a variety of weapons, including swords, daggers, and bows, and can even cast shadow magic and place traps. You will even be able to use the Rogue class as a shadowy assassin back from the days of Diablo 2.
Necromancer: The final class in Diablo 4 and also in earlier Diablo, the Necromancer remains a creepy addition to Diablo 4.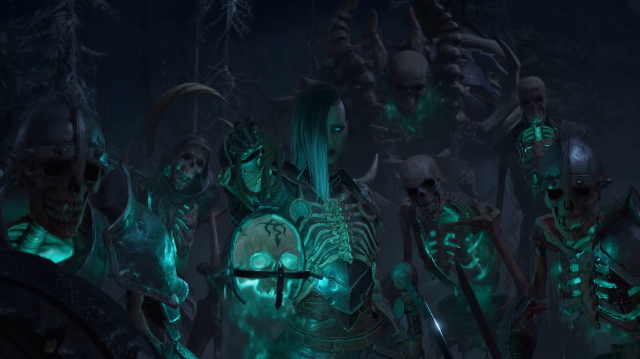 With the amazing ability to bring the dead back to life (at least their skeletons), the Necromancer can use their bony friends as extra swords in battle. Top that with unspeakable dark magic, and you have yourself a good combination.
Besides these interesting and returning classes, Diablo 4 will allow players to customize the main character's facial characteristics intensely. Furthermore, you will even be able to change their facial features, which is a first for a Diablo game.
What is the Gameplay Like in Diablo 4?
The world of Diablo itself is a hack and slash adventure game that sets players loose in an open world. Diablo 4 will be the same way with its open-world adventures that sees players travel between various hubs. The regions mentioned above will be spread across the map and will allow players to explore them fully. This means, you'll be able to explore the entire world without any restrictions. To add more visual variety and challenge, these regions will have day/ night cycles along with a weather-changing system.
As it is a dungeon crawler, Diablo 4 will also feature hundreds of dungeons, which will be randomly generated. And if you're a player willing to take a risk here, you will find legendary items in these dungeons. Check out some of this gameplay in the above video.
When it comes to open-world variety, Diablo 4 will feature a non-linear storyline. This means you won't be forced to stick to a particular quest and its order when playing out the campaign.
So you can go ahead and begin the game and go through the different quests available at the time to continue your journey. However, keep in mind that Diablo 4 won't contain extended dialogue options like Fallout.
New Skill System
Blizzard has taken note of the less-than-intuitive skill system in Diablo 3 and reworked the same in Diablo 4. The upcoming skill system is shaped like a tree (quite literally, as you can see below). There will now be separate sections for Skills and Passives on this tree. The upper section is where players can spend the points that they earn. Players can acquire different nodes in this skills section and build their own perfect playstyle and combination. The passives section will hold more general upgrades to your character.
Do notw, however, that Diablo 4 will not let you unlock all the skills on the new skill tree. The September 2020 Quarterly update mentions that the team is "currently aiming for 30-40% of the nodes filled in for end game, so that players can have very distinct, and different ways they build out their character".
New Monster Families
While Diablo 3 had monsters classified into categories like demons, unholy, and undead, Diablo 4 is coming out with even more monster families. Each family has a different combat style and feel for individuality.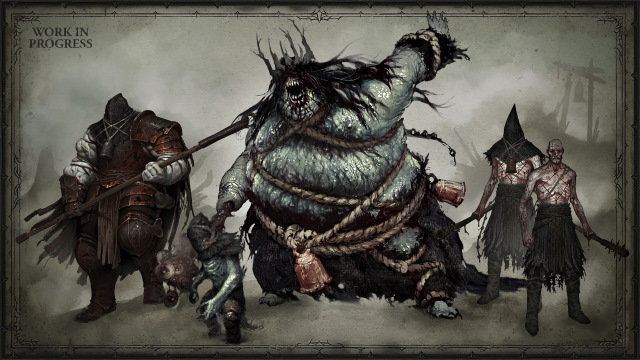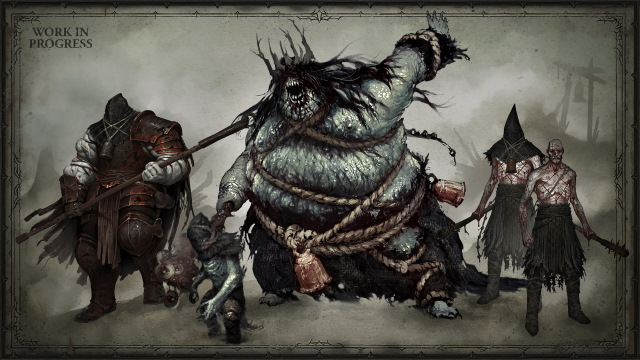 These families also have different archetypes, which will all play their own role in combat. To put it in a simpler way, different families will have different fighting styles. The intention behind creating monster families is to give the world of Diablo 4 a rather distinct approach in comparison to its predecessors. This intricate classification is meant to make the creatures feel more sophisticated and robust.


Blizzard talked about one such monster family in their two-year-old Feb 2020 update. Aptly called The Cannibals, possibly a former tribe of barbarians, these monsters are known for their unending hunger and cruelty. This monster family will have four different members who will each have their own weapons and appearance. Even though by design, the cannibals have no ranged units, they will sprint and leap at the player to damage them.
Item/ Weapon Changes
During the December 2021 Quarterly update, Blizzard shed more light on Diablo 4's itemization and how they plan to shake things up. The central idea behind the thinking is that the devs have looked through every aspect of itemization. This will allow them to provide a deeper level of weapon customization that sits somewhere between Diablo 2 and 3.
Weapons will now have more detailed attributes, including a weapon speed aspect, allowing them to be used more effectively. Shields too will have a new block attribute. These new characteristics will help players pick specific items that they feel will help their build set.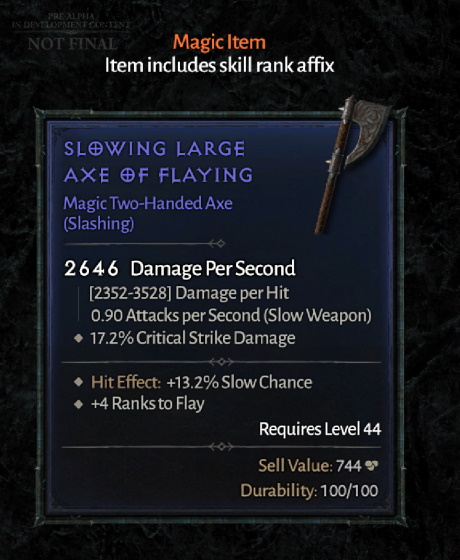 Speaking of specific items, Blizzard has also focused on making sure that dungeon crawlers don't just go for legendary stuff. To help this, the team is increasing the potential power of individual affixes on Magic items. The maximum number of affixes on Rare and better items in the endgame has also been increased. Legendary affixes now roll randomly on Legendary Items and Unique items will replace Mythics.
And if you really want a specific legendary power from an item, you can find them in multiple item slots. And if you end up finding power on an item you wished was different, you can use the new Occultist to transfer that power or Essence to another item.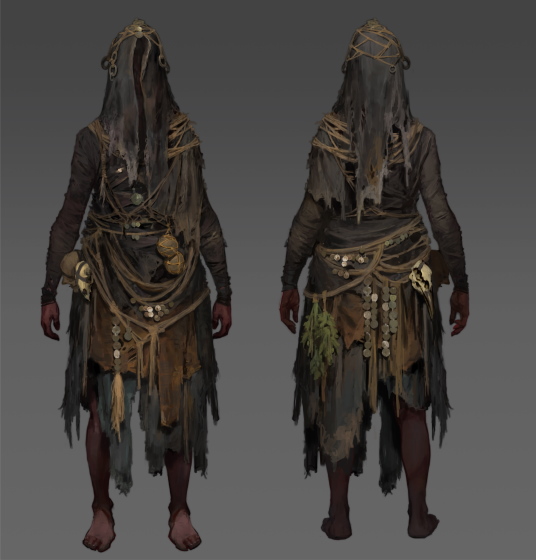 Keep in mind that the original item will be destroyed upon the transfer of power. Speaking of items, Ancient ones are being retired. Players will now earn a consumable that lets them attach a legendary affix to non-legendary items, thereby, creating an ancient item of their own.
New Stats
Diablo 4 will also come with three new stats, which will all have their own effect, and you will also be able to use them before item affixes. The three new stats in Diablo 4 are:
Ancestral Power: Increases the chance of on-hit effects
Angelic Power: Increases duration of all positive effects
Demonic Power: Increases the duration of all negative effects
Diablo 4 Endgame Is Different
Diablo 4 is brining back the Paragon board but making it a bit better. For those who don't know, the Paragon Board in Diablo is for players who have reached the game's level cap. The board will provide players with useful endgame build customizations and added bonuses after completion.
Players will be able to access the Paragon Board in Diablo 4 once they reach level 50. It begins at the center of the board. As you earn these Paragon tiles, they spread across the board and differ depending on their level, including rare and legendary.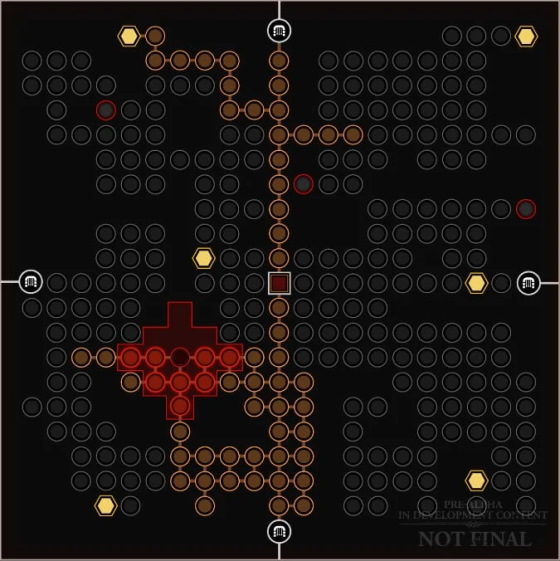 Each paragon tile you earn will give your character a bonus or a boost that makes you stronger. However, keep in mind that you can only unlock tiles connected to your previous tiles.
The paragon board will keep unlocking until you reach the end of it. However, once you do, the board will connect to other paragon boards that will have their own set of tiles. Depending on their layout, they will have different tiles, some of which might be better than before. We don't yet know if the number of boards is unlimited for endless customization or will they be limited in some aspect.
The upcoming Paragon board system sounds interesting and should serve as an additional way to level up your hero.
Diablo 4 PvP and Online Modes
When Diablo 3 was released, PvP was one feature that wasn't added to the game, and it irked many gamers. However, Blizzard has now confirmed that PvP is coming back to the upcoming Diablo 4 game. However, instead of it being a compulsory mechanic, PvP will be optional if you don't want interruptions. So don't worry as PvP won't have implications on your main story.
The world of Diablo 4 will have PvP zones, which will be known as Fields of Hatred. Players can choose to enter these fields and collect currency known as Hatred Shards. You can get these shards by slaying monsters and killing other players. However, in order to use these shards, you must purify them first. Starting the purification process makes you a target for all other players. However, if you do manage to succeed, you can use these shards to buy special items, including horses, weapons, and costumes.
As already mentioned, PvP is optional so you don't have to get into a battle with fellow players if you don't want to. However, do note that Diablo 4 is an always-online game. While this isn't a bad thing, it does mean that you will inhabit a shared world. This means seeing other players in open-world activities and having world events that other players can attend.
While the lack of an offline mode might deter you, you will love to know that Diablo 4 has couch co-op support. Diablo 4's Feb 2020 Quarterly update confirmed this development.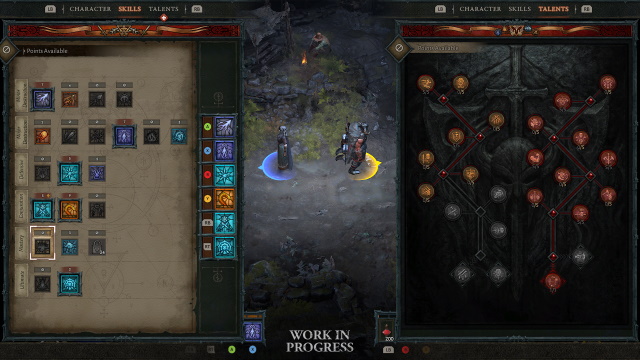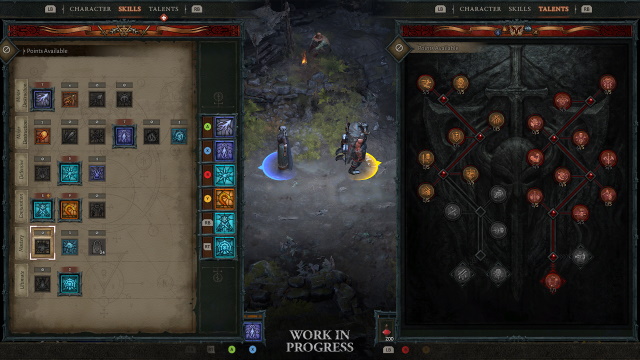 Is Diablo 4 Pay to Win?
If you are worried about receiving yet another game with pay-to-win mechanics, then don't be. Blizzard has confirmed that Diablo 4 is not pay-to-win. To know more details about the same, keep reading below.
Will Diablo 4 Have Microtransactions?
A few weeks ago, an unknown Reddit account posted a survey in German. Although the Reddit account was quickly deleted, the survey asked users to choose between one of three versions of Diablo 4 they would pay for. The supposed point behind this survey hinted at the fact that Diablo 4 would come with some form of microtransactions. However, after a few days of fans sweating it out with questions as well as ill remarks against the developer, Blizzard has answered back.
Adam Fletcher, Global Community Lead for Diablo confirmed that while the game will be coming with microtransactions, paid content will center on cosmetics and eventually full expansions.
Kegan Clark, director of product for Diablo IV confirmed the same in the latest Diablo 4 August Quarterly update. Furthermore, Clark goes into detail by describing Diablo 4's upcoming Season Pass and the Shop.
The season pass in the game revolves around a live service model that will see players receive all-new gameplay, quests, challenges, and quality-of-life improvements through various seasons. The season pass will have free and paid tiers, which reward players as they progress through the game. While you will need to purchase the premium tier season pass, Clark also confirmed that provides no in-game power or advantage over other tiers.
The shop in Diablo 4 builds upon the already existing variety of cosmetics players will find in-game – much like the recently released Diablo Immoral mobile game. The in-game shop will further hold a plethora of transmogs for the character, and you can interchange all individual components.
Kegan reiterated that the shop items are purely cosmetic and do not offer any gameplay advantage. Moreover, Diablo 4 players shouldn't feel forced to buy anything so Blizzard has also made sure that the game will ship with hundreds of transmogs already unlockable from in-game drops without the shop.
So at the end of the day, while Diablo 4 will feature microtransactions, all of them are purely cosmetic and won't offer any advantage except maybe a cooler-looking armor set.
Diablo 4 Price: Will the Game Be Free?
Diablo 4 will be a full-price game that you will have to purchase one time. Blizzard has confirmed the same, as you can see from the above section. As for the exact pricing, there has been no official word from the developers. However, based on the $60 release price of Diablo 3 back in 2012, we expect Diablo IV, a game that's being built from the ground up, to sit on the same table as other AAA titles in 2022-2023. This means Diablo 4 could realistically cost somewhere between $60 to $80 when it releases next year.
As any game progress microtransactions are absent, you won't need to pay and over for the full experience except for cosmetics, which are optional. However, since we do not currently know the price of the game itself, come back to this page later for more details.
Gear Up for Diablo 4 Game Release in 2023
I hope all your questions around Diablo 4 were answered in this in-depth information guide. As you can see yourself, the upcoming game is set to be a big expansion into the Diablo world. With Lilith's return to Sanctuary, things will definitely get interesting. And with the promise of no microtransactions or pay-to-win mechanics, more new players should check this game out in 2023. While Microsoft buying Activision shouldn't change any of this, only time will tell. What do you think about Diablo 4? Drop your thoughts in the comments below!
---
Load More