There is no doubt that Kimetsu No Yaiba (aka Demon Slayer) is a modern classic anime that's unfolding before our eyes. From a massive box office success to a dedicated fanbase, there is nothing that this anime hasn't delivered to its creators and fanbase. And now, all of it is going to reach another level because we are entering one of the most important arcs of Demon Slayer in Season 3. There are higher stakes, more powerful demons, and some inevitable tragedies. So, take a deep breath, sharpen your katana, and let's find out what to expect from Demon Slayer Season 3.
Demon Slayer Season 3: Everything You Need to Know
You can use the table below to navigate through all the details about the upcoming Season 3 of Demon Slayer anime, including the plot, release date, cast, and more. We have even included the entire schedule for Demon Slayer Onward to the Swordsmith Village Arc movie screenings around the world in this guide.
Demon Slayer Season 3 Release Date
The last two years have been quite happening for the fans of Demon Slayer, and from the looks of it, 2023 is not going to disappoint either. As confirmed by the official website, Demon Slayer Season 3 will release sometime in April 2023 on TV and streaming platforms as weekly episodes, making it a part of the spring cour. A specific release date for Kimetsu No Yaiba Season 3 is yet to be revealed.
But hardcore fans don't have to wait as long. Following the trend of most TV anime, the first episode of the 3rd season will premiere in theaters as a promotional event. This will take place before the official Season 3 premiere, with one of the first screenings scheduled for February.
Demon Slayer World Tour
The theatrical event focusing on Demon Slayer Season 3 is titled "World Tour Jōei: Kimetsu no Yaiba Jōgen Shūketsu, Soshite Katanakaji no Sato e", which translates to "World Tour Screenings: Demon Slayer: The Upper Ranks Gather and Onward to the Swordsmith Village". As the name suggests, this event will take place around the world. It will features episodes 10 and episode 11 from season 2 alongside the first episode of season 3, which will be a one-hour special.
We also have the official dates for the Demon Slayer world tour event for Season 3 right here:
Japan: February 3 in 418 theaters, including 41 IMAX screens
Tokyo (Japan): February 4 and 5 with guest appearances
Los Angeles (US): February 18 with Natsuki Hanae, Aimer, Yūma Takahashi
United States: March in over 1,700 theaters in both English-subtitled and dubbed versions premiering at the same time
Paris (France): February 25 with Yūma Takahashi
Berlin (Germany): February 26 with Yūma Takahashi
Mexico City (Mexico): March 4 with Natsuki Hanae
Seoul (South Korea): March 11 with Akari Kitō, Yūma Takahashi
Taipei (Taiwan): March 19 with Natsuki Hanae, Kengo Kawanishi, Kana Hanazawa, Yūma Takahashi
As confirmed by the Demon Slayer USA account on Twitter, Crunchyroll along with Aniplex of America is hosting a red carpet premiere of Demon Slayer Season 3 on February 18 at Orpheum Theatre in Los Angeles. Special guests, including Natsuki Hanae (Tanjiro Kamado's voice actor), Aniplex producer Yuma Takahashi, and Japanese singer Aimer, are set to make an appearance. The tickets for this event will go live on January 8th on Ticketmaster.
If you don't see your country on the tour list, you probably won't get to see the creators or voice actors of Demon Slayer in the flesh. But do not lose hope yet. The creators have confirmed that a theatrical release of the same episodes will take in over 80 countries and regions in February 2023. However, there is no official release date or country list for the same.
Demon Slayer Anime Season 3 Trailer
Thanks to the critical success and appreciation of the first two seasons and the Demon Slayer Mugen Train movie, Ufotable will continue to animate the series. While there is no full trailer for Demon Slayer season 3 in sight, you can enjoy the intense animation with the following promotion reel/ teaser.
We only get a 30-second teaser video for Season 3, starting at the 50-second mark in the video below. It shows the Love Hashira, the Mist Hashira, along with our protagonist Tanjiro, heading on a new mission to the Swordsmith village. Then, we see a fight breaking out in the village and nothing more. Check it out for yourself:
Demon Slayer Season 3 Story Plot
Spoiler Warning: This section contains major spoilers for the second season of Demon Slayer. So, please venture clear of it if you haven't caught up with the anime yet.
Season 2 Ending Recap
In season 2 of Demon Slayer, our protagonists along with Tengen Uzui, the sound Hashira, venture into the entertainment district where Tengen's agents have gone missing. They soon discover that a demon is secretly residing in and controlling the entire district while using its residents as pawns. This initiates a series of action and detective plotline that takes the show into a whole new territory.
Season 2 ends with our heroes fighting the demon siblings: Daki and Gyotaro. They turn out to be an unfathomable opponent due to their impressive coordination and unpredictable moves. Still, the demon slayers turn out to be victorious without any major consequences or injuries. But this victory isn't just a regular one. Daki was an Upper Moon Demon and had a direct connection with Muzan Kibutsuji, the main antagonist of Demon Slayer. So, there might be some serious consequences around the same.
On the other side of things, this season also revealed that the Demon Slayer Association's head, Kagaya Ubuyashiki is currently bedridden. Moreover, not every Hashira is as excited as others about the turn of events. Even the death of Kyojuro Rengoku, the fire Hashira, is still a fresh wound. With that, the defeat of an Upper Moon demon can be considered a major success but the DSA, as a whole, is currently not at its strongest.
Swordsmith Village Arc
Season 3 of Demon Slayer will focus on the Swordsmith Village Arc of the manga, which takes place immediately after the events of the Entertainment District arc, which Season 2 focused upon. Season 3 of the anime will open with Manga volume 12, which is described by Viz Media as under:
For the first time in over 100 years, the upper ranks of Muzan Kibutsuji's Twelve Kizuki are not full. Angered, Muzan dispatches the survivors on another mission. Elsewhere, Tanjiro journeys to a village of swordsmiths and has to explain how his sword was so badly damaged to Haganezuka, the smith who made it. While Tanjiro waits for his sword to be repaired, enemies close in…
The third season of Demon Slayer will open with our protagonist, Tanjiro traveling to the swordsmith's village to have his sword repaired. Since the swords are the most important for the Demon Slayer Association, the location of this village is a heavily guarded secret. Without it, the demon slayers can't get their Nichirin blades, which are the only reliable way to defeat the demons. Unfortunately, while Tanjiro is visiting the village, some demons get a wind of its location and launch a full-fledged attack on the same.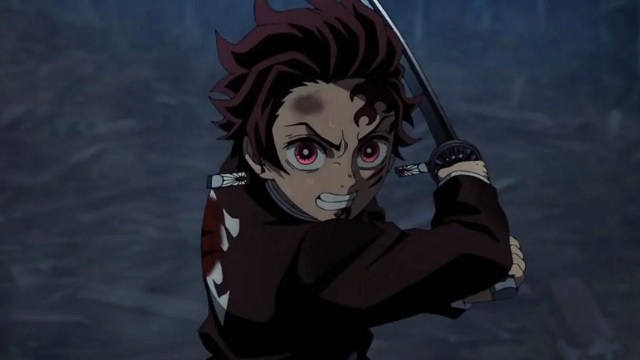 To make things worse, the group of demons consists of two Upper Moons, namely Hantengu and Gyokko. These two demons have come to destroy the village, and while Tanjiro has Muichiro Tokito, the Mist Hashira's support, they still might not be good enough to win this fight. Especially, when they also have to protect an entire village that is important to the existence of the demon slayers.
Moreover, one of the demons can make copies of itself and can even heal instantly. So, the demon slayers are not only outpowered, they are outnumbered as well. How will this fight pan out? We can't wait to find out ourselves.
How Many Episodes Will Demon Slayer Season 3 Have?
We expect Season 3 to cover the entire Swordsmith Village arc, which consists of 25 chapters in the Demon Slayer manga. So, the anime adaptation should have around 11-12 episodes in total, which is similar to the Entertainment District Arc (aka season 2), which has 11 episodes.
Demon Slayer Season 3 Cast and Characters
The third season of Demon Slayer will feature the following characters and Japanese voice actors:
Tanjiro: Natsuki Hanae
Zenitsu: Hiro Shimono
Inosuke: Yoshitsugu Matsuoka
Nezuko: Akari Kitou
Other Important Characters with unknown voice actors:
Muichiro Tokito (Mist Hashira)
Mitsuri Kanoji (Love Hashira)
Hotaru Haganezuka (Swordsmith who made Tanjiro's sword)
Genya Shinazugawa (Demon Slayer)
Tecchin Tecchikawahara (Chief of Swordsmith Village)
Hantengu (Upper Rank 4 Demon)
Gyokko (Upper Rank 5 Demon)
How to Watch Demon Slayer Season 3
Unless new contracts are completed around the upcoming season, Demon Slayer season 3 will available on the same platforms as earlier seasons. Though, the release date might vary. So, you can expect to see the new season of Demon Slayer on:
Funimation
Crunchyroll
Netflix
Hulu
DisneyPlus
Out of these, Funimation and Crunchyroll are usually the initial platforms that get the latest anime episodes. Though, if neither of them is available in your region, Netflix would be the safest and fastest alternative.
When Will the Demon Slayer Anime End?
The Demon Slayer manga has a total of 11 arcs, and the Swordsmith Village is the ninth arc in the series. So, currently, we are only left with the following two arcs:
Hashira Training Arc: Chapters 128-136
Final Battle Arc

Infinity Castle: Chapters 137-183
Sunrise Countdown: Chapters 184-205
While it is highly possible that the remaining Demon Slayer arcs can be summed up in two seasons, we suspect there is more to come. And that's because of the huge revenue that Demon Slayer the Movie: Mugen Train accumulated worldwide. We doubt that the anime's creators will be ready to let go of the hype that easily. So, while the story most probably won't go beyond the manga, its final part might come out as a movie. Though, that's merely our speculation. Any confirmation about the same won't arrive until the end of season 3.
Kimetsu No Yaiba Season 3 Important Details
While we finally have a release window for Demon Slayer season 3, it is still months away. So you can either use this time to catch up with the anime or watch something new like Chainsaw Man. Much like Demon Slayer, CSM also has a plot based around a fight between devils and humans. But here, some devils like Pochita, even collaborate with the humans to give them supernatural powers. Though, if you want to try something different, anime like Black Clover might be a better choice. Having said that, which Hashira or demon are you excited to see in Demon Slayer season 3? Tell us in the comments below!