Battle royale has quickly risen to become one of the most famous game genres in recent years. Famed battle royale games like Fortnite set the landscape, though other games brought something of their own. Apex Legends for one brought up battle royale in a different way, with various legends having their own unique abilities. However, after clocking in millions of concurrent players on PC and consoles, Respawn Entertainment's Apex Legends is now available on mobile for everyone to play. If you are a mobile gamer already in love with battle royale shooters, Apex Legends Mobile is a game made just for you. But what is Apex Legends Mobile all about, what is the gameplay like, and what characters can you play with? Find all that and more in this handy information dump we have created for Apex Legends Mobile.
Apex Legends Mobile: Minimum Requirements, Modes, Characters, and More (May 2022)
We have covered everything about Apex Legends Mobile here, including all available game modes, weapons, and maps. Depending on what you're looking to learn about the game, use the table below to jump to your desired section.
Note: last updated on May 19
What is Apex Legends?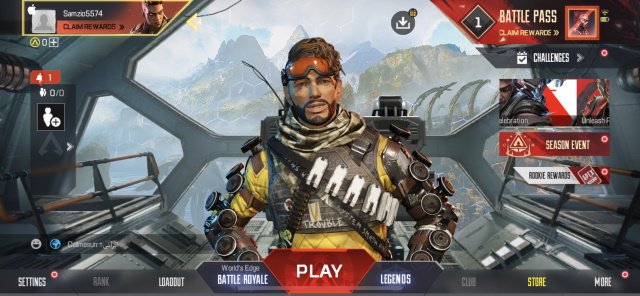 For those not familiar, Apex Legends is a battle royale hero shooter game focused on mass multiplayer action scenarios. Gamers can play as various characters or Legends, who each have their own unique set of abilities. The game is focused on various arena-like areas that host a plethora of weapons and opportunities.
Players land in squads of two or three on these maps, gather and customize weapons, and battle it out with other legends. And well, the aim of the game is to eliminate everyone else and become the champions, much like how PUBG works. And since it is a battle royale title, Apex Legends Mobile has up to 60 players in a single area with legends spread all over the map. Like other BRs, Apex Legends has a ring that continuously gets smaller as time passes.
However, as mentioned before, what separates Apex Legends from other battle royale titles are the legends that have unique abilities alongside personalities. Legends are further divided into various classes to cater to all types of gamers, and each character also has a backstory.
Apex Legends PC vs Mobile: What's Different?
Apex Legends mobile is the handheld port of the same game that is currently available on PC and consoles. The publisher Electronic Arts first announced plans to bring Apex Legends to mobile devices back in 2019, more than two years ago. However, it finally became a reality on May 17th, 2022, with extensive beta testing throughout 2021. The development is headed by China's Tencent Games, with Respawn Entertainment as the supervisor.
While the core functionality and legend abilities inherently remain the same, Apex Legends Mobile indeed brings some new additions as compared to the PC title. The gameplay, in particular, is getting a minor boost with a few extra features added just for mobile.
Apex Legends Mobile: Global Release Date
While Apex Legends mobile was in closed beta in select countries last year, there was no solid release date for the game. However, a limited regional launch followed, until a global release date was set for May 17th, 2022.
After months of waiting and deliberating, Respawn has finally launched Apex Legends Mobile worldwide on the promised release date. So if you're an Android or iOS player excited to finally play Apex Legends Mobile, keep reading as I show you how to do so.
How to Download Apex Legends Mobile Right Now?
Now that Apex Legends Mobile has been released globally for everyone to enjoy, it's easy to get your hands on the game. Simply head on over to the official listing for the game on Android and iOS. To save you some time, you can simply get Apex Legends Mobile on iOS and Android by clicking the following links and installing the game on your device.
Apex Legends Mobile: Platforms and Requirements
Apex Legends Mobile is available for Android and iOS devices worldwide. Furthermore, running Apex Legends on your mobile devices isn't as taxing as you would imagine. For the sake of clarity, I have listed the minimum system requirements to play Apex Legends Mobile down below. Go through them below and see if you qualify.
| Specifications | Android | iOS |
| --- | --- | --- |
| CPU | Snapdragon 435/ Hisilicon Kirin 650/ Mediatek Helio P20/ Exynos 7420 | A9 Chip or higher |
| Software Version | Android 6.0 or later | iOS 11.0 or later |
| Graphics/ Devices Support | Open GL 3.1 or higher | iPhone 6S or later |
| Required Storage | 4 GB free space | 4 GB free space |
| Required RAM | At least 2 GB RAM | At least 2GB RAM. |
Apex Legends Mobile Minimum System Requirements
What's the Apex Legends Mobile Gameplay Like?
The gameplay of Apex Legends Mobile mimics the PC and console ports while having its own nuances. Here, squads of players totaling 60 drop in on the map and then build their needed weapon loadouts before fighting it out. As mentioned above, players get a chance to choose from various legends on Apex Mobile. Each character will have its own unique abilities, so you can take your pick from the litter. However, there's a chance that your favorite legend might be taken by someone else.
Well, Apex Legends Mobile is addressing this concern with a nifty "Request" feature that lets you ask your teammates to select a different legend and let you take your favorite pick. However, at the end of the day, it's up to them if they want to be willing to switch out to another legend. Like before, the aim of the game remains the same, with every squad aiming to take out the competitors while battling the shrinking ring.
While the mechanics largely remain the same, touch controls have naturally taken over. From opening doors to collecting various items and even aiming down sights, there's a button for everything. Mobile gamers used to the likes of PUBG Mobile and Battlegrounds Mobile India (BGMI) will have little to no problem adjusting to this change. However, if you're coming off the original Apex Legends PC versions, you might need some time to get used to it.
Moreover, if you are wondering whether Apex Legends Mobile has controller support, the answer is yes. The game comes with controller support with the global release, but as per initial testing, it's wonky and needs to be optimized to enable players to enjoy this hero-driven BR experience.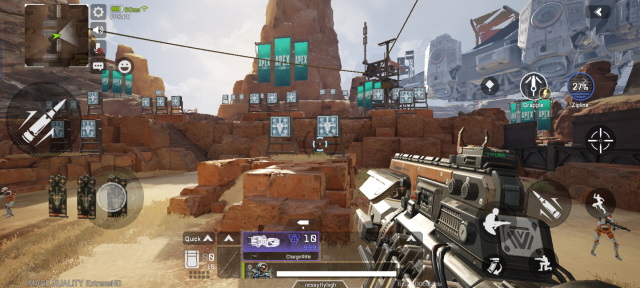 Furthermore, while you would think a mobile port of a game would look terrible, Apex Legends is actually nice. Thanks to multiple beta tests that were performed, Tencent has managed to create a fine balance between graphics and performance. While there are still some rough edges like stuttering when dropping onto the map to even out, they should be gone quickly enough with future updates.
No Cross-Play
For those of you who were hoping to buddy up with your console or PC pals, I have bad news for you. Apex Legends Mobile does not have cross-play. However, to be fair it's for the best since mobile gaming is a big mismatch when paired with other platforms. The game allows Android and iOS players to team up and battle together, though.
There are also a few changes that can only be found in the mobile version of Apex.
Third-Person Mode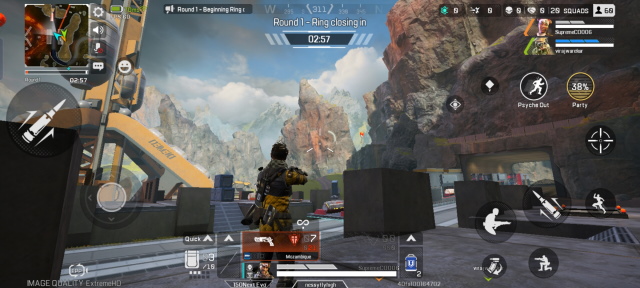 Much like other mobile battle royale titles, Apex Legends Mobile also supports the third-person mode that puts the camera behind the character. This gives a better view of your surroundings. Players in third-person can always switch back to first-person when aiming down sights for a more intimate angle. However, this third-person mode ensures that mobile gamers can count on knowing every detail some of which might they might miss out on in first-person mode.
Perks
Mobile games always contain a little bit of extra encouragement as compared to their older brothers. Apex Legends Mobile follows the same traditions. The mobile version of this shooter contains exclusive "Perks" that players can use to enhance their gameplay. Essentially, perks are step-up metrics that enhance the add-on abilities of the legends. Be aware that these do not outright change the legend's special abilities but rather upgrade some elements of the gameplay.
Perks have been divided into three categories which are: Perk, Finishers, and Ability. You can create multiple setups or loadouts of these perks and apply them based on your situation. However, only one of these perk types can be used at once to even the playing field. Also, the best part is that the perks are disabled in ranked mode, so you all won't be able to benefit from these add-ons while competing at the highest levels.
Each legend has its own skill tree where they get three different perks in each category. As the legends level up, you gain legend tokens and you can unlock new perks to lend you more power. So make sure you play with a healthy variety of legends to stay in the game.
Rookie Login Rewards
Apart from getting exclusive perks, another way Apex Legends Mobile is letting players earn stuff is by signing in. You might have already used this mechanism if you've played COD mobile. By opening the game once a day, players will be able to claim certain benefits under what the game calls Rookie Login.
From gaining game points to unlocking full-fledged legends, there is a lot on offer here. It has undoubtedly been done to attract interest from the new players and the mobile gaming community in general. Furthermore, we wager that the sign-in bonus rewards will continue to get more exciting as time passes so make sure to check back into the game every day.
Battle Pass
Battle Passes have become the bread and butter of many video games, and Apex Legends Mobile is the same. Following in the footsteps of the PC and console game, Apex Legends Mobile has its own BP divided into various levels that top out at 50. As it goes with Battle Passes, Apex Mobile players must keep progressing by completing quests and scoring EXP to level up.
Leveling up will unlock various items that range from cosmetic weapon skins to league credits, Apex cards, player banners, and a ton more. For those inclined to spend real-world money, you can go ahead and purchase the premium pass and premium pass plus through the syndicate gold in-game currency.
The Premium Pass costs 799 Syndicate Gold while the Premium Pass Plus goes for 1599 Syndicate Gold, respectively. For the extra gold, you get exclusive rewards like a season-exclusive avatar frame and the ability to unlock 10 levels instantly. You can also use the Syndicate Gold to unlock Fade in Apex Legends Mobile right away.
Gamers in love with cosmetics and added benefits will find the Apex Mobile battle pass a handy addition to the game. However, if you are someone invested in the core gameplay, we suggest giving the battle pass a pass.
Missions
Missions in Apex Legends mobile are a convenient way for gamers to earn points (XP). They have currently been divided into daily, battle pass weekly and season missions, depending on what you choose to fulfill. Moreover, these missions themselves are quite easy and can quickly be achieved in the long term. You will find these missions inside the challenges tab on the menu.
For instance – Get one knockdown from at least 50m away, break enemy shields twice, and so on and forth. Battle Passes EXP points can also be claimed by performing a specific set of tasks like dealing 300 damage in any mode with LMGs or getting kills through a particular character. Gamers invested in progressing through the game should pay attention to this tab to progress quickly.
Apex Legend Mobile: Characters and Abilities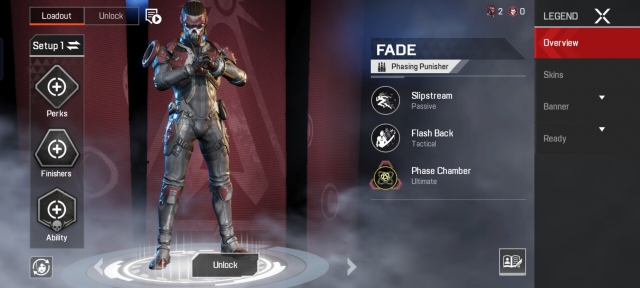 There are a total of 21 characters or legends currently available in the PC or console version of Apex Legends. However, in a FAQ listing, EA stated that Apex Legends Mobile would initially have only some of the original legends. This has proven to be true as Apex Mobile currently has 10 playable legends to choose from. These range from the technological tracker Bloodhound to tanks like Gibraltar. However, not all legends will be unlocked and ready to play immediately.
In addition to the characters ported from the original PC/ console game, there's one unique thing about Apex Legends Mobile. As promised earlier, the global launch sees the arrival of the first mobile-exclusive legend – Fade. He can use phase technology to escape sticky situations and trap enemies in the void for a brief time. As for those wondering whether Fade will come to the PC/ console game, well, he might in the future. Currently, there are no immediate plans to bring Fade to the original Apex Legends title.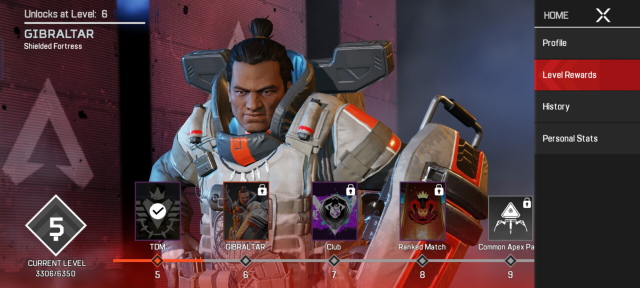 Players must progress through the Level Rewards and continue to unlock these 10 legends for a chance to use them. However, for some legends like Fade, you can unlock them by grinding the battle pass or using Syndicate gold if you are too eager. If you are new to the Apex community in general, we recommend checking our detailed guide about Apex Legends Mobile characters and their abilities.
What Maps are Available in Apex Legends Mobile?
As of right now, only one map is available to play in Apex Mobile. The battle royale map available is called World's Edge. However, another map called King's Canyon found its way into the game during the private beta testing in March 2022. So it's safe to assume that since it was part of a private beta testing, King's Canyon shall arrive in Apex Legends Mobile soon. If you want to try out areas from King's Canyon, you can check out Skulltown and Artillery, which is currently available in TDM: Random Respawn Mode.
There are also rumors that Apex Legends Mobile will have its own set of maps, exclusive to the platform. However, as of right now, the devs have not officially announced any plans for the same, so take that with a grain of salt.
Apex Legends Mobile: Game Modes
Besides the maps already present in the game, there are a handful of game modes in Apex Legends Mobile. To give you a better idea, these are:
Battle Royale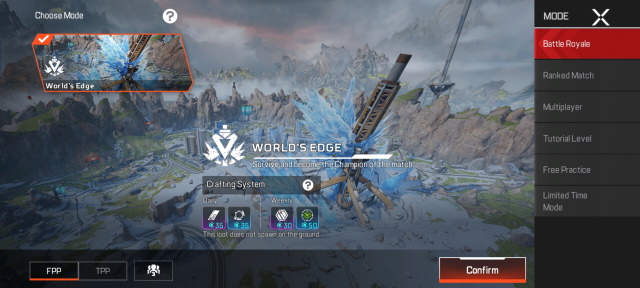 Well, there are no surprises here. The most popular mode Battle Royale is the core concept of Apex and so is present in the mobile version too. Jumping from the dropship onto a massive map, players gather supplies and race against the ring all the while battling all the enemy squads. Without a doubt, Battle Royale remains one of the most pulse-pounding modes in Apex Mobile.
Team Deathmatch Mode: Base and Random Respawn
Having been tested in the closed beta for Apex Legends mobile, Team Deathmatch is a mode that has also made its way to the final public release. The TDM Mode sees two squads of 6 players battle it out against each other. The goal of the mode is to reach the target score within a stipulated time. Scores can be obtained by eliminating the enemy players, so there is no doubt a lot of killing in this mode.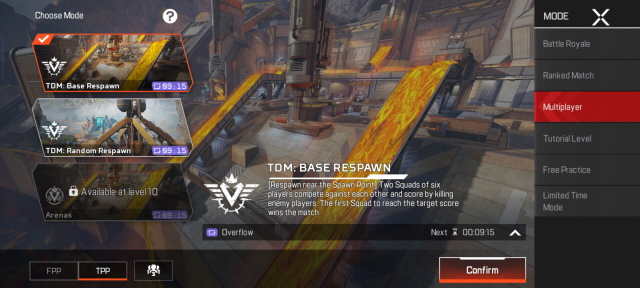 Players can choose any weapon they want. Furthermore, you can even change your weapon and legends at the start of each round. Since TDM has no knockdowns, it has respawn support so you can die and keep coming back onto the map to wreak more havoc. As if that wasn't enough, you don't even need to do anything about your shields as they will automatically restored after you stop taking damage. The deathmatch mode also gets random supply drops that are spawned in each match with a 100% chance of getting advanced weapons.
The TDM mode gets a steady supply of five popular maps which are: Market, Artillery, Overflow, Skulltown, and Thermal Station. These maps rotate every 10 minutes, so rest assured you won't be bored by just one of them. You can then choose to play the Base Respawn mode, which sees you respawn near your base, or choose the random respawn mode, which respawns you near a squadmate when killed by an enemy.
With the TDM mode packing so much mayhem for mobile, there might a chance that is a mode that remains to Apex Mobile. However, we will know more about its arrival on the PC/ console game once leaks start pouring in, so so stay tuned.
Arenas
Another exciting game mode that has been in Apex Mobile since the beta, Arenas is focused on more intimate yet chaotic combat. Arenas mode sees two squads of 3 players battle against each other. The squad that eliminates the enemy squad wins the round. To win the entire match your squad must win four rounds.
Arenas pack the same level of combat but make it a bit more interesting and slow-paced as compared to the battle royale or TDM modes. Unlike battle royale where you can find weapons lying around, Arenas require crafting materials. That means you need to purchase your weapons, consumables, and even abilities with crafting materials. Furthermore, as each round ends, so do the weapons you are carrying with you. While you get crafting materials at the start of each round, you can eliminate enemy players to get more.
These Arena rules apply to the three maps available in the global release: Thermal Station, Artillery, and Overflow. Like TDM, the maps change every 10 minutes. And before you go thinking the ring won't be found here, it will spawn here and close in each round so be careful.
Limited Time Game Mode – Quick Battle
The Limited Time Game Mode is a quick version of battle royale. Focused on making things exciting while ending them quickly, the Quick Battle will have a smaller ring at the beginning of the match.
Even the number of players has been reduced to implement the same level of chaos onto this mini-battle royale. While not playable right now, the Quick Battle is set to unlock in 8 days and might not stick around forever so set your timers!
Besides the game modes above, Apex Mobile has had other exciting modes, including Armed and Dangerous, which only provides you shotguns and snipers, and Flashpoint, where the players don't have healing items and have to rely on marked zones on the map to heal.
Apex Legends Mobile: Weapons Guide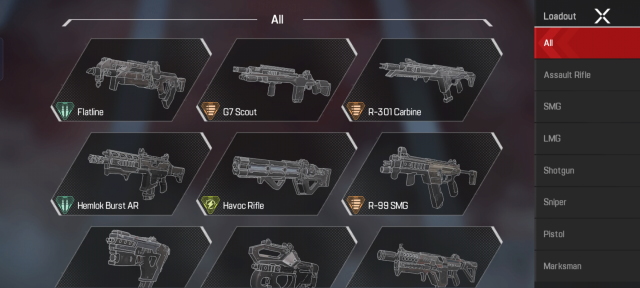 If you're worried that you will have to relearn all the weapons, don't be. Combat mechanics, including the weapon arsenal, remains exactly the same as the PC and console game in Apex Legends Mobile. Gamers will have a full weapon loadout with the ability to choose from the best Apex Legends guns they are used to. The weapons have been conveniently divided across categories, including assault rifles, LMGs, snipers, and many more.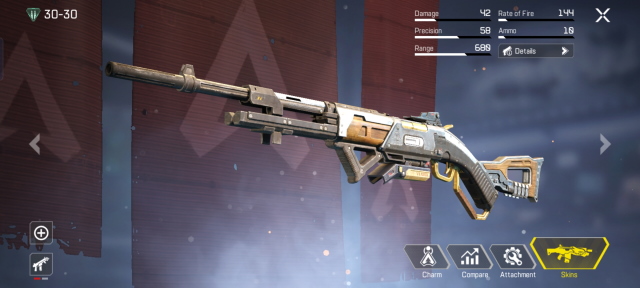 As Apex players are already aware, having the perfect loadout is necessary to winning matches. To ease that, you will be able to equip your guns with attachments and cosmetic skins for customization. Attachments available in Apex Mobile range from optic changes to specific barrels and grips. You can outfit your weapon to have a barrel stabilizer and improved stocks for comfort. You can even see the changes in stats in real-time. Gamers looking to make their gun more attractive can attach various skins, including the ones they win from the Battle Pass.
Players heavily invested in winning matches should read our in-depth Apex Legends Mobile gun guide. It will help them build knowledge of the armory and pick their favorite weapons to emerge as the champion.
How Much Will Apex Legends Mobile Cost?
Apex Legends mobile, like the PC and console versions, is free to play. Moreover, there are no items you can buy that will grant you an added advantage. However, players looking for aesthetic changes to their legends or weapons can purchase and equip skins through the Store or Battle Pass.
Squad up and Drop into Apex Legends Mobile
We hope all your questions about Apex Legends Mobile have not been answered. We will keep updating this guide to let you know about anything exciting that gets added to the game, so be sure to check back from time to time. If you've gone through a match or two of Apex Legends Mobile but don't like it then why not try out these best battle royale games instead? Got any more information we should add to this guide? Let us know in the comments below.
---
Load More