This review is for those of you having an android device and don't get concerned about the data and security of your device. For many of us myth exists that android does not get attacked by viruses and malwares.  This has been proven wrong by many surveys and reports by antivirus companies. As  a matter of fact the number of malware and virus attacks on android has increased much more than any other mobile OS. Now increase with people holding droid in their hands have provided ample opportunity to hackers and phishers to steal data from the device. Android being open source is a root cause to this.  Almost all of us agree that the rate at which mobile devices are becoming our substitutes to surf net and do online shopping which was done some years ago by laptops, desktops, our mobile devices are more vulnerable to security threats.  Be it an identity theft, malware attack, phishing or any other security breach, it becomes our responsibility to keep our devices safe. A lot of antivirus, anti-malware, antitheft software are available in the market, but at paid expense.  You are having an android device and don't want to pay 20-30 $ each year, then have a look at some completely free apps which are one stop solution to all your fears.
TRUST GO antivirus and Mobile security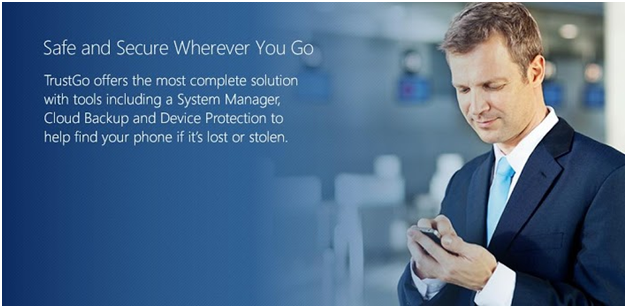 Trust go has been one of the most active companies in providing you completely free app, not even a single buck to pay for using its advanced features with over 1 million downloads and 4.5 average rating , no lite, no trial , completely free.
You can understand this by an example about the news that exynos processors of Samsung are vulnerable to hacking where an app can root the device without your permission and can do whatever it wants with your device. Trustgo has released a patch ( i.e. an app that will prevent this) and is available at no cost at their home page http://www.trustgo.com/en/

App features
The UI of app is pretty simple and easy to use
Security scanner: It scans the apps installed and has option to scan sd card also. Needs data connection because it doesn't store any virus definition in app, all it does it online so don't need to update any virus definition as simple as that.
 System manager: You can set data limit , have look on active apps, memory usages, battery usage by apps and a lot more
 Privacy guard: It notifies you which app is using your contacts, which can access your identity, messages etc.
 Data backup: You can backup all your contacts, messages and call history on cloud which can be retrieved back when needed, personally the most useful for me
App manager: It shows a list of new apps in Google play
Settings : You can customize the real-time protection, SD card scan , update and data usage schedule , simple to use
Antitheft: Needs your gps to be enabled. Sorry no sms lock feature, biggest disadvantage.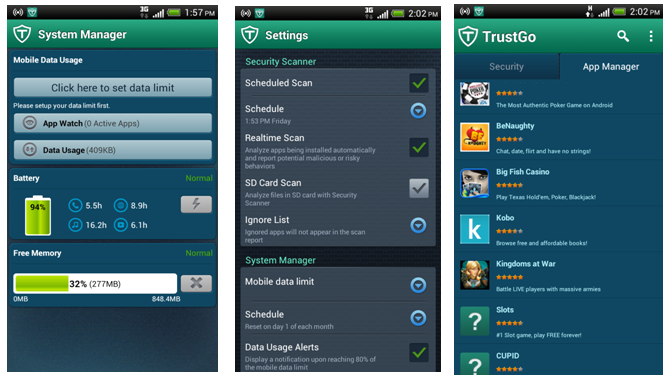 Web interface
It's too simple to use
Find my phone- Just click the link and it will show you the map with your droid location. Do Note that gps option in settings should be on and app should be running in background and most important data connection must be on otherwise app shows you phone in offline mode. You can lock, wipe, alarm and show some text on display screen.
 Backup: Remotely get contacts, messages and call history out of your device.
Control panel: You can change password or device name add or remove it etc.
Pros: don't use much ram just 5-10 mb in background, easy to use easy setup, backup feature
Cons: doesn't have sms lock feature so if no data connection or gps off, you have lost your device.
App size: 3.68mb
Developer: trustgo
Availability: free on google play
Avast  Mobile security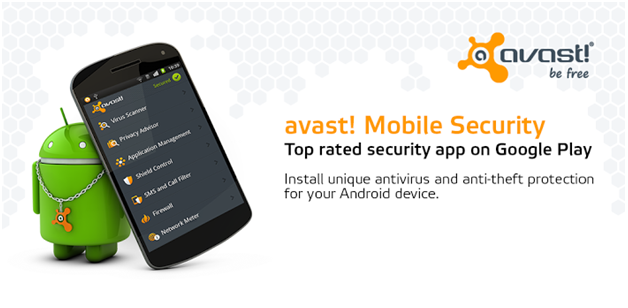 If trustgo was easy and simple to use, then avast is certainly the daddy of all free antivirus. The all in one complete solution for anything or everything you could ask for from a free antivirus app is available to you at just 0 $, amazingly free of cost.
The developers have built this app keeping in mind all the features to be included against malware and virus attacks and theft. This app once setup is the most reliable one.
If you need more freebies then recommend avast to your friends and you will get paid antivirus security from avast completely free 7 friends (1 year security), 14 (2 year), 21(3 year) absolutely free.
You don't have the feature to backup contacts, messages but the rest of the features you are getting will overshadow it.
With over 10 000 000 downloads and average 4.5 RATING is one of the best completely free app. I would personally recommend this app to everyone because you are getting paid features for free.
App features:
Pin setup : To avoid unauthorized access to app by anyone
Virus scanner: Schedule day and time , scan SD card, scan apps
Privacy advisers: Lets you know which app access what like contacts, locations, phone numbers
App manager: Gives you complete detail from network usage to permissions and ability to force close it
Shield control: Allows you protect by scanning apps on installation, execution, web shields for checking links and sites against phishing and malwares, message shield to protect against bad links
Sms and call filter: To filter unwanted sms and calls
Firewall: Needs root permissions to define custom rules or block apps, monitor incoming and outgoing connection
Network meter: Your data usages, highly customizable based on Wi-Fi, 3g, or dates
Anti-theft: The best feature, the most advanced feature I have seen on any app, from basic settings like notifying on friends device, remote control to advanced features like locking phone or alert If low battery and lost, custom text,thorough wipe, different siren sounds or custom siren, hard reset protection(deny from being factory reset unless unlocked only for rooted), simulate theft event, notify with new phone number of new sim inserted to your mail in case lost any lot more
Settings: Easy to use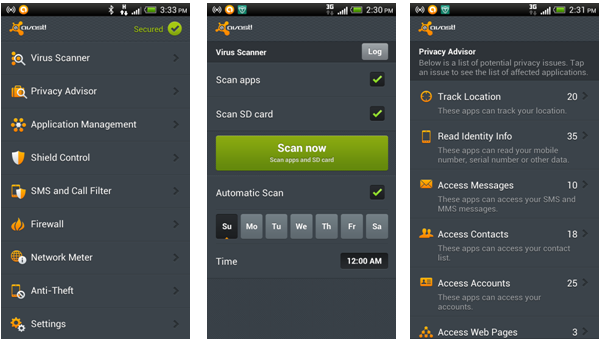 Web interface
Your device can be monitored and controlled from https://my.avast.com/
 Security info: Gives the overview of device with sim details
 Activity log: Gives a pie chart of the activity log on your device
 Locater map and gps coordinates: Locates the device
 Anti-theft: Allows you to remotely change settings mentioned in anti-theft feature of app
 Commands: Shows the recently given commands to the device
 Notifications: Gives you vital notification related to your device security like sim card change etc.
 Commands: You can give commands like continuously tracking your device, call, wipe, unlock, forwarding, siren etc.

Pros: The most advanced with advanced features in anti-theft, password protection
Cons: no backup feature of contacts, would use 5-20 MB ram when running in background, anti-theft is separate app module which is installed on device

App size: 4.7 MB
Developer: avast software
Availability: free on Google play
SEE ALSO : Best 10 Antivirus and Antitheft Android Apps